Penn State Student Affairs Made Me

Student Affairs provides students with a web of support and opportunities outside the classroom to help students grow in areas beyond academics. We make confident leaders, active citizens, and empowered community members. 
The stories on this page recognize some of our alumni who are doing great things in the world today. They each share how invaluable experiences with Student Affairs during their time at Penn State helped them become the person they are today.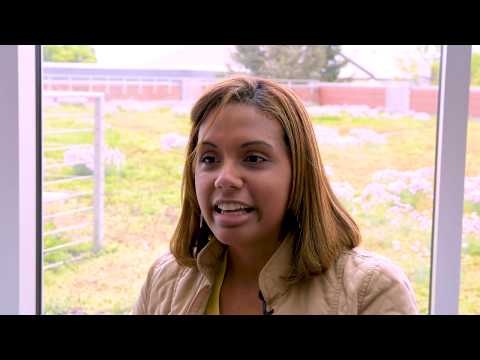 " Penn State Student Affairs gave me the opportunity to see the benefit of recognizing and celebrating your hard work as a student. That translated into me being who I am today. "
Centrice Martin received her bachelor's degree in Agribusiness Management from Penn State in 2009. She attended Penn State as an adult student. In 2011 Centrice received her master's degree in Youth, Family, and Community Education also from Penn State.  

Centrice now works in local government as the Assistant to the Manager for Ferguson Township in State College, Pennsylvania. 

As a student, Centrice was actively engaged with Adult Learner Programs and Services in Student Affairs, which provided her with a network and resources to assist in achieving her academic goals. 

"The Adult Learner Programs and Services office took time to advocate, serve, support, and recognize students like me - all of which largely shaped my personal, academic, and career success. I am now committed to advocating for those less empowered." 

Centrice not only achieved her goals but was awarded the Outstanding Adult Student Award in 2009. This award recognizes an exceptional adult learner who has overcome obstacles while furthering his or her education, and who balances multiple roles, serves as a role model for other students, and achieves academically.

Centrice's multiple roles included her role as a single mom and her role as a student. She assisted cheerleading coaches and coached T-ball as well as volunteered as a recruiter's assistant in the Department of Agricultural Economics and Rural Sociology and a student presenter for incoming freshman at the University's First-Year Testing, Consulting, and Advising Program and at Spend a Summer Day for the College of Agricultural Sciences.

"The Outstanding Adult Student Award proved to be a catalyst for me as a non-traditional student and a single mom juggling multiple roles. It encouraged me to use my voice and to be willing to step up and step out in the local community."

Centrice began her journey into local government as an engagement director for the Borough of State College. That position led her to her current position with Furguson Township. Centrice enjoys serving in leadership roles that allow her to demonstrate how willpower, perseverance, and hard work can be transformational and she credits Student Affairs with empowering her to serve as an activist, leader, and advocate for life.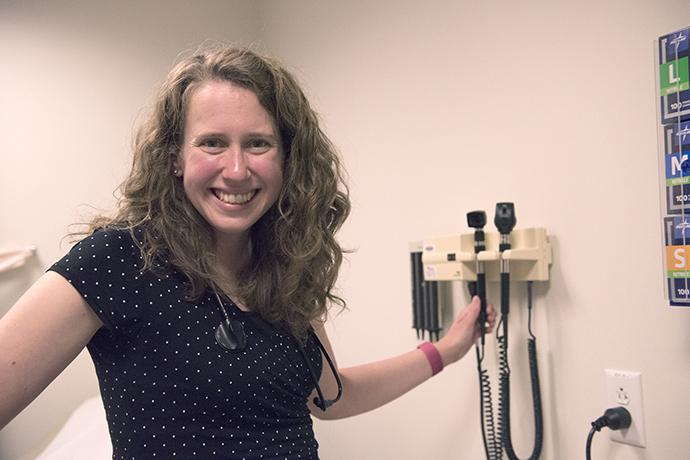 " I learned the importance of truly taking the time to listen. "
Rebecca Simcik graduated from the Eberly College of Science and the Schreyer Honors College with a Bachelor of Science in Biology in 2009.  

After Penn State, Rebecca completed a medical degree and now works as an internal medicine physician at University Health Services (UHS). In her role, she provides primary care services to undergraduate and graduate students at Penn State. 

While at Penn State, Rebecca was involved with Residence Life and resident student government. She was elected President of the Association of Residence Hall Students (ARHS) during her Junior year. In this capacity, Rebecca had the opportunity to collaborate and interact with student leaders and administrators across campus. 

"I had the opportunity to attend meetings with student leaders and University leadership. This allowed me to feel comfortable with team dynamics and interacting with senior officials. I learned the value of creating an environment where others feel comfortable sharing opinions. I also learned the importance of truly taking time to listen." 

Rebecca credits her out-of-classroom experiences with giving her confidence at an early age and becoming conformable presenting in large-format meetings, building professional relationships, learning when to be quiet so others can share their thoughts and concerns. She uses these skills every day as a physician.  

"My interactions with student programming and seeing the hard work Student Affairs does in order to make this campus a home for thousands left and impression. I longed for a way to connect my medical career to my background of service and University Health Services has allowed me to connect these two joys seamlessly."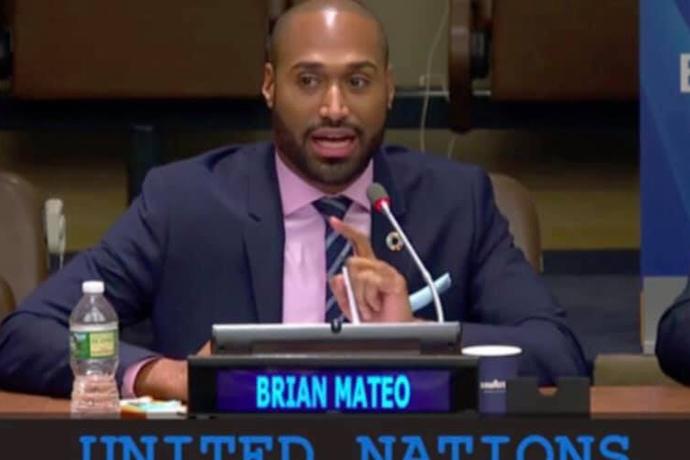 " My activism started from my days at the LGBTA Student Resource Center. I learned how to work with people, lead with empathy and compassion and see things from a holistic perspective. "
Campus activism led alum to dedicate career to civic engagement

University Park, Pa. -- Brian Mateo is a two-time Penn State graduate who, while on campus, devoted much of his out-of-classroom time to working under the umbrella of Student Affairs. Mateo transferred the valuable, diverse skills he learned through his involvement to his eventual career path. His experiences in campus activism also afforded him the ability to continue to fight for valuable causes, such as climate change, in his post-graduate life. 

"I learned how to become a leader, work with people, lead with empathy and compassion, as well as see things from a holistic perspective," said Mateo. "I also learned critical tasks that make me an effective administrator such as budgets, time management, conflict resolution and critical thinking."

While at Penn State, Mateo was involved in different facets of Student Affairs, each of which offer their own avenues for growth, including the Center for Sexual and Gender Diversity (previously the LGBTQA student resource center), the Office of Student Activities, the Office of Fraternity and Sorority Life, and the Office of Student Conduct. 

Finding a voice and becoming a leader

As a student leader, Mateo was heavily involved with activism roles on campus and saw firsthand just how important the student voice is.

Mateo launched his student activism as an intern in the Center for Sexual and Gender Diversity. He advocated for LGBTQ+ rights, including for gender-neutral bathrooms on campus to promote inclusivity. He also represented the LGBTQ+ community by serving as the vice president of the Delta Lambda Phi fraternity, which is a social fraternity for gay, bisexual and progressive men, and by advocating for the fraternity's inclusion in the Interfraternity Council (IFC). Mateo helped engage the fraternity and sorority communities in conversations about the LGBTQ+ community and how to be an ally through a peer program called Straight Talks, run by the Center for Sexual and Gender Diversity.

"From changing the menu in the cafeteria to ensure healthy options, to advocating for LGBTQ+ rights and the right for marriage equality, I was able to see first-hand how my voice can lend itself to useful causes," Mateo said. "In order for students to make sure that all perspectives have a seat at the table, they need to invite people with different perspectives AND also listen."

Mateo gained additional leadership and critical thinking skills as a graduate intern with the Office of Student Conduct where he volunteered on conduct board hearings, which heard student conduct cases for low-level infractions involving alcohol and marijuana. As a graduate assistant for the Office of Student Activities (previously Union and Student Activities), Mateo worked with the planned leadership and training workshops as well as assisted with community service and service learning projects. He also served as an advisor for the MLK, Jr. Commemoration Committee.

Brian attests that the resources and services offered by Student Affairs were crucial to his out-of-classroom experience and overall growth while at Penn State.

"The umbrella of Student Affairs is essential to a student's development in the college setting because it provides the students with the support and transferable skills in order to succeed. Students benefit from the programming, networking opportunities and resources that are offered," Mateo said.

Putting out-of-classroom skills to use  

Mateo currently serves as the associate dean of Civic Engagement at Bard College and serves on the Board of Trustees of the Carnegie Council for Ethics in International Affairs. The skills he gained through his student activism and engagement are integral to these roles.

In his role of associate dean of civic engagement, Mateo works to expand civic engagement initiatives throughout the Bard Network of over 6,000 students worldwide. He works with faculty with to develop pedagogy to bring experiential learning into the classroom and teaches a course on civic engagement that focuses on the historical and theoretical aspects of social movements as well as providing students with the opportunity to work in their communities.

Also at Bard, Mateo serves as the director of strategic partnerships for the Bard Globalization and International Affairs Program, a study away program in New York City where students from around the world spend a semester taking advanced courses in international affairs and work with internships in their related field of interest.

He also works with public diplomacy programs sponsored by the U.S. Department of State Bureau and Educational and Cultural Affairs, called Study of the U.S. Institutes. In his role as program director, he was worked with scholars with a focus on U.S. foreign policy and students on civic engagement initiatives. To date, he has cultivated a network over 100 scholars from 59 countries

In his work with the Carnegie Council for Ethics in International Affairs, an organization that strives to inspire and guide debate, and to educate the public on ethical choices in matters related to global affairs, Mateo serves on the Board of Trustees and helps develop strategy for the organization.

A voice for climate change

Mateo continues to use the voice he discovered while a student at Penn State to advocate for global issues. He recently became a Climate Reality Leader after attending a training summit on climate change led by Nobel Laureate and former U.S. Vice President Al Gore.

"I attended the 42nd training of the Climate Reality Leadership Corps facilitated by former U.S. Vice President Al Gore. The first training happened back in 2007 and now he has trained over 20,000 people from 152 countries. At the training, individuals ready to make a difference in our planet's future spend three days working with world-renowned scientists and communicators learning about the climate crisis and how collaborating together, we can solve it."

The Climate Reality Project connected to Mateo's passion about the implications of climate change for education. In a recent podcast with the Carnegie Council, Mateo noted that the 2017 Hurricane Maria landfall in Puerto Rico opened his eyes to how prolonged power outages impacted graduation rates and student learning.

"I realized that if I wanted to have a stronger voice, I needed to be more well-versed in climate change and the solutions and understand the scientific facts of [climate change]," Mateo said as part of the podcast.  

Mateo graduated from Penn State's University Park campus with a Bachelor of Science in Biobehavioral Health in 2008 and a Master of College Student Affairs in 2010. Brian's involvement in various capacities within Student Affairs prepared him for post-graduate employment and significantly shaped who he is today.

The wide array of opportunities offered through Student Affairs provides students multiple avenues for growth while completing their academic career and opportunities to gain skills that will serve them in their career paths.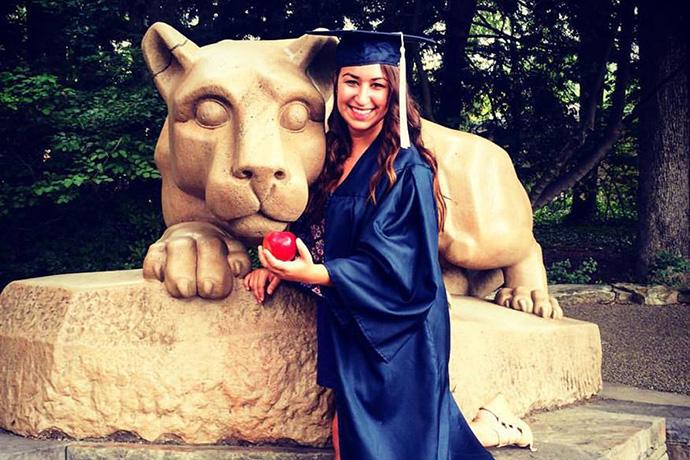 " If I could go back to Penn State and do HealthWorks all over again, there would be no hesitation—it was the best extracurricular activity I was involved with at Penn State. "
Rebecca Skotek graduated from Penn State in 2016 with her undergraduate degree in Nutritional Science, with the Dietetics option. She is now a Registered Dietitian in Raleigh, North Carolina, where she focuses on helping people with surgical and non-surgical weight loss. She teaches group classes as well as providing individual patient counseling. 

"It's always been my dream to work in an outpatient setting, and I can't imagine a position that's more rewarding. I have the opportunity to change people's lives every hour of my workday."  

Rebecca credits HealthWorks with helping her not only get accepted into her internship but also with gaining important skills in leadership.  

HealthWorks is a volunteer student peer education and outreach program through Penn State's Health Promotion and Wellness Office, a unit of Student Affairs.  

Rebecca served as a peer educator for HealthWorks. Specifically, she was a nutrition leader, educating her peers about the importance of healthy eating and good nutritional choices. 

One of the memorable projects Rebecca worked on with HealthWorks was a health-focused video for the Dancer Relations committee members of THON where she applied her nutrition knowledge to inform student volunteers how to stay hydrated, eat properly, and sustain energy during the 46-hour event.  

"I feel very comfortable teaching classes and public speaking because of my HealthWorks experience, and I am confident in my ability to create educational materials that spark interest to a variety of audiences."  

In addition to HealthWorks, Rebecca had interactions with other Student Affairs offices, including Career Services where she practiced interviews in their video space.  

She took many of the skills gained via experiences in Student Affairs to her career and credits these experiences for her passion for nutrition. 

"I learned teamwork, time management, media skills and most importantly, discipline. I learned that hard work isn't that hard when you're passionate about what you're doing, and ultimately, it made me fall in love with nutrition and dietetics even more!" 

HealthWorks also helped shape Rebecca's desire to give back and make a difference in the world. She is active in her church as a guest experience team member and outreach volunteer. She also leads a pre-operative support group for bariatric patients and leads a women's Bible study group out of her home.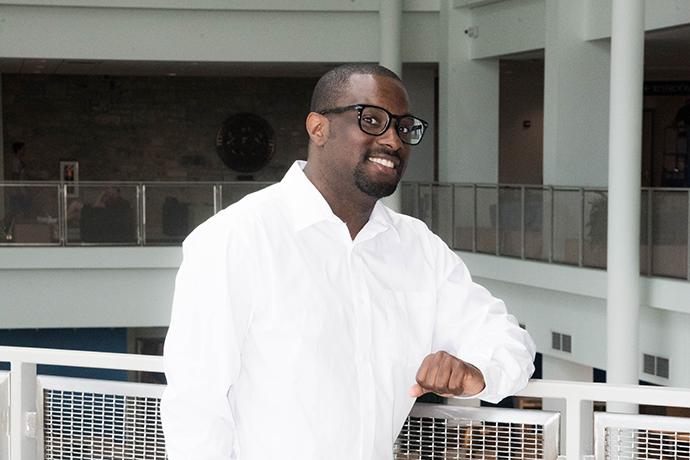 " Student Affairs shaped who I am through leadership and networking opportunities. "
Johnnie Geathers graduated from University Park in 2011 with a Bachelor of Science in Human Development and Family Studies. During his time at Penn State, Johnnie was involved with the Office of Fraternity and Sorority Life in Penn State Student Affairs. 

Johnnie has remained involved with Greek life on a regional and national scale. He worked closely with the staff in the Office of Fraternity and Sorority Life to reactivate Iota Phi Theta Fraternity, Inc., the chapter into which he was initiated during his junior year.  

He is currently the director of community service for the Atlantic Coast Region for the Beta Omicron Omega chapter of Iota Phi Theta Fraternity, Inc. In addition, Johnnie serves as the national coordinator for the new initiative #MuchMoreThanAHashtag, which is a collaboration with Sigma Gamma Rho Sorority, Inc. and aims to educate the community around voter registration, citizen review board, jury selection, home ownership, and property taxes.  

His experiences with the Office of Fraternity and Sorority Life not only allowed him to stay involved post-graduation, but also afforded Johnnie valuable leadership, networking, and communication skills. 

"The leadership and networking skills I gained from my involvement with Student Affairs has shaped who I am, and I use what I learned from Penn State every day in my career and with people I serve." 

Along with his roles in the national fraternity, Johnnie works as a therapist for FamilyLinks, Inc. where he works with children in a therapeutic classroom. In this role, he observes behavior and emotions in order to help children learn in a mainstream classroom setting.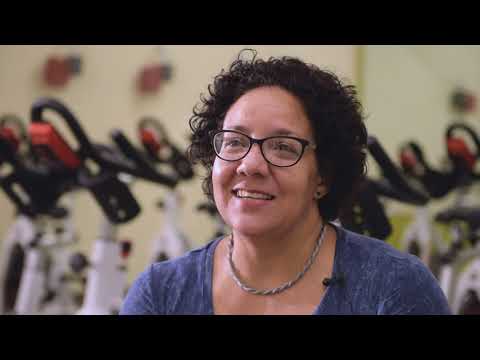 " If I had not been a part of Penn State fitness, I would not have the confidence to get up in front of people and talk about how fitness helped me deal with my disability. "
Kenyan Cattell graduated from Penn State in 2010 with a bachelor's degree in Human Development and Families Studies and in 2018 with a master's degree in Human Resources and Employment Relations. 

Kenyan is a financial aid coordinator for Penn State World Campus. She also teaches indoor cycling and facilitates team building workshops. 

Kenyan credits her experience with Penn State Campus Recreation with giving her the confidence to take on these roles. 

Kenyan was involved with Campus Recreation throughout her undergraduate and graduate degrees and more specifically was active with the Fitness and Wellness program. Kenyan went from a group exercise class participant to a student in the instructor training program.

"Probably the most important perspective I gained from my involvement at Penn State is that we are all more capable than we think. When I dropped out of school after my sophomore year, I would not have believed that I would one day have my master's degree, teach fitness classes, or be a team building facilitator." 

Kenyan also connected with Adult Learner Programs and Services in Student Affairs after she left school the first time. Her interaction gave her the confidence to believe finishing her degree was something she could do. 

Using what she learned through Penn State Campus Recreation, Kenyan ran her office's first wellness challenge program. She's also spoken to groups about how fitness helped her deal with her disability and how exercise impacted the way she felt not only physically but mentally.

"If I had not been a part of Penn State Fitness and Wellness, I would not have the confidence to get up in front of large groups and talk about my experience. I would definitely say I'm more involved and an active citizen because of my experiences through Student Affairs." 

In addition to Campus Recreation and Adult Learner Programs and Services, Kenyan interacted with Career Services, the Office of Fraternity and Sorority Life, and University Health Services while she was a student at Penn State.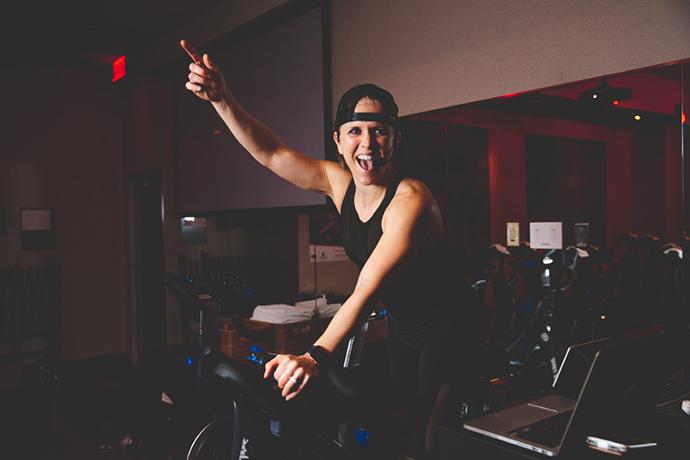 " Campus Recreation taught me how to help others live their best active and healthy lifestyles and how to use my own lifestyle to inspire my community. "
Jessica Kelly graduated from Penn State with dual bachelor's degree in hotel, restaurant and institutional management, and public relations in 2009. While at Penn State, Jessica was highly involved with Campus Recreation as a fitness instructor. This experience gave Jessica an avenue for growth outside of the classroom and the opportunity to help others. 

"Although I learned a lot in my hospitality experiences with internships and required out-of-classroom working hours, I found my fitness experience to be where I found the most growth. Teaching classes to the students and staff allowed me to step way outside of my comfort zone and explore the health and wellness industry in a new way." 

Jessica gained communication and leadership skills through her Campus Recreation experiences that she still uses today. She credits Penn State Student Affairs with giving her the confidence to take a leap of faith and chase her dream career.  

Jessica is now the Endurance Boutique Manager for Life Time Fitness. In this role, she oversees a team of fitness instructors and exercise programs; she also continues to teach fitness classes.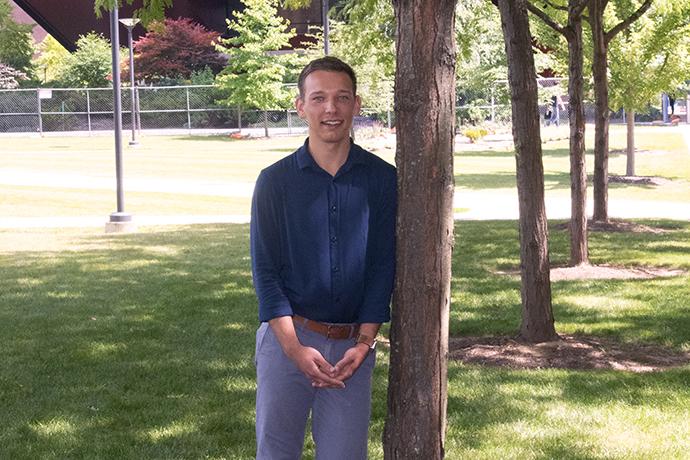 " Healthworks taught me how to have difficult conversations. "
Kyle Houser graduated from Penn State in 2018 with a bachelor's degree in Biology and a master's in Curriculum and Instruction. Currently, he works at Rider University as the coordinator of STEM student success where he assists students majoring in science who struggle academically, helping them work toward their academic goals.

While at Penn State, Kyle found himself involved with Health Promotion and Wellness, which falls under the umbrella of Student Affairs. He served as a HealthWorks peer educator and Green Health Team leader, where he worked with students and administrators to plan and execute initiatives on campus that promote student and environmental health. Projects included a campus cigarette butt cleanup, which led to increased awareness about smoking on campus and helped the smoke-free campus initiative. This role allowed Kyle to directly interact with other students while also promoting sustainability and overall wellness.

As part of HealthWorks, Kyle also facilitated workshops on a variety of health topics, some of which were uncomfortable to talk about. These experiences helped him grown as a public speaker. It also helped him understand how to create a safe, comfortable, judgement-free environment, which is something he uses when he meets with students in his current role.

"My experience as a green health team leader taught me a lot about the importance of teamwork. Group projects are often included in classes to help with this, but the cigarette butt cleanup was different because it wasn't given to us by a professor and it wasn't being graded. It was something that we as students felt passionately about and wanted to do to make a difference. I learned that a common goal can go a long way toward making a project successful, and that effective and open communication are critical for producing a positive result."

Kyle remains passionate about environmental safety and sustainability, participating in beach or roadside cleanups in his community. In addition, in his role at Rider University, he works with students, faculty, and various departments across campus to create positive change both at the individual level and across the science disciplines.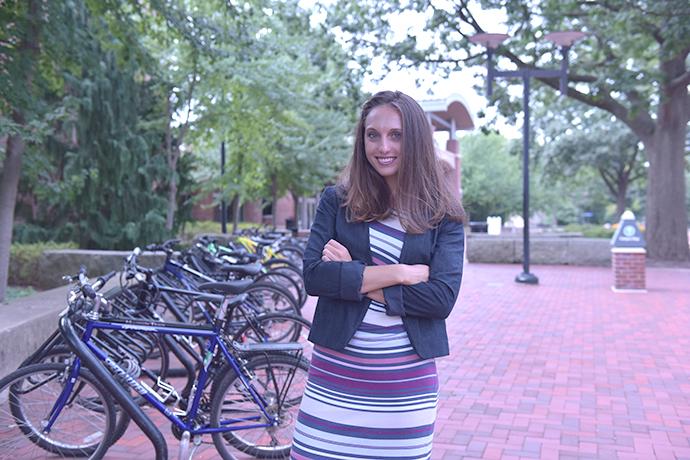 " Student Affairs sparked my interest and drive for social justice and health equity. My experiences taught me about different cultures and perspectives. "
Emily DuBartell graduated in 2018 from Penn State's College of Health and Human Development with a Bachelor of Science in Biobehavioral Health. During her time at University Park, Emily was involved with Student Affairs through the Office of Health Promotion and Wellness.  

Emily served as a Peer Educator in HealthWorks where she facilitated workshops and worked as an HIV Prevention Counselor. Emily was also the team leader for the Body Image and Eating Disorder Awareness Team where she assisted with the development and execution of several events. These experiences diverse roles gave Emily real-world skills, personal confidence, and a better understanding of cultures and perspectives. 

"While working with Student Affairs, I gained greater personal confidence as I built practical skills that would carry me through graduate school and my future career. My experience as an HIV counselor, in particular, drove me to want to better understand the driving factors of health inequities between groups."  

Emily recently completed her first year of the Master of Public Health program at Columbia University. She studies and researches under the Sociomedical Sciences department and will also receive a certificate in Health Promotion Research and Practice. While in school, she also works with New York City Health + Hospitals Corporation (H+H) in the OneCity Health division. In this role, she works to promote health equality in the city of New York. Emily is also planning the design and implementation of a clinical wellness diabetes program for a low-income community in Brooklyn. Her time in Student Affairs lead Emily to realize her interests in this field. 

"Student Affairs sparked my interest and drive for social justice and health equity. This passion led me to attend Columbia University and work for NYC Health + Hospitals, the largest public healthcare system in the nation. Because of my experiences with Student Affairs, I am passionate about advocating for health equity and addressing upstream social justice factors that impact health outcomes in communities."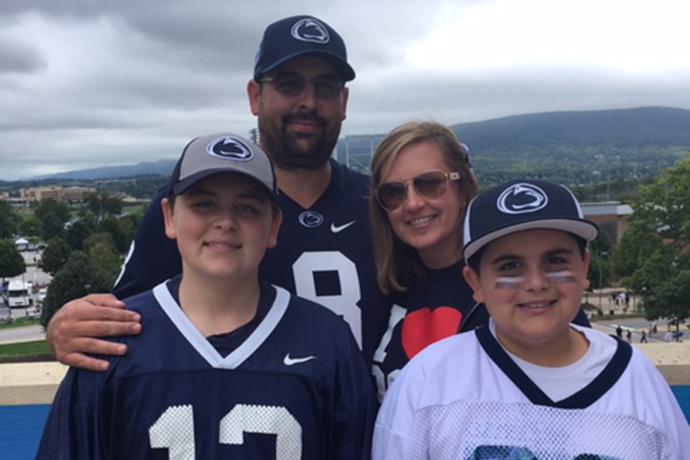 " My time in Residence Life greatly shaped my career path. I am a firm believer in the benefit of out-of-classroom experiences and the balance of academics and extracurricular activities. "
Sarah Milito graduated from Penn State in 2000 with her bachelor's degree and in Human Development and Families Studies and in 2002 with her Master's of Education in College Student Personnel. Sarah is currently a lead academic adviser in Kinesiology at Penn State. 

During her time at Penn State, Sarah interacted with many Student Affairs offices, including Campus Recreation, Career Services, HUB-Robeson Center, Office of Student Activities, Office of Student Conduct, and University Health Services. However, her most impactful experience came from her time as a resident assistant (RA) with Penn State Residence Life. 

I have many found memories of my time in Residence Life and it greatly shaped my career path.

Sarah started her Penn State journey at Penn State Berks, where she became an RA her sophomore year. After transitioning to University Park for her junior year, Sarah continued as an RA in Tener Hall, for LIFE House, a special living option (SLO) for students wanting to live in a substance-free environment. In her first year as a graduate student, Sarah was a graduate hall director in South Halls. 

After graduating from Penn State with a Master's degree in 2002 Sarah accepted a Residence Life Coordinator position at Towson University. Four years later, she returned to Penn State with Penn State Learning. In 2008, Sarah accepted her first Academic Adviser position in the College of Information Science and Technology (IST) and worked there for 10 years. In 2018 she transitioned to the Kinesiology Advising Center as lead academic adviser. 

My student affairs background continues to serve me well as I work to help mentor and guide undergraduate students on a daily basis.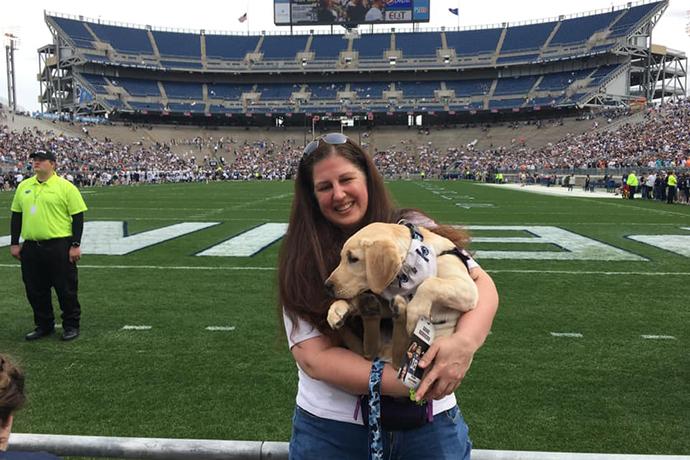 " As a volunteer, I take the time to listen and understand each individual and what they uniquely have to offer. My Penn State involvement opened my mind to these perspectives. "
Susan Lechtanski graduated from Penn State in 1997 with a bachelors degree from the College of Earth and Mineral Sciences. Currently, Susan is a marketing strategy specialist for Penn State Student Affairs. She also works with the Student Programming Association, SPA, marketing committee. 

As an undergraduate student, Susan was an active member of Greek Life and participated in THON and Homecoming. In addition, Susan interacted with many other Student Affairs offices, including Campus Recreation, Career Services, HUB-Robeson Center, Off-Campus Student Support, Office of Student Activities, Residence Life, and University Health Services. 

Through her student involvement with Student Affairs, Susan has a more open mind and willingness to learn and grow through service and leadership. 

"I embrace the uniqueness of people and cultures and want to explore and understand the world through the perspectives of others." 

Today, Susan is an active volunteer for both Penn State and community organizations and events. Susan is an adviser for Penn State's Roar for More University Park Puppy Club, which is the local chapter fo Susquehanna Service Dogs (SSD). In 2016, Susan went through training with Susquehanna Service Dogs to become a handler and has had dozens of SSD dogs in her care over the last 3 years.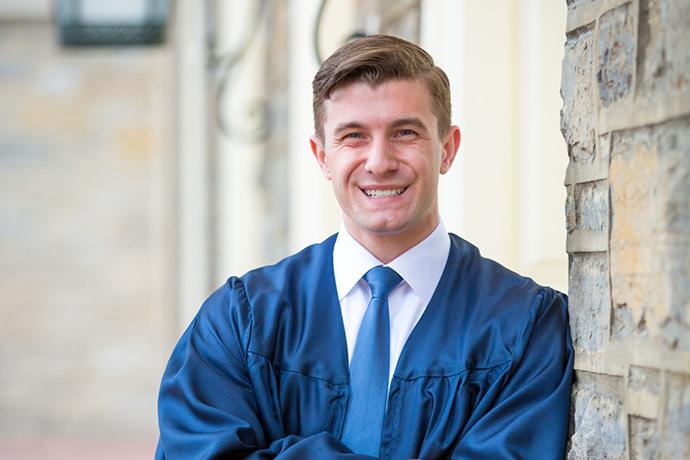 " Being a well-rounded person who contributes to your community or workplace in more than one way is essential for your personal growth. "