Campus Recreation Facilities
Campus Recreation Facilities

Campus Recreation Adjustment | COVID-19
Due to the rapidly evolving situation with the COVID-19 virus both locally and regionally, all Penn State Campus Recreation facilities are closed until further notice. Please follow us on social media @pennstatecrec to stay up to date with all of our programs. Thank you!
Facility Hours Change
 A picture ID and valid Campus Recreation Membership are required for admission. Hours are subject to change. All changes will be posted in the affected facility.
** Intramural Building & Natatorium are closed on home football Saturdays. 
See our website for additional Hours of Operation & updates: studentaffairs.psu.edu/campusrec 
We want you to find the best option that suites your locations and needs for fitness on campus. With several fitness centers in different locations, you might want to take a look and find the spot that suites you. Take a look at our fitness centers and stay up to date on how many people are in your favorite spots. Stop by when you get some free time.
IM Building
The IM Building is conveniently located near residence halls at the east corner of campus in the Intramural Building. This is the newest and largest recreation center on campus, with over 19,000 square feet of space. The center offers a variety of selectorized and free weight stations, two separate dumbbell areas, and more than 90 cardio machines with cable and internet access available for training. You will also find our climbing suite, fitness classes, and gymnasium complex here. This is the place for you whether your dancing, lifting, climbing, or running.

More Information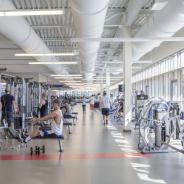 Hepper Fitness Center
The Hepper Fitness Center is located on the west end of campus inside of Recreation Hall and next to West Halls, the golf course and the newly expanded west campus. This state-of-the-art center features a cardio loft, video walls, and nearly 18,000 square feet of workout space including free weights, plate-loaded, and selectorized machines that can accommodate any workout. Each cardio piece provides an individual entertainment monitor with cable and internet access.

More Information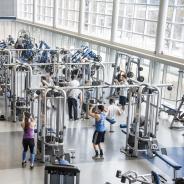 McCoy Natatorium
The Natatorium offers a variety of water-related programming throughout the year like recreational swimming, instruction & certifications, club sports groups, intramural events, and a variety of special aquatic events and competitions. The indoor pools feature year-round opportunities and the summer outdoor pool is a great place to swim, relax and soak up some sun.


More Information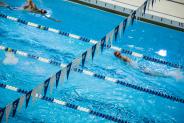 The Tennis Center
The Tennis Center is operated by the Department of Campus Recreation and is the indoor home court for the University's men's and women's tennis teams. As a United States Tennis Association member, the Center offers many programs for you to experience tennis at its best. If you love tennis, it's a great place for you too-to practice specific skills or just to play the game.

Our club membership is open to students, faculty, staff and the general public. The outdoor courts are open to club members and their guests only. The indoor courts are open to all, with no membership required.
More Information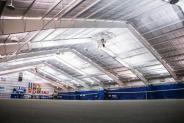 White Building
The White Building is located in the middle of campus near the HUB and offers convenience to those traveling across campus, as well as students living on the south side of campus or downtown. With nearly 17,000 square feet of space, it offers the finest selectorized, free weight and cardiovascular equipment available. There are more than 75 selectorized and plate loaded stations, 50 free weight stations, and 70 cardio machines that provide for every fitness goal. You will also find our fitness classes, a recreation swimming pool, and dance studios here!
More Information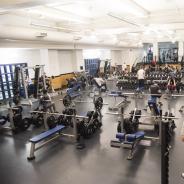 Take a look at the current usage of our facilities to make the best decision on where you want to workout.
Explore in this Section
Campus Recreation Facilities