IM Building
Additional Facilities Managed by Student Affairs

The IM Building is the place for you and your friends to workout, play ball, hit the track, climb a wall, raise your heartbeat and even study or meet. The premier student recreation center on campus, you can find the  IM Building adjacent to East Halls.
IM includes a 250-capacity fitness center with the latest in cardio, selectorized and free weights. A state-of-the-art climbing wall and bouldering center are available along with spin cycling and 3 fitness studios for fitness classes. There are four gyms for a variety of court sports such as basketball or volleyball. There's an indoor turf field, a 1/6 mile indoor track with dispersed stretching and fitness zones, a martial arts room, ten racquetball courts, four squash courts, a table tennis lounge, locker rooms, a variety of lounge, study spaces, and meeting rooms. The IM Building also houses the majority of the Campus Recreation staff. Recreation equipment loan is available to utilize all areas of the facility; from basketballs and rackets to bocce sets and climbing shoes!
Climbing Suite
The climbing wall, located in the IM Building, stands at over 40 feet tall with 16 climbing lanes capable of both top rope and lead climbing. Our climbing wall offers fun, recreational climbing opportunities for all climbers, regardless of experience or ability. Our state of the art wall, designed by Eldorado Climbing Walls, features up to 64 routes (for climbers of all abilities), two climbable crack systems, a rappel ledge, and a teaching area for skills and clinics.
More Information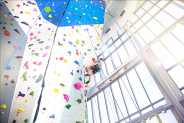 Bouldering Wall
The bouldering wall is located down the hallway from the climbing wall and offers an additional space for unroped climbing. Use of the 14-foot tall bouldering wall is also FREE for students (included as part of the student recreation fee) during all open hours of the IM Building. All you need is a pair of climbing shoes and a bouldering orientation from one of our staff and you're ready to go!
More Information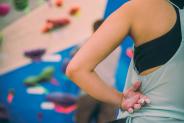 Equipment Loan Office
The IM Building offers many different sports and recreation options. Stop by the Equipment Loan Office on the first floor to check out balls, rackets, safety glasses and more.
Gymnasiums
We have multiple gymnasium spaces set up for Basketball, Volleyball, Badminton and much more.
Table Tennis Area
Come check out our table tennis area with room for multiple simultaneous games, you can stay warm and in the action!