Back Pain
Healthcare and Medical Services

Back Pain Information
Most low back pain is caused by mechanical problems with the joints or muscles of the back. Your clinician will help rule out more serious disorders of internal organs, which can also cause back pain.
Common Causes of Low Back Pain
See Your Health Care Provider If:
Have numbness or weakness into your legs
Have problems with bowel or bladder control
Have a fever or feel sick in general
Have a history of cancer or osteoporosis
Have frequent, bloody or painful urination
Your pain does not resolve in a week or so
Take steroid medication, such as prednisone, on a regular basis
Have diabetes or a medical problem that weakens your immune system
Have unexplained weight loss
Self Care
Most back pain will last only a few days and can resolve with self-care. However, it can last for weeks and become chronic.
Consider Physical Therapy
The PT staff will teach you appropriate stretching and strengthening exercises for your back, as well as proper posture and strategies to decrease your back pain. With Physical Therapy intervention, many people can return to their previous level of activity more quickly and avoid the recurrence of back pain.
Don't do any bending, lifting or twisting while your back is painful; you may make your back worse.
Try to avoid sitting for long periods if sitting tends to increase your back pain.
You may use either heat or ice on your back, whichever decreases your symptoms most over the following 2 to 3 hours. Apply the heat or ice for 20 minutes, remove it for at least 20 minutes before reapplying it for another 20 minutes. After that, do not reapply heat or ice for about an hour. Some people prefer to alternate heat and ice.
Ibuprofen (such as Motrin or Advil) or Naproxen (such as Aleve) can be used to decrease pain and inflammation. Follow the directions on the bottle, unless instructed otherwise. If you experience stomach upset, discontinue use and contact your clinician. Acetaminophen (such as Tylenol) can be taken for pain relief and causes less stomach upset, but does not decrease inflammation.
Your clinician may prescribe medication such as pain relievers and/or muscle relaxants. Take only as directed.
Bed rest may be necessary for severe back pain. For lying on your side, place a pillow between your knees. If you lie on your back, try placing a pillow under your knees. You can also lie on your stomach if this is the most comfortable position for you.
What can I do to help prevent back pain?
Posture and Precautions
Many low back problems are caused by poor posture, especially when sitting, or by bending or lifting improperly. Here are some tips:
Exercises
Exercises that help strengthen the back and abdominal muscles may be the most effective way to speed your recovery. In addition to the exercises below, back-healthy activities such as swimming, walking or movement therapy can help improve coordination, posture, and balance. Any mild discomfort felt at the start of these exercises should disappear as muscles become stronger. If the pain is more than mild and lasts longer than 15 minutes, stop and consult a clinician. Do the exercise on a firm surface. You may want to use a heating pad before the exercise to relax tight muscles. Begin with 5 to 10 repetitions of each exercise and increase as tolerated.
Prone on Elbows
Lying face down, push up on your elbows to arch your back. Let your lower back and legs relax as much as you can. Hold this position for 20to 30 seconds.

Credit: fizkes/Getty Images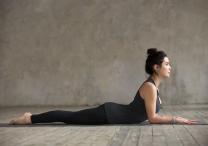 Prone Press-Up
Lying face down, push up with your arms to arch your back, keeping the hips in contact with the floor. Slowly lower your body back to the floor. Go up only as high as you can without pain.


Credit: Freepik/senivpetro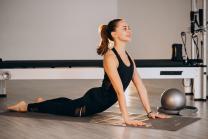 Abdominal Bracing
Lie on your back, with knees bent and feet flat on the floor. Tighten your abdominal muscles by pulling them inward toward your low back. The curve of you low back should straighten. Hold for 5 seconds.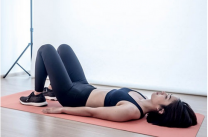 Emergencies
In an emergency go to Mount Nittany Medical Center or call 911 for an ambulance.
This content is reviewed periodically and is subject to change as new health information becomes available. This information is intended to inform and educate and is not a replacement for medical evaluation, advice, diagnosis or treatment by a healthcare professional.
Reviewed 01/2023