Upcoming Exhibits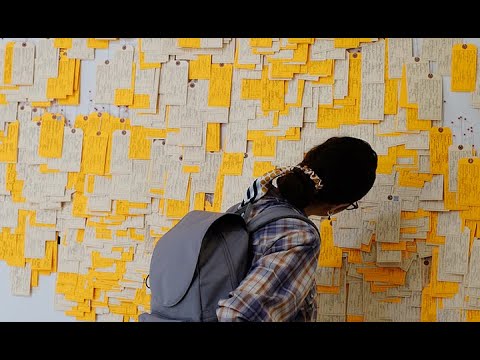 HOSTILE TERRAIN 
A global call to action hosted by the Undocumented Migration Project and HUB-Robeson Galleries, Hostile Terrain 94 is a participatory art exhibition occurring in nearly 150 cities around the globe. Aiming to bear witness to and memorialize the thousands of lives claimed by the U.S./Mexico Border since the 1990s, the exhibition invites collaborators, citizens, and community members alike to write the identifying information known about these migrants and map where their lives were lost. Hostile Terrain 94 raises awareness about the human consequences of policies such as "Prevention Through Deterrence." The Undocumented Migration Project (UMP) is an arts-education-research collective aiming to humanize the migrant experience between Latin America and the United  States.  UMP  projects are collaborative public endeavors meant to inspire and engage participants to work towards positive social change.
If you would like to participate in this project please fill out this online form. We are also able to engage classes and clubs, please email us with any inquiries at galleries@psu.edu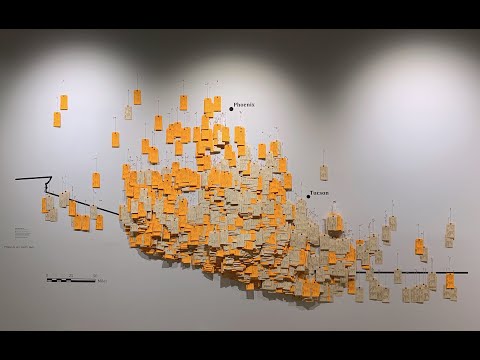 Informational Video
We have created a video to help explain the toe tag filling process. Please watch the video and reference the frequently asked questions tab for details about filling out toe tags.  
Email us if you have any questions at galleries@psu.edu
Tag-Filling Workshop FAQs

Where does all of this data come from?

This information comes from the Pima County Office of the Medical Examiner and has been made available online by the border humanitarian group, Humane Borders.
 

Tag Information:

"ML#" = the Medico-Legal Number, which is the case number assigned to each person/body brought into the medical examiner's office

 

"Surface Management" = who owns the land

 

"Corridor" = title assigned by border patrol to determine geographical "lanes" between U.S. Customs and Border Patrol stations

 

What is the difference between "Cause of Death" and "OME Determined Cause of Death" 

"OME" is from the medical examiner's notes and often contains more details and medical jargon.

 

What does "fully fleshed" mean?

All of the flesh remains on the body-- it was not decomposed.

 

What does "skeletal remains" as a cause of death mean?

The cause of death could not be determined because the body was too decomposed.

 

Why are so many names and causes of death described as "undetermined"? 

The remains were too decomposed to determine an identity or cause of death. Often, only a few body parts remain. 
Remezcla Collection: This powerful collection of documentaries draws on many common experiences of undocumented immigrants. The collection can be viewed on their website. 

 

The Living Undocumented Series 

Director: Tatyana Kleyn 

The Living Undocumented series includes two short films. Still Living Undocumented: Five Years Later is the sequel to the 2012 documentary Living Undocumented: High School, College and Beyond. The first film captured the realities of undocumented youth in New York City. At the same time, the DACA program was announced and drastically changed the lives of some of the people in the film. Five years later DACA is in jeopardy. Still Living Undocumented follows three individuals from the first film to see how DACA has impacted some of their lives and left others outside of its reach. These documentaries can be found at livingundocumented.com. 

 

 
Suggested Books

The Land of Open Graves: Living and Dying on the Migrant Trail by De Léon, Jason. This book is available online through the Penn State Library.

The Devil's Highway by Luis Alberto Urrea

Empathy beyond US borders : the challenges of transnational civic engagement by Gary J. Adler. This book is available through the Penn State Libary.

Miracles on the border : retablos of Mexican migrants to the United States byJorge Durand & Douglas S. Massey ; with photographs by the authors. This book is available online through the Penn State Libary.

Suggested Podcasts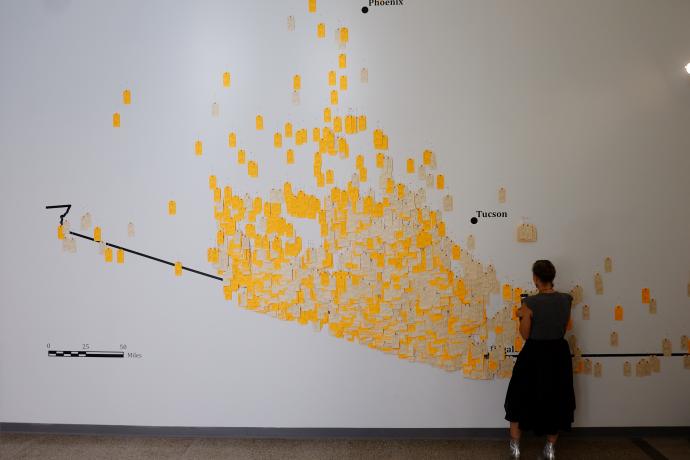 UPCOMING EXHIBITIONS 
Dates to follow 
ROSEMARIE FIORE 
Throughout the HUB-Robeson Center, HUB Gallery and Art Alley 
Known for converting popular technologies such as lawn mowers, cards, floor polishers, and amusement park rides into painting machines, Fiore worked with students in the School of Visual Arts to develop the pyrographic tools which she will use in a performance on the HUB Lawn. Through a series of weeklong intensive workshops, students designed and built smoke painting tools called Fire Clubs and Smoke Boxes.  
On the occasion of her performance, smoke paintings, collages and tools from throughout the last 10 years of Fiore's practice will be on view in Art Alley and HUB Gallery. The documentation that results from Fiore's performance will result in a site-specific commission for the HUB-Robeson Center, including 3 large murals and a 66 ft long scroll.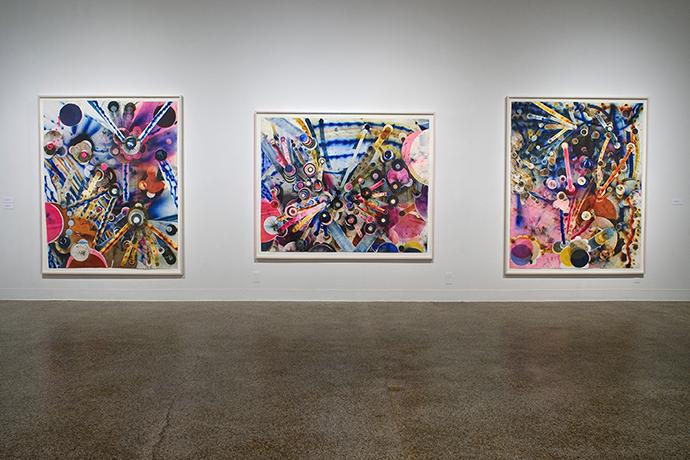 CARE. not convenience | JAE WON LEE & KELLY SALCHOW MACARTHUR 
Developed as a collaboration throughout 2019, this exhibition sheds light on society's dependence and careless overuse, as well as thoughtless disposal, of plastic. The primary material for their work has been found and collected plastic bags. Ubiquitous, inexpensive, value-less bags are repurposed through textual, graphic design, and art making methods. Committed to not adding waste through the making process, the extensive exploration of this petroleum-based material has led to methods for fusing sheets of plastics and making functional forms. This exhibition was selected by a jury of by students, staff, and faculty from the Penn State community through a national open call.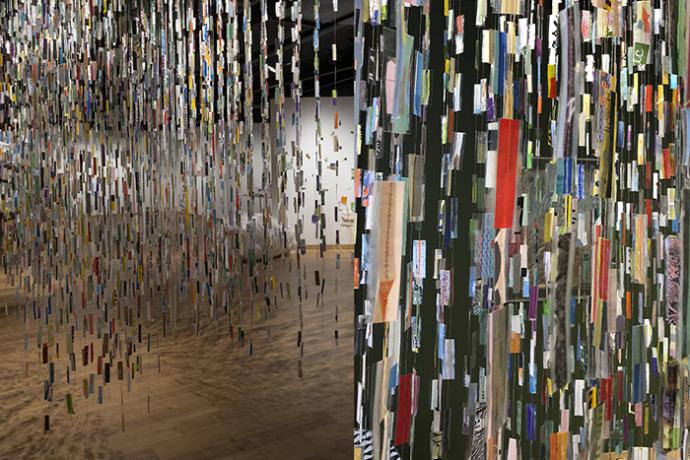 WHEN THE BOUGH BREAKS 
In a 1995 poem, Adrienne Rich answered: 
" .....so why do I tell you anything?
Because you still listen, because in times like these
to have you listen at all, it's necessary
to talk about trees. "
When the Bough Breaks responds to these questions within a context of countless trivial distractions from so many profound threats, many of which arise from our abuse of and alienation from nature. Despite our history of decimating vast tracts of forests, often in the name of civilization, trees remain indifferent to our existence. They continue offering shade, shelter, sustenance and survival. They long precede the human race and will ultimately succeed us, despite our alternating negligence and reverence. 
Facing ongoing human conflict and impending climate catastrophe, the reality or representation of trees can offer solace and space—for the necessity of talking and listening. The works of these artists and accompanying poets embrace the tree — materially and conceptually— through figure and metaphor, analysis and allegory, and as record and reflection. Works by: Patricia Bellan-Gillen, Denise Burge, Zoe Charlton, Ellen Harvey, Alex Lukas, Clayton Merrell, Lavar Munroe, Sarah Slavick, Susanne Slavick