Upcoming Exhibits

UPCOMING EXHIBITIONS 
Bill Doan | The Anxiety Project 
Opening January 16 – March 14 | HUB Gallery & Online  
A pandemic, nationwide protest and uprising, a presidential election, and cascading challenges facings individuals and communities across the globe, many of us have struggled with our mental health. Despite the prevalence and normalcy of these feelings and experiences, stigma continues to follow mental illness.  
For Doan, drawing, performing, and sharing have helped him – and others – cope.  Therapeutic and alleviating symptoms, drawing, performing, and storytelling have helped Doan to imagine his mental health, rather than to be defined by mental illness. The Anxiety Project, invites others to draw for their mental health too. He is a Professor of Theatre in the College of Arts and Architecture and Artist-in-Residence for the College of Nursing at The Pennsylvania State University. Doan served as the Penn State Laureate for 2019-2020. 
WHEN THE BOUGH BREAKS 
Opening January 16 | Art Alley  
In a 1995 poem, Adrienne Rich answered: 
When the Bough Breaks responds to these questions within a context of countless trivial distractions from so many profound threats, many of which arise from our abuse of and alienation from nature. Despite our history of decimating vast tracts of forests, often in the name of civilization, trees remain indifferent to our existence. They continue offering shade, shelter, sustenance and survival. They long precede the human race and will ultimately succeed us, despite our alternating negligence and reverence. 
Facing ongoing human conflict and impending climate catastrophe, the reality or representation of trees can offer solace and space—for the necessity of talking and listening. The works of these artists and accompanying poets embrace the tree — materially and conceptually— through figure and metaphor, analysis and allegory, and as record and reflection. Works by: Patricia Bellan-Gillen, Denise Burge, Zoe Charlton, Ellen Harvey, Alex Lukas, Clayton Merrell, Lavar Munroe, Sarah Slavick, Susanne Slavick 
" .....so why do I tell you anything?
Because you still listen, because in times like these
to have you listen at all, it's necessary
to talk about trees. "
ROSEMARIE FIORE 
Dates to follow 
Throughout the HUB-Robeson Center, HUB Gallery and Art Alley 
Known for converting popular technologies such as lawn mowers, cards, floor polishers, and amusement park rides into painting machines, Fiore worked with students in the School of Visual Arts to develop the pyrographic tools which she will use in a performance on the HUB Lawn. Through a series of weeklong intensive workshops, students designed and built smoke painting tools called Fire Clubs and Smoke Boxes.  
On the occasion of her performance, smoke paintings, collages and tools from throughout the last 10 years of Fiore's practice will be on view in Art Alley and HUB Gallery. The documentation that results from Fiore's performance will result in a site-specific commission for the HUB-Robeson Center, including 3 large murals and a 66 ft long scroll.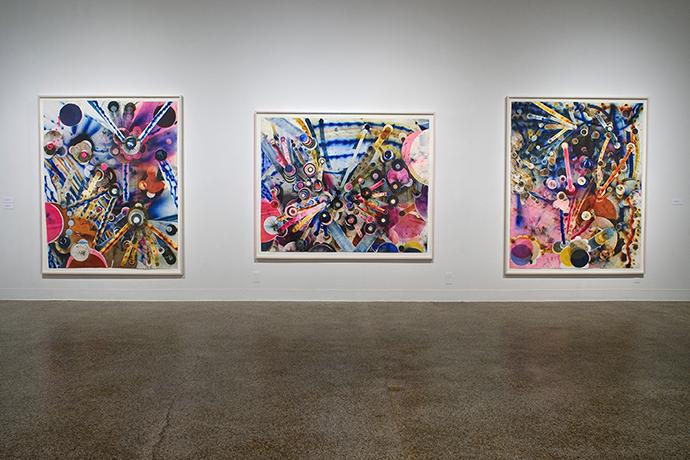 Banner Image | Rosemarie Fiore