Current Exhibitions

Happy Valley Animation Festival  
May 10 – July 17 | HUB Gallery  
An exhibition of animation reels from the second annual Happy Valley Animation Festival (HVAF 2022), a juried, international animation competition that seeks to promote the art of animation and showcase works by students, early career and practicing professional artists, designers, and filmmakers in three primary categories: Animated Films, Experimental Animated Works, and Animated Motion Graphics & Design.  
HVAF is a collaboration between organizers, volunteers, and academic partners. 2022 events are hosted by the Digital Arts and Media Design (DART) Program in the School of Visual Arts at Penn State. 
For more information: visit: www.happyvalleyanimationfestival.org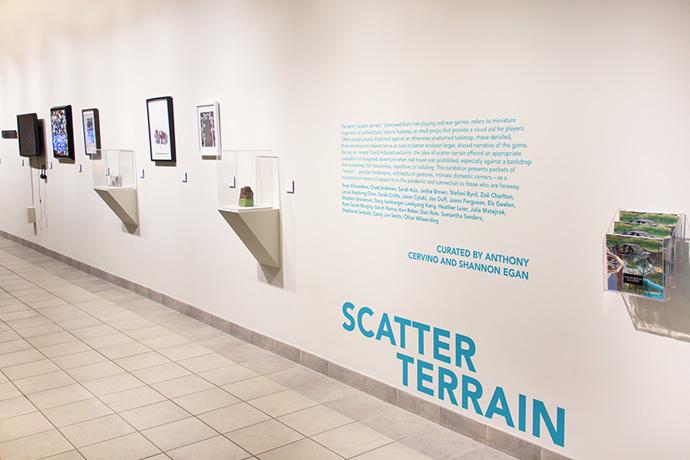 Scatter Terrain  
March 25- July 17 | Art Alley  
View Scatter Terrain's catalogue online  
The term "scatter terrain," borrowed from role-playing and war games, refers to miniature fragments of architecture, natural features, or small props that provide a visual aid for players. This exhibition presents pockets of "terrain" – peculiar landscapes, architectural gestures, intimate domestic corners – as a metaphorical means of escape from the pandemic and connection to those who are far away. What started as a call for disparate glimpses into distant lives and locations is now shifting toward a realization that our communal sense of place is still marked by a reckoning with an ailing world and an urgent need for new perspectives. Scatter Terrain was co-curated by Anthony Cervino and Shannon Egan, features 25 artists, and first premiered at Ejecta Projects.  
Nikki Lau | Generous Helpings  
May 27 – Nov 3 | Exhibition Cases, HUB-Robeson Center  
As the unofficial 6th love language a meal can be a joyous moment in someone's day. For those who are food insecure the effects of insufficient meals or nutrients have physical and economic ripple effects. Students experiencing food insecurity also experience many intertwined social issues including financial insecurity, housing insecurity, work or family obligations, and student loan debt. Artist and alumna Nikki Lau and creator of Little Lau Shop, produces intentionally hand-made ceramics of anthropomorphic food and creatures that have big and small emotions. In 2021 Lau began to create sculptural platters of food to fundraise for various food pantries. In this exhibition these platters will be for sale; 20% of sales will go to the Lions Pantry providing food to PSU students at no cost.
Email Galleries@psu.edu for purchasing information.
Future Return
Curated by Jeremy Dennis
May 20 - November 6 | Exhibition Cases
An exhibition in two parts, Future Return curated by Jeremy Dennis brings together beadwork, woodcarving, photography, and Shinnecock written books to share Indigenous stories. Artist and curator Jeremy Dennis creates cinematic images and places of belonging that center BIPOC artists. From Dennis' artist statement, "nowhere have Indigenous people been more poorly misrepresented than in American movies." Future Return brings together mediums of art where the creation is to continue their ancestors' tradition of storytelling and showcase the sanctity of their land. As racial divisions and tensions reach a nationwide fever pitch, it's more critical to Dennis than ever to offer a complex and compelling representation of Indigenous people.
Mental Health in Higher Education  
May 20 – OCT 31 | Exhibition Cases, HUB-Robeson Center  
Curated by Dr. Alexandra Allen and Kayley McDonald  
Works by Dr. Alexandra Allen, Dr. William Doan, and Melissa Lesher  
Mental Health in Higher Education highlights the complexities of mental health and neurodivergence of faculty members at Penn State. Intertwined with the artworks are stories from current students of how COVID19 has impacted their academic life and wellness. Addressing both student and faculty experiences, the exhibition celebrates the ways in which student and faculty process through art and communication.