Career Resource Center

It's never too early to explore your future. We have the resources you need, whether you're a first-year student still deciding on a major or getting ready to walk across the graduation stage.
Career Services has a Career Resource Center and Career Resource Specialist to provide and assist you with career resources. Stop by the Bank of America Career Services Center or connect with us to ask questions about our resources.
Career Resource Center
Monday through Friday
8:00 a.m. - 5:00 p.m.
AskCS@psu.edu
Online Career Resources
Expand each area to see the wide variety of online resources available. Use the right menu to access specific career information pages.
Don't know where to start?
Visit with a career counselor or our career resource specialist or a career counselor to get started.

Nittany Lion Careers
Get connected with employers looking for Penn State talent. Find job postings, leads, workshop and information session information, and apply for on-campus interviewing opportunities.
---
Financial and phishing scams are happening more frequently on job posting sites. If it sounds too good to be true it probably is. Do not respond to messages asking for personal information or money, click on any phishing or scam links, open any attachments from unexpected sources, or provide account information or passwords to senders.
If you are suspicious of an email, forward it to phishing@psu.edu for validation. For more information on how to recognize scams, visit security.psu.edu/phishing. 
While the following career resources are utilized by many Penn State students and alumni, they are not directly affiliated with Penn State and the University cannot control their security.
It is recommended that users NOT create accounts for these resources using the same credentials (username and password) that they use for their Penn State access accounts.
Career Specific Resources
Consider taking advantage of career specific websites, resources, and associations. Remember that your major may not need to directly reflect a career field to be considered.
We're updating our career specific resources. Check back for additional areas and updates!
Explore by Who You Are
Find career resources specific for you. Using general resources, those based on career interest, and ones focused on who you are can widen your search and give you the opportunity to find the right fit. 
We're updating our career specific resources. Check back for additional areas and updates!
Want help with resources?
Stop by and visit with a career counselor, career resource specialist, or peer career assistant to walk through navigating the wide variety of career resources.

Make the most of your time and streamline the process. Visit with our staff of experts today.
Learn about drop-in hours now.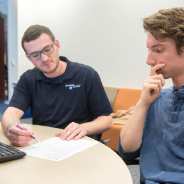 Get Help
Working through a career plan can be confusing. Reach out to Career Services for help organizing your thoughts, finding resources, and getting you ready for success.
Resource Vendors
Interested in having your resource included in the Career Resource Center?

All resource requests are reviewed by a designated committee a few times per year. Please submit the form and do not contact staff directly.