Health Promotion & Wellness
Penn State Health Promotion and Wellness is an excellent resource for student health education and information. Our goals include:
Increasing awareness and knowledge of health issues, including:

Sexual health
Stress and sleep
Nutrition and fitness
Wellness
The use of alcohol, tobacco, and other drugs
Body image and eating disorders

Promoting healthy behaviors
Providing health education services, programs, information, and materials to students
Advocating for a healthy Penn State community
Free Wellness Services
All Wellness Services must be scheduled through the link below. Staff are conducting appointments by Zoom for Nutrition, Tobacco Cessation, BASICS, and MIP. If you need to schedule an appointment for any of those services, please email promotinghealth@psu.edu. Nutrition appointments can also be scheduled via myUHS.

Students can also leave a phone message at 814-863-0461 to schedule appointments. Please leave your full name, Penn State Access ID (abc123) and a phone number with area code. A staff member will contact you by phone or email during regular business hours (8:00 a.m. to 5:00 p.m. Monday through Friday).

Click the link below to schedule.
Schedule a Free Wellness Session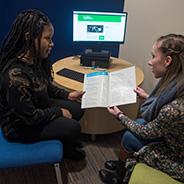 Explore in this Section
Health Promotion & Wellness