Health Promotion & Wellness
Penn State Health Promotion and Wellness is an excellent resource for student health education and information. Our goals include:
Increasing awareness and knowledge of health and wellness issues, including:

Alcohol, tobacco, and other drugs
Body image and eating disorders
Nutrition and being active
Resilience and mindfulness
Sexual health and healthy relationships
Stress and sleep

Promoting healthy behaviors
Providing health education services, programs, information, and materials to students
Advocating for a healthy Penn State community
Free Wellness Services
Learn about our wellness services with peer educators. We offer services for healthy relationships and sexual health, nutrition and healthy eating, physical activity, sleep, and stress. Schedule an appointment through myUHS today.

HPW Staff conduct appointments for Nutrition, Tobacco Cessation, BASICS, and CASECS. To schedule an appointment, visit myUHS, call 814.863.0461, or email promotinghealth@psu.edu.
Schedule a Free Wellness Session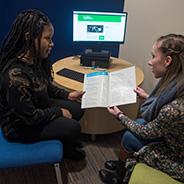 Explore in this Section
Health Promotion & Wellness