Peace Corps

The Peace Corps is a service opportunity for motivated changemakers to immerse themselves in a community abroad, working side by side with local leaders to tackle the most pressing challenges of our generation.
The Peace Corps Mission
To promote world peace and friendship by fulfilling three goals:
To help the people of interested countries in meeting their need for trained men and women.
To help promote a better understanding of Americans on the part of the peoples served.
To help promote a better understanding of other peoples on the part of Americans.
Volunteers serve for 27 months in areas such as health, education, environment, agriculture, community economic development, and youth in development.
Penn State ranks number 15 nationally for producing Peace Corps volunteers
For the fourth consecutive year in a row, the Peace Corps lists Penn State as a top 25 institution. Currently, 48 Nittany Lions are serving globally.
Read about Penn Staters making a difference.
Semester Appointments
The Penn State Peace Corps office can schedule an appointment to meet you in-person or virtually. The local campus recruiter for Penn State is Sasha Escue.
Questions about the Peace Corps:
Please email peacecorps@psu.edu.

Schedule an appointment:
Available by appointment, both in-person and virtually. 
To schedule email peacecorps@psu.edu
Alumna raises funds to build library in Malawi
When Grace Park graduated from the College of Education in 2018 with a bachelor's degree in rehabilitation and human services (RHS), she had no clear idea of what career path she wanted to take other than being able to make a difference in people's lives.

Her curiosity and altruism led her to a post in Malawi as a volunteer in the United States Peace Corps, and she took a leading role in establishing a school library as part of an effort to create a literacy-rich environment for the students.
Read about Grace's experience with the Peace Corps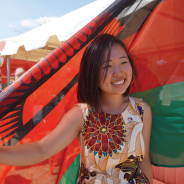 " Penn State ranked 15th nationally of large universities contributing volunteers to Peace Corps. "