Find what you need

Need help with resources?
Career Services has a Career Resource Center and Career Resource Specialist to provide and assist you with career resources. Stop by the Bank of America Career Services Center or connect with us to ask questions about our resources.
Career Resource Center
Monday through Friday
8:00 a.m. - 5:00 p.m.
AskCS@psu.edu
Nittany Lion Careers
Get connected with employers looking for Penn State talent. Find job postings, leads, workshop and information session information, and apply for on-campus interviewing opportunities.
Search for opportunities now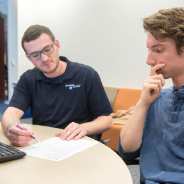 ---
Resource Vendors
Interested in having your resource included in the Career Resource Center?

All resource requests are reviewed by a designated committee a few times per year. Please submit the form and do not contact staff directly.