Voter Registration & Election Information

Voting in local, state, and national elections is one of the most important duties of an engaged citizen. Students have the option to vote in their hometown or in their university community, where they live for most of the year.
Critical dates for voting in Pennsylvania
Request a mail-in ballot
Pennsylvania allows mail-in ballots for anyone registered to vote in PA. Mail-in ballot applications can be obtained online, or at the Center for Character, Conscience, and Public Purpose, 102 HUB-Robeson Center.
Request a mail-in or absentee ballot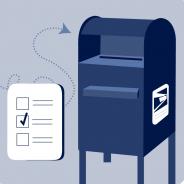 Explore in this Section
Voter Registration & Election Information