Get career guidance

We're here to help
Career Services is open and here to help you navigate your career goals, both in-person and virtually. Our team is here for you and are eager to help you with any career questions or dreams that you may have.
In-Person Career Counseling

Career Services is open for drop-in sessions and career counseling appoints at the Bank of America Career Services Center.

Virtual Career Counseling

Our team can support you virtually. We're proud to offer virtual appointments alongside our in-person services.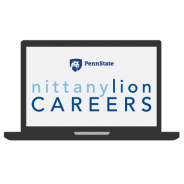 " Students who receive career-specific support feel most prepared for the workforce. "
Drop-In Career Counseling
Visit the Drop-In Counselor at Career Services for a 10-15 minute conversation about your questions and goals (no appointment needed). Students bring questions about career planning, exploring career options, preparing for networking events and fairs, and reviewing resumes and other application materials as well as questions about graduate school planning to the drop-in conversation.
Monday thru Friday, 11:00 a.m. - 3:00 p.m.
Bank of America Career Services Center
Career Counseling Appointments
Need more than a 10-15 minute drop-in session? Schedule an appointment with a career counselor to spend an hour discussing more in-depth career concerns. Build a relationship with a counselor and have someone in your corner as you navigate the job and internship market, plan to define and achieve your career- and education-related goals.
Schedule an appointment
Log on to Nittany Lion Careers or call 814-865-2377.
Peer Career Assistants
Need a quick resume review or help using a career resource? Meet with our highly trained Peer Career Assistants to help with your career questions. 
Available during normal drop-in hours

Interested in joining the team? 
Learn about becoming a Peer Career Assistant
Peace Corps
Interested in spending time abroad to help educate others? Meet with our dedicated Peace Corps recruiter to ask questions about serving, application needs, and life overseas.
Want to learn about the Peace Corps?
Learn more now.
Mock Interviews
Practice for an upcoming interview by simulating the real thing through a mock interview. Schedule a mock interview and participate in a realistic interview with customized questions and interview feedback based upon your career goals. Your session will be recorded for you to view and critique. Please note that mock interviews are not available as class requirements or assignments.
Interested in scheduling a mock interview?
Learn more about booking appointments and procedures now.