Art Galleries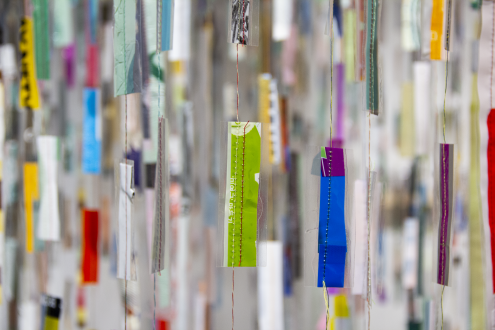 Visit the Galleries
The HUB-Robeson Galleries are always Free For All and are now open with in-person exhibitions.
We welcome you to view these projects and exhibitions in-person; virtual events, tours, and more will be announced soon. 
HUB Gallery is open 10:00 a.m. - 6:00 p.m. daily. The HUB-Robeson Center is open 24/7. 
With cautious optimism we welcome students, University guidelines will be followed to ensure the safety of one another. 5 guests maximum at a time in HUB Gallery. Masks and social distancing required. 
Recycled Banner Totes - Art Making Activity
Join arts education intern, Delphine Aibel, on NOV 18, at 3:00 p.m. for a community making event! Inspired by the collaborative art exhibition "CARE. not convenience." currently installed in HUB Gallery, Delphine has tracked down unused, unrecyclable banners from across Penn State. At the workshop she will guide everyone through how to turn your kit into a useable bag or storage bin, great for reuse and refusal for single use plastic.

RSVP for this event so we have time to prepare the kits! The first fourteen to complete the RSVP with receive a tote made from the artists of "CARE. not convenience". This event is free for all, and no arts experience needed! This event does require attendees to pick up their kits from HUB Gallery, University Park, Pa.
RSVP for an art kit!