Upcoming Exhibitions
HUB-Robeson Center Offices & Spaces

Unsolicited Advice | Laura Marsh
April 2023 – July 2023 | HUB Gallery
Is it safe to say at one point in your life that you have both given and received unsolicited advice? How did that make you feel? These are the questions; Laura Marsh asks as a textile artist of humanitarian messages and social practice. The solo exhibition, Unsolicited Advice, is a phrase taken from a small banner included in the exhibition. Through textile paintings, banners, spheres, and installations, Marsh discusses larger societal issues through the use of fabric. She invites participants to sit on the spheres and provides spaces to contemplate larger text statements and interact with textiles. 
Laura Marsh (b.1982 Montrose, Pennsylvania) received her MFA from Yale University School of Art and a BFA from the Cleveland Institute of Art. Marsh has exhibited nationally at venues including The Whitney Museum of American Art, Jane Lombard Gallery, Printed Matter, Field Projects, Newman Popiashvili Gallery, Tilton Gallery in NY, Dotfiftyone Gallery, Locust Projects, and Deering Estate in Miami. In addition, she has been an artist in residence at Oolite Arts (Miami Beach, US), Mana Contemporary (Miami, US), and Siena Art Institute (Siena, Italy). She is currently represented by Dotfiftyone Gallery, Miami.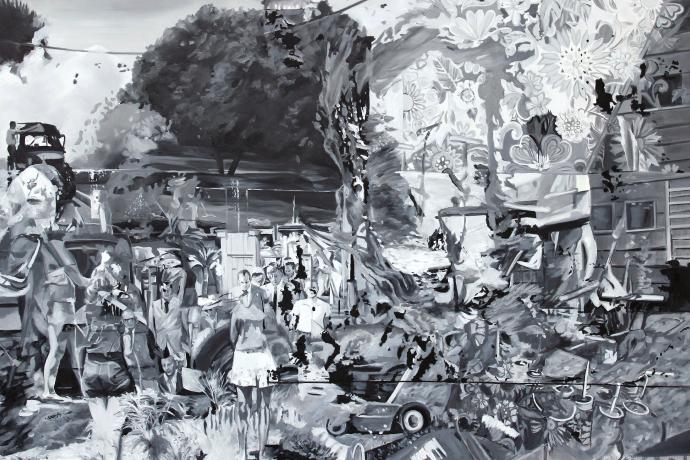 Sticky Mirror | Sarah Sutton
February 3, 2023 – May 8, 2023 | Art Alley
Reception: TBD 
These paintings imagine in-between spaces, scalar fluidity, and what the artist calls psychic spaces, where the private and public realm collapse. Short-term comforts and long-term consequences collide, and histories and interspecies boundaries dissolve and reappear unexpectedly.
Humans are not foregrounded but instead one small part, enmeshed and entangled in the web-like spaces. The title of this exhibition comes from Timothy Morton's book,  Hyperobjects: Philosophy and Ecology after the End of the World and sticky mirrors alludes to the viscous relationship between humans and objects, environmental degradation, and its 'stickiness' to our bodies, despite our evolutionary blind spots.