Current Exhibitions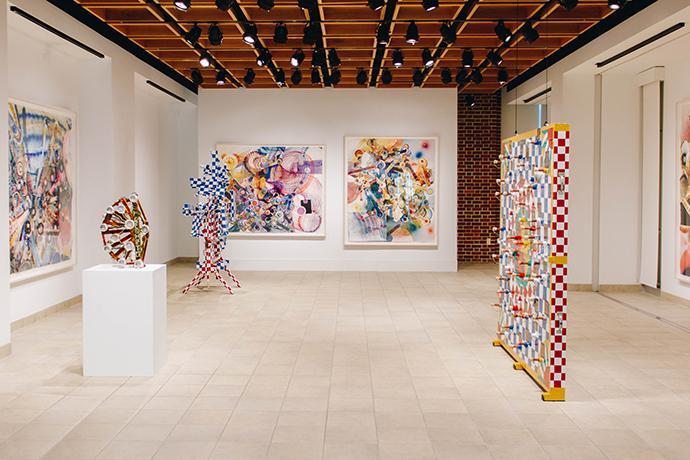 ROSEMARIE FIORE
June 18, 2021 – January 30, 2022 | HUB Gallery
Known for converting popular technologies such as lawnmowers, cars, floor polishers, and amusement park rides into painting machines, selected works from the past 10 years of Fiore's practice will be on view in HUB Gallery. Fiore worked with students in the School of Visual Arts to develop the pyrographic tools which she will use in a performance on the HUB Lawn coming this Fall. This project is supported in part by an award from the National Endowment for the Arts.
C/O Commonwealth 
Benjamin Andrew, Center for Performing Arts, Climate Art and Action, Marissa Alise Baez, Dennis Redmoon Darkeem, Christina Dietz, Adam Farcus, Kiana Honarmand, Corinne Jones, Kate McGraw, Ann Tarantino, and Tiara Zhané 
May 24 – July 25 | Art Alley
This juried exhibition invited artists to make site-responsive and socially engaged works of local relevance and international significance charged by the HUB-Robeson Galleries Student Advisory Council. The resulting sculptures, wall drawings, murals, and installations are in care of the five pillars of the United Nations Sustainable Development Goals: People, Planet, Prosperity, Peace and Partnership. Exploring labor, care economies, and the collective power and colonial history integral to the term commonwealth, these works recognize the term's connection to exploitation by looking at generational wealth, land, ownership, and the on-going impacts of these systems on the climate.
The arts are fundamental to our humanity, to our University, and to our world. They inspire us to find understanding and beauty and help us to express our values and diversity across ethnicity, religion, and race.  
From critical conversations to writing, image-making, and any number of creative actions; C/O Commonwealth holds space for artworks and artists to use creative methods for examining unequitable structures shaping our lived realities and posits ways that we might come together. 
Thank you to the artists, jurors, and HUB-Robeson Galleries advisory council members for their contributions to this exhibition.
Workshops:
Do you want to be a part of a life-size paint by number mural in the HUB? Join exhibitions intern Megan Gottfried in Art Alley to make your mark in the "C/O Commonwealth" exhibition on Kate McGraw's Preserving Our Farmland in Pennsylvania mural. Sign up for Painting the Pennsylvania Landscape in Art Alley.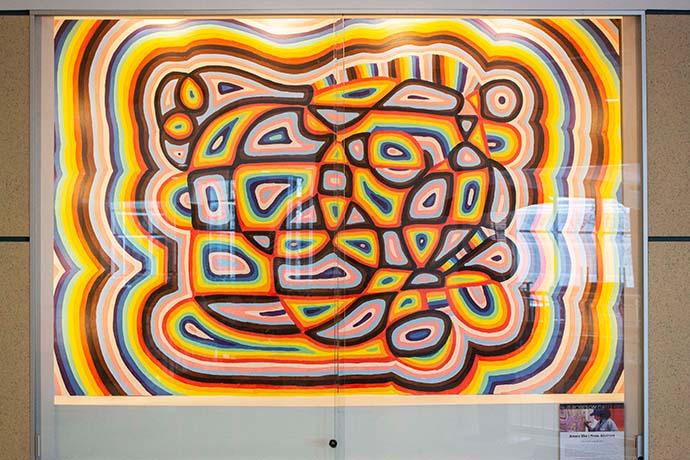 Amara Eke | Pride Abstract 
February 22 - July 28 | Wall Case, HUB-Robeson Center 
Amara Eke is a senior in Fine Arts at Penn State University pursuing her BFA with a concentration in Drawing and Painting and minors in Art History and Gender Studies. Her work uses vibrant colors in mediums including acrylic paint, colored pencils, markers, glitter, stickers, and more to illustrate themes dealing with black womanhood, queerness, spirituality, and conspiracy. Eke aims to intertwine themes of art history (particularly from the Byzantine and Italian renaissance periods) with her own experiences in the 21st century, accurately representing the wealth of diversity here on Earth while still paying homage to the artists and history that came before her. 
Penn State Center for Arts and Crafts Annual Artist and Instructor Exhibition 
February 5 – June 20 | HUB-Robeson Center 
The Penn State Center for Arts and Crafts' (CFAC) artists and instructors will showcase their artwork in the first-floor Display Cases. This exhibition will feature artworks representing the range of art classes available at the CFAC. 
The Center for Arts and Crafts has offered non-credit adult art classes to Penn State students, faculty, and staff during each of the university semesters and a children's summer art camp for more than 40 years. The Center for Arts & Crafts is located in 3 Ritenour and has a ceramics studio in B8 HUB.