Current Exhibitions
HUB-Robeson Center Offices & Spaces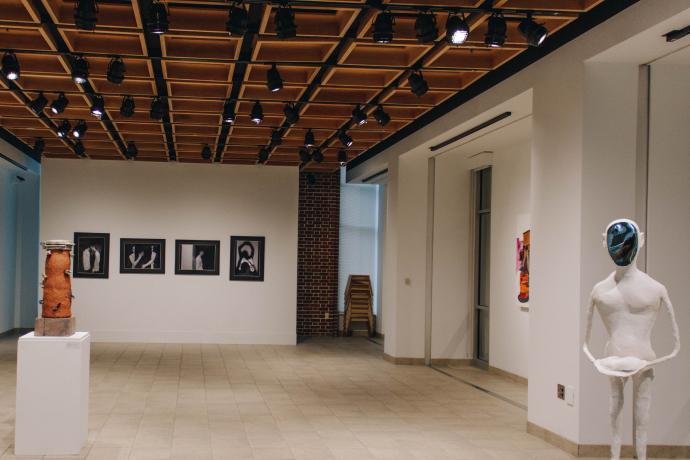 Visual Arts Annual Graduate Research Exhibition | Penn State
March 18, 2023 – April 1, 2023 | HUB Gallery
Featuring the work of the current Master of Fine Arts candidates, the Annual Graduate Research Exhibition includes several artists working in a wide variety of mediums. Candidates are challenged to effectively demonstrate the significance of their ideas and creative research to the general public. Individuals whose works and presentations are judged best will receive monetary awards. 
The Annual Graduate Research Exhibition celebrates research in all its aspects as an essential and exciting part of graduate education at Penn State. Established in 1986, the Graduate Exhibition places special emphasis on communicating research and creative endeavor to a general audience and offers an opportunity for professional development by challenging graduate students to present their work in clear, comprehensible terms to people outside their fields.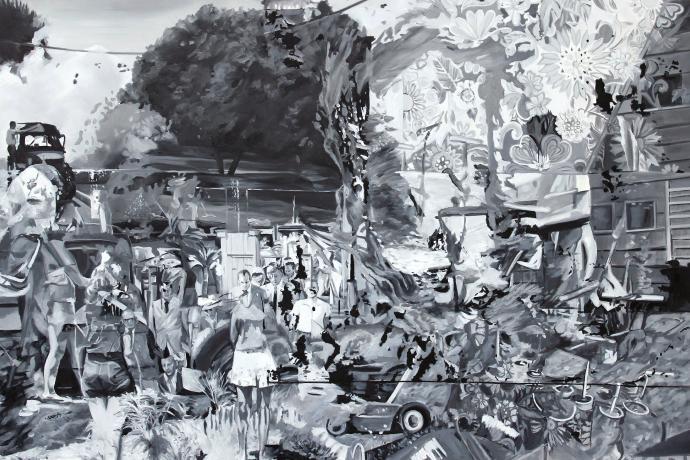 Sticky Mirror | Sarah Sutton
February 4, 2023 – May 30, 2023 | Art Alley 
Reception: TBD
These paintings imagine in-between spaces, scalar fluidity, and what the artist calls psychic spaces, where the private and public realm collapse. Short-term comforts and long-term consequences collide, and histories and interspecies boundaries dissolve and reappear unexpectedly. 
Humans are not foregrounded but instead one small part, enmeshed and entangled in the web-like spaces. The title of this exhibition comes from Timothy Morton's book, Hyperobjects: Philosophy and Ecology after the End of the World and sticky mirrors alludes to the viscous relationship between humans and objects, environmental degradation, and its 'stickiness' to our bodies, despite our evolutionary blind spots.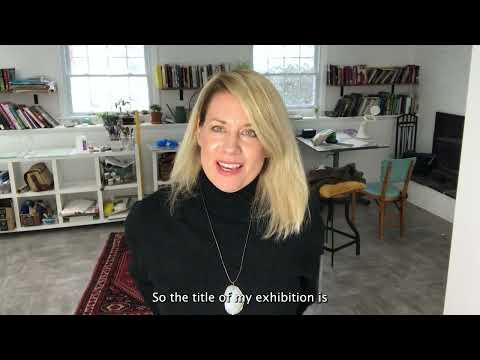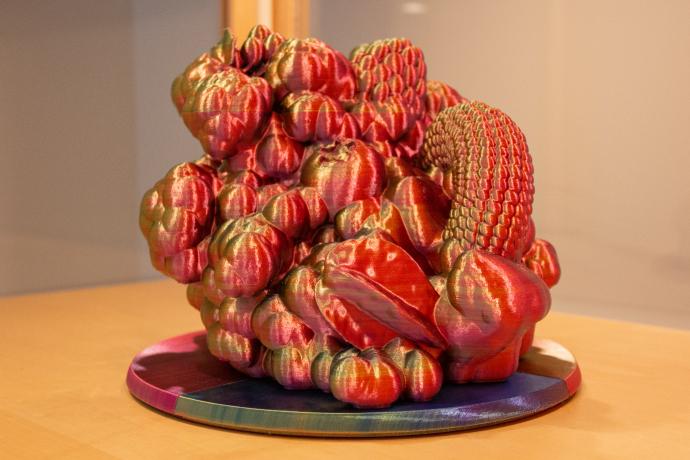 HARD CANDY TECTONICS  
Works by Gracelee Lawrence
Curated by Jessica Rommelt 
November 14, 2022 - May 14, 2023 | Exhibition Cases
Glimmering and seductive surfaces blend into sensual volumes in space that together form the plastic sublime that is Gracelee Lawrence's sculpture. Her approach to objects spins somewhere off the map between a traditional sculptural legacy (in the company of reclining nudes and ornate garden fountains) and a 21st-century DIY manufacturing approach that let's one artist print off extruded plastic components that fit elegantly together. Still, with a fierce rebel sensibility, Lawrence serves the most exquisite Lego Tetris figuration you've ever seen. These sculptures usually feel like femme beings that are at once naked and armored up. Here you may find the works conjuring a rogue cyborg disco, cumquat army, digital cherry mountain with the reclining gargoyle, oil spill harvest cake on hard candy tectonics.