Student Opportunities in Health Care
Healthcare and Medical Services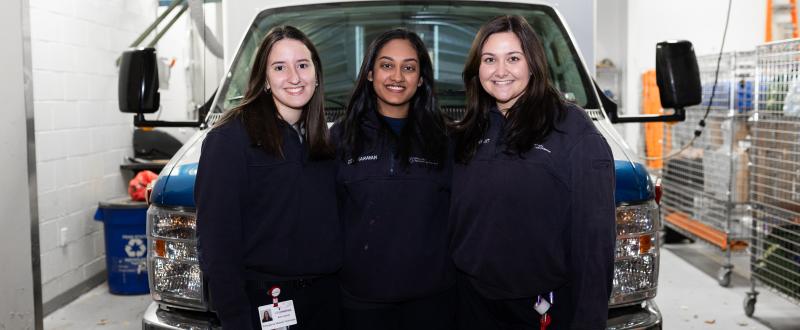 Health Care Internships and Volunteer Opportunities
Requirements for Student Workers at University Health Services

University Health Services (UHS) student workers, interns, and volunteers are considered health care personnel, and as a result, have the responsibility to ensure the health and safety of all UHS patients. Student workers, interns, and volunteers must provide proof of the following vaccinations/screenings and background checks prior to beginning their service with UHS.

Required Vaccinations

Measles/Mumps/Rubella

Two doses of MMR given after the first birthday (at least 28 days apart)
OR
Laboratory confirmation of immunity to all three infections

Varicella (Chickenpox)

Two doses of the Varicella vaccine
OR
Laboratory evidence of immunity 

Pertussis (Whooping Cough)

A single dose of the Tdap vaccine (adolescent/adult booster dose of tetanus/diptheria/pertussis)
If it has been greater than 10 years since your Tdap vaccine, you may need to repeat the tetanus portion of the vaccine. A repeat Tdap will also be accepted as the tetanus booster in these cases.

Influenza

Annual flu vaccine--You may get the vaccine from your regular health care provider or schedule an appointment with UHS to receive the vaccine

Hepatitis B 

Three-dose vaccine series

TB Screening

In addition to the above vaccines, student workers, interns, and volunteers must also provide proof of TB testing before starting. If you are new to UHS, this means you will need to have two TB tests, spaced one to three weeks apart. You may have this done with your regular health care provider and submit documentation or you may schedule an appointment with a nurse, for a charge, to have this done at UHS.

Background Checks

All student workers, interns, and volunteers must complete a criminal history report prior to beginning their service with UHS. Please visit https://epatch.state.pa.us/ to initiate a new report.

*Please note: No other criminal history reports/child abuse clearances will be accepted 
Clinic Intern Program
The Penn State Clinic Intern Program provides undergraduate students who have an interest in pursuing a career in medicine an opportunity to interact professionally with patients and medical staff in the Clinical Services department. As interns, students conduct patient intake exams and assist clinical staff.
Application process

Applications are accepted between January 10th and May 10th.

After students apply, they will be notified in the spring and early summer if granted an interview. Interviews will be held at the beginning of the fall semester. Students will need to obtain healthcare clearances and be up to date with immunizations prior to starting class.  After interviews, selected students begin a training course the following spring semester.

The class size is small, with only 12-25 students accepted into the class each year. As with many programs, competition is great for a limited number of seats and there are typically many more qualified applicants than the program is able to accommodate.

The program is a 300 level BBH class with three credits in the spring and three credits in the fall. Students are required to take the course both semesters.

Apply to the Clinic Intern Program online.

What to expect

Beginning in the spring semester, all participants selected for the Clinic Intern Program are trained to conduct initial patient intake screenings in a Bio-Behavioral Health course (BBH330). This class is typically held on Mondays from 5:00 p.m. - 7:00 p.m. This course is required for students participating in the program. 

The class trains students in assessing vital signs, determining the reason for the visit, documenting in an electronic medical record, and performing simple procedures such as visual acuity. Other topics include common health concerns, proper documentation, and patient confidentiality. There are homework assignments, quizzes, and exams. 

The Clinic Intern Program is a two-semester commitment (beginning in the spring semester and continuing the following fall semester). The classroom portion of the program takes place mostly during the spring semester and interns must commit to working in the clinic for one four-hour block of time each week for two semesters.

Clinic hours usually begin regularly after 6-8 weeks of training, however, observation in the clinic begins in the first few weeks of class. Hours are scheduled weekly for a continuous 4-hour block of time, either in the morning or afternoon. Students must sign up for the clinic hours each semester.

Students are trained in electronic record documentation, taking vital signs, exam room supply stocking, and transportation of patients within the facility, among other things. Students are able to observe a variety of procedures and may shadow a clinician at scheduled times. Students will work only with primary care clinicians. 

Prior experience

There are no class prerequisites, but healthcare clearances are required. It is ideal for the student to be interested in a career in a medical field. All necessary skills will be taught in the classroom prior to beginning hours in the clinic.

Selection criteria

Students are evaluated based on their application, GPA, class standing, and presentation during the interview. Writing and grammar on the application as well as content in the application questions, professional attitude, and appearance, interest in the program and ability to fit the program's required hours into the student's schedule are some of the considerations taken into account when students are selected.

Students may not be chosen because they are over-qualified for the program (e.g. have certifications such as EMT-B with skills above what are taught to complete volunteer duties) or because other students may be able to benefit more from the experience.

Continuing beyond two semesters

Students may continue to intern in the clinic as long as they are a Penn State student. No classroom component is required. However, there are no credits given beyond two semesters.
Physical Therapy Volunteers & Interns
The Physical Therapy department offers opportunities for hands-on experience and college credit to University Park students who are interested in pursuing future careers in physical therapy or related health fields.
Physical therapy student volunteers gain valuable experience observing and assisting professionals in a clinical setting. Volunteers observe evaluations and treatments, complete equipment set up and clean up, and greet patients. Volunteers must be able to commit at least two hours per week to the program for a minimum of one full semester. Volunteer hours can be counted toward service/volunteer requirements for physical therapy or medical school applications.

Volunteer applications are accepted during three enrollment periods. Applications received outside of the respective deadline window will not be considered for that semester; students will need to reapply for the desired semester.

Fall Semester: Apply January 1 - March 1
Spring Semester: Apply August 1 - October 1
Summer Semester: Apply January 1 - March 1
As a physical therapy intern, students earn course credit through the Department of Kinesiology. Potential interns need to be a Kinesiology major enrolled in either Kines 395B or Kines 495B classes. Internship experiences are open to all students who plan to pursue a future career in physical and occupational therapy.

Kinesiology 495B applicants must complete the online application but also submit a resume and unofficial transcript.  To submit the resume and transcript please drop them off in the physical therapy department located at 101 Student Health Center.  Please turn in both items within 1 week after applying online.  You will be contacted after the application deadline if selected for an interview.

Application deadlines:

Fall internship: Apply during the previous spring semester by March 1. 
Spring internship: Apply during the previous fall semester by October 1.
Emergency Medical Services
The EMS department is responsible for all emergency medical services on the University Park Campus. EMS operates the University Ambulance Service and coordinates emergency medical coverage for nearly 600 special events at University Park and in the surrounding State College community each year. These events welcome over 1.6 million guests to the area annually. University Health Services Emergency Medical Services (EMS) department welcomes students who are certified as Pennsylvania Emergency Medical Technicians (EMTs) and Paramedics to apply for our paid positions. 
Students not currently certified as Pennsylvania EMTs who wish to become certified are encouraged to explore local training opportunities. Penn State offers the EMT course (KINES 403) each semester.
EMTs are needed to fill paid, part-time positions with the University Ambulance Service.  Applications are accepted from EMTs and Paramedics who are current Penn State students; and hold certifications in CPR, AED, EVOC, and HAZMAT. Positions are listed at hr.psu.edu/careers.
Other Student Employment & Volunteer Opportunities
Explore in this Section
Student Opportunities in Health Care