Staff Directory
Center for Sexual and Gender Diversity

Center for Sexual and Gender Diversity
Undergraduate Staff
Laryn Jackson
Laryn is a junior pursuing a degree in Digital/Print Journalism and considering a minor in Sociology. Outside of working at the Center for Sexual and Gender Diversity, I'm a Teaching Assistant for BiSci 3 and I write for The Underground at Penn State. As an aspiring journalist, I am particularly interested in identity pieces that focus on topics such as culture, race, and LGBTQ+ related content. My dream is to one day travel the world telling the stories of people who may not have a voice or platform to tell their own story. In my free time, I like to watch tv, journal, exercise and spend time with the people I love.

SPECIALTIES/INTERESTS:
● News/Marketing/Publication
● Developing all advertising and promotional materials
● Maintaining social media accounts
● Creating weekly Rainbow newsletter
● Maintaining message boards in Boucke and HUB Buildings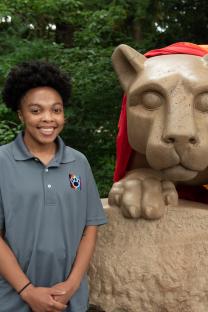 Ryan Castillo
Ryan Castillo is a sophomore studying psychology at Penn State. He is a first-generation college student determined to take full advantage of the resources that his family never had. Ryan is also passionate about giving back people who have helped him along the way. As a queer student, himself, Ryan has received resources and support from the Center of Sexual and Gender Diversity, and feels a duty to pass that help on to other students. This is Ryan's second year working at the Center and he could not be more thrilled to be taking care of the Clothing Transit this year. Ryan also holds committee chair and executive board positions in clubs, and he plans to become an RA next year.
Dylan Miller
Dylan is a senior majoring in psychology with a minor in gender sexuality studies. This is his third year with the center and is very excited to be a part of not only the first year with the new name but also the move from Boucke to the HUB. He is very excited to be back at the center for another year as it has become a home of sorts and is looking forward to continuing his work with the center. Previous years Dylan has been a Hospitality and Operations intern and last year was in charge of running the Clothing Transit offered through the center. Outside of his work in the center Dylan is an avid singer in choir and is an active member in Ally house an LGBT+ special living option on campus.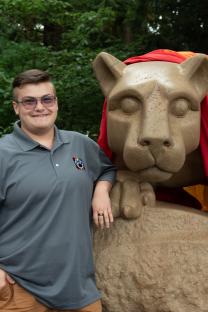 Lauren Whitley
Lauren is a senior studying Psychology with double minors in Sexuality & Gender Studies and Deafness & Hearing Studies. After graduation, Lauren plans to attend grad school to obtain a Master's in Clinical Mental Health Counseling. She wants to become a licensed counselor for queer and trans people and hopes to one day open her own clinic. This is Lauren's second, non-consecutive, year with the Center and she is excited to be returning for her last year as an undergrad. In her free time, Lauren enjoys spending time with friends, listening to music, watching dog videos, and napping.
Marco Planchert
Marco is currently a junior studying Psychology with a focus in business and wants to eventually go into HR diversity after graduating. He keeps himself busy within the center by helping with Peer Education and hosting meetings for the various LGBTQA+ organizations around campus. When he is not working, being an RA, or in class, you would probably find him either doodling or dancing. With the little free time he has left, he sometimes finds himself catching up on all the work he needs to do next.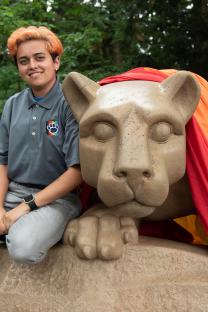 Alex Rupp
Alex is from Erie, PA and graduated from Northwest Pennsylvania Collegiate Academy in 2018. He is a sophomore majoring in graphic design here at Penn State. He spent three years on his school's yearbook staff serving as layout editor for two of them. This is his second year at the center and here he is a part of our marketing team working on our social media and our graphics. He is also involved with THON being a part of the Merchandise Committee this year. In his free time you can find him drawing or painting and listening to music.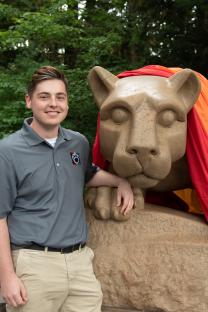 Graham Ball
Graham is a 2L at Penn State Law. A Montreal native, Graham received a Bachelor of Arts in Philosophy from Stetson University. As a Graduate Student Engagement Staff, Graham helps develop and coordinate programs and social events for LGBTQ+ Graduate Students at Penn State. In his free time, Graham enjoys catching up on the work he should have already completed. Graham also enjoys coffee and eating sweets.