Pharmacy Services for Retirees
Healthcare and Medical Services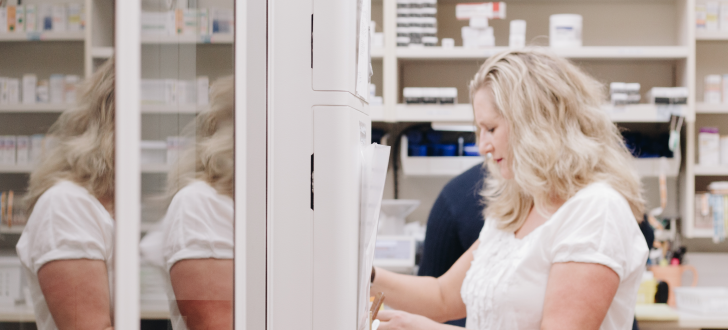 Prescription Services
First-time pharmacy customers should complete the Pharmacy Employee/Retiree Enrollment Form and submit it along with, or prior to, your first prescription order.

The Pharmacy Employee/Retiree Enrollment Form can be dropped off at the pharmacy during regular business hours, or mailed to:

UHS Pharmacy
202 Student Health Center
University Park, PA 16802

If you have a new prescription(s) that needs to be filled, please attach it to the form. After your first prescription has been filled you will be able to use one of our easy prescription refill options.
The Pharmacy will fill written, original prescriptions. You may bring your prescription to the pharmacy service window, have your clinician fax it to the pharmacy at 814-863-5371, or mail it to the pharmacy.

We cannot accept prescriptions:

By phone from your clinician
By transfer from other pharmacies
Need a prescription refilled? If you already have a prescription on file at University Health Services Pharmacy, we offer several convenient ways to request refills. 

Refills by Phone: You can call in your refill request 24/7 through our automated refill system. Just call 814-865-9321 and press "3." Be sure to have your prescription refill number handy - it is located on the left corner of the label.
Refills Online: You can submit a prescription refill request online 24/7.
Mobile App: Download the mobileRX app from the App Store or Google Play and search for UHS Pharmacy using telephone number 814-865-9321
Delivery & Pick-Up Options
We offer three convenient options for Penn State retirees to receive their prescriptions. You may pick up your prescriptions via curbside, in-person, or have them delivered directly to your home address.
We encourage patients to refill maintenance medications with a 90-day supply or up to the plan maximum. For questions, please call the UHS Pharmacy at 814-865-9321. 
For a flat $4.00 shipping and handling fee, you can have your prescriptions mailed to your home address (PA & FL addresses only). The price is the same no matter how many medications are in the package. Consolidating all your medications into one order is a great way to save money! Please allow up to 14 business days for home delivery.

Mailing Restrictions: We will not mail certain medications including Adderall, Concerta, Dexedrine, Oxycontin, Duragesic, Percocet/Percodan, Ritalin, Metadate CD, and their generic equivalents and other CII narcotics.
This service will be offered Monday through Friday from 8 AM to 5 PM until further notice. To utilize curbside pickup, please follow the steps below:

The designated pharmacy spots in the Eisenhower parking deck will have a dedicated phone number posted for patients to call when in the garage waiting. 
A customer service representative will then deliver the prescription to the vehicle. 
All prescription costs/or copays will be placed on accounts and the patient will receive bills in the mail to avoid the exchange of money or credit cards.   
In-person pick-up is now available! Stop by the Student Health Center to receive your prescription.
Prescription Costs
When medicine is prescribed for a chronic condition and must be taken on a regular, recurring basis, that medication is classified as a maintenance drug.

Customers are eligible to receive significant cost savings when ordering 90-day supplies of many popular maintenance drugs. Please inquire about pricing.

Maintenance medication refills will be filled within 2 business days.  
Generic drugs will be substituted for brand-name drugs. A generic drug is one that meets the same FDA standards for safety as a brand name drug, is therapeutically equivalent to a brand name drug, and has the same active ingredients in the same amounts. Using generic medications, when available, helps you minimize out-of-pocket expenses.
Pharmacy services can be paid by cash, check, or credit card. Pharmacy patrons may also set up a charge account with University Health Services Pharmacy, and may pay off their billing statements monthly.