Kinesiology 403: EMT Training Course
Healthcare and Medical Services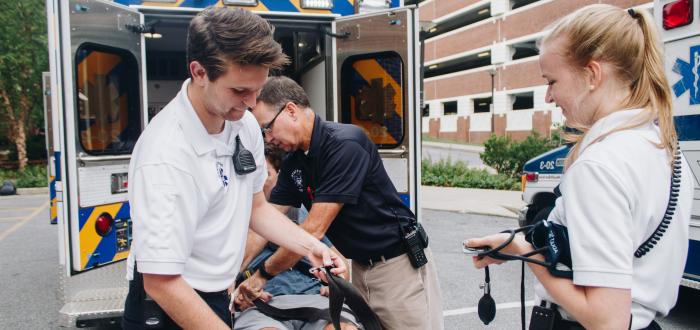 Kinesiology 403: EMT Training Course
Kinesiology 403 is a 4-credit course that thoroughly prepares students at the Emergency Medical Technician-Basic level using both a classroom and lab setting. This course will prepare the student to become a functioning EMT and challenge them to use the acquired skills to respond to emergency situations. Upon completion of the course, students will be effectively prepared for successful completion of the PA Department of Health and National Registry examinations.
Lectures
Meet twice a week to learn the ins and outs of the human body as well as how to properly manage life-threatening situations in a pre-hospital setting.
Labs
Meets one night per week. Using actual equipment you are placed in real-life scenarios created by EMS personnel of different levels allowing you to gain hands-on experience from the start.
Benefits
CPR and EMT certifications Multiple opportunities to ride along with surrounding EMS services Potential to join any of the surrounding EMS services.
Application Process
To apply for the course, please fill out this application. There is no deadline for the application, but you must fill it out at least one semester in advance in order to be considered.
Please note: All applications for the Fall 2021 course are closed.  
General Schedule
The following is the general schedule format for KINES 403:
The lecture is Monday/Wednesday from 2:30 p.m.-4:45 p.m.
The lab is Wednesday from 5:45 p.m.- 10:15 p.m. and is located at the EMS Room at Beaver Stadium

The first Wednesday is lab orientation
The second Wednesday is CPR training

There will be an occasional Saturday lab to cover special topics such as vehicle extrication
A detailed class schedule will be released to the class through Canvas
KINES 303 is NOT a prerequisite for this course
Other Relevant Courses
We also offer courses to further your EMS education:
ITLS
EVOC
Field Practicum
EMS instructor and many more
Questions? Contact the EMS Instructor, Josh Fremburg at 814-863-0434 or vjf1@psu.edu.