Become an RA
Housing Options at Penn State

RA Selection Process Update
The Fall 2021/Spring 2022 RA application and selection process is now closed until October 2022. We'd love to have you join our team.
Learn more about becoming an RA and see the tentative timeline for Fall 2022/Spring 2023 below.
Please note that the RA Selection Process takes two semesters before you have the opportunity to become an RA.
Why become a RA?
Make a difference and make campus feel like home. Gain leadership, communication, counseling skills, and much more in an exciting residential environment.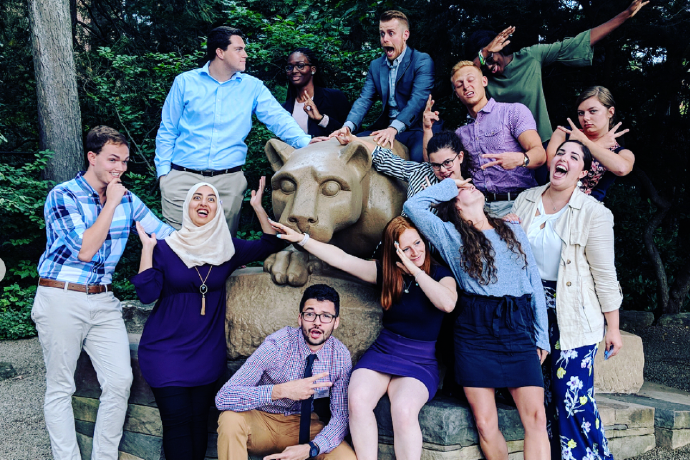 Am I eligible to become a RA?
A Penn State RA works to lead by example and create a welcoming and safe community for residents on campus. In order to qualify to become a RA you must:
Attend one RA information sessions

Students can apply provided they complete 15 Penn State credits upon completion of the Fall 2022 semester (First-semester students can apply; first-year students' credits will be checked in January)

This does not include advanced placement or transfer credits from other colleges or universities.

Must be a full-time Penn State student (12 credits or more each semester)

Must demonstrate good academic standing with at least a 2.40 cumulative GPA. (First-semester students can apply; first-year students' GPA will be checked in January)

The Student Conduct history of candidates will be checked prior to selection and placement and may preclude a candidate from being hired.
What responsibilities does a RA have?
The Resident Assistant (RA) works in a residence hall or apartment setting under the direct supervision of a professional live-in staff member (Coordinator/Assistant Coordinator). The role of the RA is to work with other residence hall staff to facilitate an environment within the residence hall community that promotes the educational experience of residential living. The RA articulates to residents the philosophy and policies of the Office of Residence Life, Student Affairs, the Penn State community and represents the needs of students to the administration.
The following are basic expectations of a RA. Specific responsibilities and expectations vary slightly among residential areas/campuses. 
Reality of Being a RA
Resident Assistants serve the campus community as a vital resource and support for our residents. Joining the Residence Life team as a staff member is a unique experience that provides valuable professional and life experience. 
Ready to learn more?
If you want to join an amazing community at Residence Life we're ready to show you the way. While the Fall 2021/Spring 2022 process is now closed you can prepare for the upcoming semesters by reviewing the tentative timeline now.
We're looking forward to meeting you!

Resident Assistant Recruitment Tentative Dates

October 3: Video Application Process opens
October 3-14: RA Information Sessions (Students required to attend one session)

October 3 - Borland 112   6 p.m.-7 p.m.

October 4 - Borland 112   6 p.m.-7 p.m.

October 5 - Borland 112   6 p.m.-7 p.m.

October 6 - Borland 112   6 p.m.-7 p.m.

October 7 - Borland 112   6 p.m.-7 p.m. 

October 8 - Zoom Webinar  6 p.m.-7 p.m. EST (October 8 Zoom Registration Link)

October 10 - Borland 112   6 p.m.-7 p.m. 

October 11 - Borland 112   6 p.m.-7 p.m. 

October 12 - Borland 112   6 p.m.-7 p.m. 

October 13 - Borland 112   6 p.m.-7 p.m. 

October 14 - Borland 112   6 p.m.-7 p.m. 

October 22: Video Application Process closes

October 23: Video application review by professional staff begins

December 16: Candidate video review by professional staff

January 13: Candidates notified if they continue to the large group interview process

January 13-20: Candidates sign up for large group interview process

February 3-5: Large group interview process

April 7: Fall 2023 RA rosters posted

Requirements to Enter the Process

2.4 GPA (First-year students GPA checked in January)

15 Penn State credits passed by January 2023