Know Your Rights

Know Your Rights When Moving or Living Off Campus
To get the most out of your off-campus living experience, know your rights and responsibilities as a tenant. We include some of the most common issues here--inspecting for damages, security deposits, subleases, and assignments.
Signing a lease? Start here.
Getting ready to sign a lease? Check out this on-demand educational module with important information about your rights and responsibilities before you sign. For a 1:1 consultation with a lawyer before you sign, request an appointment with Student Legal Services.
For more on signing a lease, see our Get Started page, or check out the information on getting ready to lease on lionslease.com, which has detailed information on other rights you have as a tenant including:
Heading home over break?
How to prepare to leave for break:
Review your lease to verify if there are any expectations from your landlord that are explicitly stated. Common lease provisions relating to extended breaks include notifying your landlord when you will be gone and specific measures to prevent pipes from freezing. If anything is unclear, you can consult an attorney through Student Legal Services for a free lease review. 

Keep your heat running to ensure pipes do not freeze and cause damage. If your lease doesn't specify a required minimum temperature, a good rule of thumb is to keep the temperature set to around 55 degrees. Follow the terms of your lease if it specifies additional measures designed to prevent frozen pipes such as leaving cupboard doors open or setting the faucets to a small drip.

Dispose of any food items that will expire while you are away. Take out the trash and wash and put away dishes. 

Unplug electrical items that will not be in use. You can leave major appliances like refrigerators and stoves plugged in. 

Make sure anything flammable like furniture, clothing, or bedding is pulled away from heat sources. 

Check for leaks or other maintenance issues and report them to your landlord or maintenance. 

If you have renter's insurance, verify that it is active and up to date. If you don't, consider purchasing a policy that covers personal property and liability.

Lock all windows and doors and ensure sliding doors are secured. 

If leaving a vehicle behind, make sure it is locked and remove any valuables. Verify that it is parked in a location where it will not be ticketed or towed.  

If you have a trusted friend or neighbor who will still be in town over break, ask them to check on your apartment while you're gone.   

 
Moving out?
An undergraduate intern shares tips on how to get your security deposit back in a short video.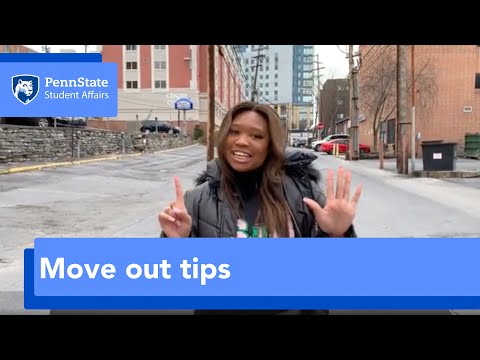 Common issues and questions 
We include some of the most common issues and questions related to your rights and responsibilities as a tenant--inspecting for damages, security deposits, subleases, and assignments.
Looking for More Information?