Prospective Professional Staff

Are you considering joining the Residence Life team at Penn State? There are many opportunities for energetic leaders to become a part of a vibrant, dedicated Residence Life community.
Staff Positions in Residence Life
Penn State Residence Life is comprised of a central administrative office and a variety of distinct residence hall areas at 10 different campuses across the Commonwealth.
The Coordinator is a full-time, professional staff member responsible to the Assistant Director for Residence Life.  They assist with the supervision and administration of a residence hall community.  The Assistant Director, in consultation with the Coordinator, interprets the Coordinator's job description according to the particular needs of the residence hall area.

Apply Now

 

Responsibilities

Supervises Resident Assistants, conducts regular individual and group supervision meetings, evaluates Resident Assistant performance, and provides support and training for Resident Assistants.

Assists with the planning, implementation, and evaluation of a residential education program for the area and with the development and implementation of campus-wide programs.

Advises student groups in the area. Advises individual students with academic, career, and personal concerns.

Makes referrals to University agencies when appropriate. Acts as an advocate for students by communicating their concerns and issues to the appropriate agency.

Encourages student involvement and their programming efforts and promotes area government and their programming efforts.

Interprets and enforces University and residence hall policies and procedures.

Mediates conflicts between and among students.

Assists with the daily operation and organization of the area and the area office.

Handles requests for room changes and contract releases.

Assists in promoting the safety and security of area residents.

Assists in developing and maintaining effective working relationships with Housing and Food Services, Safety and Security, New Student Programs, etc.

Provides on-call duty coverage over breaks on a rotating basis.

Demonstrates a commitment to students and the quality of their life in the residence hall environment.

Encourages Resident Assistants to become well-acquainted with students in the area. Assists the Resident Assistants in developing and promoting a positive living environment. Plans and implements programs in conjunction with Resident Assistants and students.

Demonstrates a commitment to human relations/diversity/social justice issues. Demonstrates a commitment to staff and student retention and recruitment efforts, particularly as they impact members of underrepresented groups.

Participates in committees and task force groups.

Assists in the recruitment and training of professional staff and the development and implementation of goals for the area and the residence hall system.

Performs other duties as assigned.
Responsible to an Assistant Director of Residence Life for supervising a staff of up to five coordinators, as well as overseeing the daily activities of a residence hall area housing up to 4,400 students.  

Apply Now

Responsibilities

Supervise and direct the activities of up to 5 Coordinators. This includes participating in their recruitment, selection, training, and evaluation. Responsible for planning and facilitating staff meetings, effectively communicating information from central staff, and following up on issues reported in the police log and environment/security reports and Housing issues.

Help ensure compliance for the Clery Act, Title IX, and other applicable University, State and Federal policies and regulations.

Oversee the Coordinator tasks that could include Diversity and Inclusion programming, Welcome Week, safety and security efforts, Higher Education 302 course instruction, Stall Stories, Community Service initiatives, Faculty Involvement initiatives, and RA training.

Implement programs and activities for a variety of environments, including first-year experience, academic/theme focused (SLOs), apartments, graduate student, sorority, and family living.

Respond to and follow up on student conflicts and crisis situations.

Review completed Incident Report files for accuracy and clarity; serve as consultant for Coordinator questions with specific incident reports and educational conferences; serve as a community standards Administrative Hearing Officer; act as Student Conduct designee.

Assist with one or two of the following central tasks: assessment, professional staff pre-fall training, diversity initiatives, social digital marketing, admissions and print media, podcasting and online education.

Assist area staff in the development of learning outcomes and assessment of a residential curriculum.

Provide input for the office staff evaluations.

Participate in the planning and supervision for first and/or second summer sessions and coordinate summer Welcome Week and other programming on a rotating basis.

Advise area student government and/or student organizations on an as-needed basis.

Assume central staff on-call responsibility; attend central staff meetings.

Provide professional development opportunities for Coordinator staff.

Other duties as assigned.
Apply to vacancies
Residence Life also posts positions on some or all of the following sites:
Residence Life may also recruit at the following large conferences:
" Penn State has opportunities around every corner and taking advantage of them is only matter of choosing which to engage in first. With time and effort, one's Penn State experience can be the beginning of a path towards greatness. "
Job Descriptions
Penn State Residence Life offers many different positions throughout the department. Some may not be available right now but we want you to know about the opportunities for excelling within the department.
Residence Life at Penn State
Penn State is one of the nation's premier land-grant institutions. With 11 residential campuses across the Commonwealth, Penn State residential living has something for everyone. From the small-town feel of State College to the city life at Greater Allegheny or Abington, our campuses offer a wide range of opportunities, experiences, and comfort.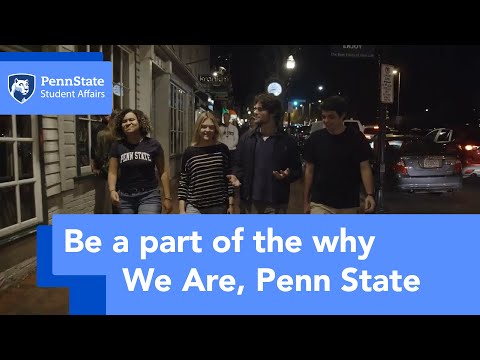 Explore in this Section
Prospective Professional Staff