Religious and Spiritual Programs
Religious/Spiritual Community

Join the Multi-faith Listserv
Want to know about upcoming programs? Sign up for the Center for Spiritual and Ethical Development Multi-faith Listserv. Email spiritual@psu.edu to sign up and watch your inbox for upcoming events.
Email spiritual@psu.edu
The Center for Spiritual and Ethical Development is committed to creating institutional programs that are driven by the values, beliefs, vision, mission, and goals of the center. These programs are conceptualized under three key programming areas:
community building programs/activities
educational programs/activities
environmental enhancement/safe space.
Upcoming Programs
Tibetan Buddhist Monks
Visit from Tashi Kyil Monastery
October 22-26, 2018

The monks will begin work on a sand mandala on Monday morning and will conclude their work on Friday. The production of the mandala will take place in the Pasquerilla Spiritual Center Garden Room.

All other programs will take place in room 124 of the Pasquerilla Spiritual Center.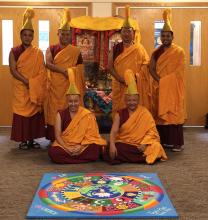 Monday, October 22 
6:30 p.m. - 45-minute Tibetan Mantra Meditation
Tuesday, October 23
12:00 p.m. - Lunch discussion cosponsored by the Rock Ethics Institute; light lunch provided
7:00 p.m. - Arts Workshop: Sand painting, butter sculpting, and mani stones
Wednesday, October 24
2:30 p.m. - 75-minute class discussion on mindfulness and mantra recitation
6:30 p.m. - Skeleton, Panda, and Black Hat dances with explanations
Thursday, October 25
2:00 p.m. - Slideshow on death and dying from the Buddhist perspective
Community Building Programs and Activities
Yoga, Tai Chi, and other Spiritual Wellness Programs
Recitals/Concerts
Interfaith Activities & Ethical/Social Justice Programming
Conferences/Symposia
Religious & Spiritual Advisor Meetings
Center Program Cosponsorships -- To support the efforts of other members of the Penn State community, the center strives to cosponsor programs and events hosted by various student organizations and departments that promote our mission.
Educational Programs and Activities
Healing Gathering for Victims of Violence
Tunnel of Oppression
First Sunday
First-Year Seminar Tours
Interfaith Panels
Speakers
Films
Environmental Enhancement/Safe Space
The Center for Spiritual and Ethical Development aims to provide a safe space where students, faculty, and staff can worship, pray, meditate, and explore their religious/spiritual paths and participate in cultural and diverse programming and activities. This welcoming, inclusive facility hosts a variety of belief systems.