Before the Fair
Career Programs, Events, & Fairs
Research Attending Organizations
Use the database below  to search and filter attending organizations. 
Check back often. Organizations will continue to register through late October.
Career fair on the go: download the app
Download our Career Fair App to research employer profiles in advance of the fair so you are ready to hit the ground running! Use the app during the fair to navigate schools attending and take notes. Just search "Career Fair Plus" in the app store to get started.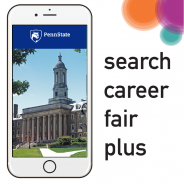 Prepare for the Fair
Do your research and be prepared to ask good questions:
What institutional culture fits you best?

What makes you a competitive applicant at each institution?

How does the admissions and funding process work
Prep Workshops
Preparing for graduate and professional school takes time. Utilize a complete series of prep workshops hosted by a variety of offices to make your journey to higher education seamless.