Mock Interview
Practice makes perfect
Looking to practice and improve your interview skills? Consider signing up for a mock interview with Career Services. We offer in-person, phone, and virtual mock interviews to get you ready for any interview that comes your way.  
What is a mock interview?
Practice does, in fact, make perfect. Our team of trained interviewers will actively interview you or review your recorded interview and provide constructive feedback on how you can improve. Our team can offer you interview prep in various ways:
In-person mock interviews
Come to Career Services and meet with your interviewer to get the ultimate dress rehearsal for the real thing. 

Virtual mock interviews
It's the new way to interview and we're here to help. Meet with your interviewer using a virtual platform and hone your skills in real-time.
Why schedule a mock interview? 
Practice your interview answers 

Receive feedback from trained peers and career services staff  

Practice interview questions related to your job/internship, industry, and/or grad school 
Obtain interview resources and material 

Opportunity to observe yourself in an interview situation 
About the Interview
Appointments range from 30 – 60 minutes depending on the type of mock you select. Your interview will be simulated to reflect an actual interview experience.  
Submit your resume and a job/grad school description/posting. 

The session will be recorded, and your responses will be discussed during the feedback portion of the mock interview. 

Mock interview requests need a minimum of 3-5 business days to schedule. Please allow enough time to process your request.
How to Schedule a Mock Interview in Nittany Lion Careers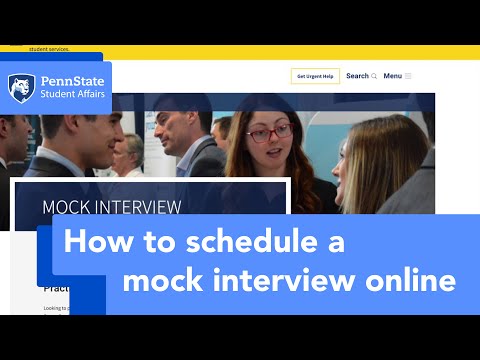 Interested in Mock Interview for a class or group?
Career Services offers an Interviewing Training Program to help bring the mock interview experience to your class or student organization. Review options and request a program online now.
Learn about mock interview options for groups.
Prepare in Advance
Your interviewer will research the organization or industry that you are interested in interviewing with. Preparation on your end is key to make the experience worthwhile.
Know yourself. Identify strengths, weaknesses, and prepare to provide examples of your skills in action.

Research the organization and industry.

Dress appropriately for the mock interview - dress as you would for an actual interview.

Prepare to participate in a feedback session. Your interviewer will discuss your impression of your responses, the verbal content as well as the nonverbal communication in the interview.
Practice at Home
Create your own mock interview using your own computer. Use InterviewStream to select questions, provide responses to interview questions, and view your interview for a self-critique after the interview.