Family Ambassador Program
Penn State Parents Program

What is a Family Ambassador?
Family Ambassadors are undergraduate student volunteers at the University Park campus who serve as student liaisons between the Parents Program office and Penn State parents and families at large, assist in routine office tasks, and assist with key parent and family programming throughout the year.
Meet the Family Ambassadors
Bella Bulone
Class of 2021, Marketing & Psychology
Campus Involvement: Family Ambassador, Intramural Volleyball, Former PSU Athletics Marketing Intern
"My family has made my Penn State experience so special. My parents have enriched it by staying involved with Penn State. They frequently send me interesting articles to keep me informed and send me opportunities on campus that I didn't find on my own. They have been a great help and resource for me these past two years."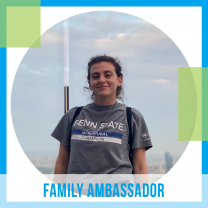 Nicole Criscuolo
Class of 2021, Science
Campus Involvement: Freshman Committee for THON, Family Ambassador
"I wanted to join the Parents Program because as a freshman this year, it was difficult to become acclimated to the school, so I want to help out in making sure all families have the opportunity to get involved with the school as much as they would like!"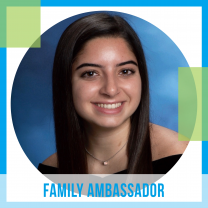 Dhruv Garg
Class of 2022, Computer Science with minors in Engineering Leadership and Development and Entrepreneurship and Innovation
Campus Involvement: Associate board (Liaison) for International Student's Council Penn State; Programming board Blue and White Society; FreshstartPSU Liaison; Engineering Undergraduate Council.
"Today it gives me an immense pleasure to step back in front of people and thank my family to support me to pursue my higher education here at Penn state. Family for me always comes first as they never fail to keep me on my track to achieve success by giving me constant motivation and support. Today I stand out as a more confident and holistically developed individual in front of people around me as Penn state has given me so much. From here I want to begin a journey where I can achieve even more heights throughout my life."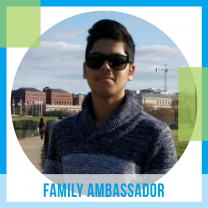 Michael Grogan
Class of 2023, Industrial Engineering
Campus Involvement: Vice President of my fraternity, Active member of Penn State Investment Association, love doing anything that keeps me active like surfing, snowboarding going to the gym
"I love working with people of all different backgrounds and upbringings. I come from a family of four consisting of my dad, mom and younger brother. My family is one of the most important things in my life and I understand the massive changes that comes along with sending a member to college. I would not be in the position I am today without my family, so I am extremely excited to be able to help other families adjust to their new lives."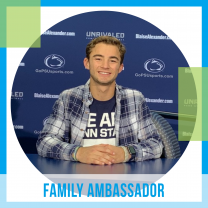 Bianca Mazzarella
Class of 2021, Economics & Political Science with a minor in Italian
Campus Involvement: Lion Ambassadors; Liberal Arts Ambassadors; CHAARG; Schreyer Honors College Student Council; Schreyer for Women; Serve State; Centre County Centre PACT
"I have chosen to serve as a Family Ambassador within the Parents Program to allow me to develop new relationships with students, administration, and parents, creating connections that enable an exchange of knowledge and endless opportunities. "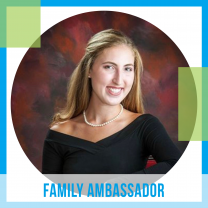 Devin McClain
Class of 2022, Nursing
Campus Involvement: Anatomy and Physiology Teaching Assistant, Member of the Student Nurses Association of Penn State (SNAPS), Member of the College of Nursing Green Team, Member of Eclipse Thon Organization.
"I love Penn State and consider it my home! My dad went here and it brings me so much joy to see his pride in being a PSU alum and dad. I hope through speaking to families I can share this pride and relay the importance of staying involved with their child's life at Penn State."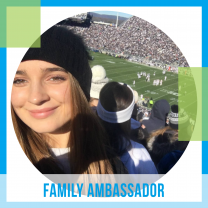 Adrianna (Anna) Miksch
Class of 2021, Chemical Engineering
Campus Involvement: Society of Women Engineers (SWE), the Women in Engineering Program (WEP), the Undergraduate Research Society (URS), and the Penn State Thespian Society
"I have chosen to be a Family Ambassador so I can reach out to other families that might have questions about Penn State and so I can further my leadership skills within the Penn State community. I'm excited to engage with a team while communicating my experiences to others seeking perspective from Penn State."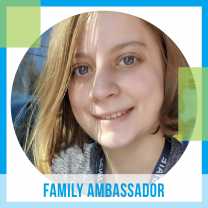 Natalie Sites
Class of 2021, Aerospace Engineering
Campus Involvement: Society of Women Engineers, Sailplane, Undergraduate Researcher, Global Engineering Fellow
"Joining the Family Ambassadors has given me a very permanent place at Penn State. The community is welcoming, rewarding, and thrives off of the spirit of our amazing university. Through my time in the program I have not only been able to connect and network with new people, but I have also been able to strengthen my leadership and development skills in ways I would never be able to do in the classroom. We, as a program, fully embody the words 'We Are' and strive to help current and potential families live up to it as well."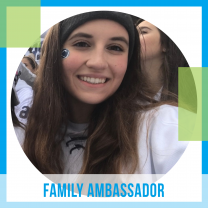 Responsibilities of Family Ambassadors include:
Serve as a team member and representative of the Parents Program and

Penn State

Work collaboratively alongside  the Parents Council and Parent Ambassadors

Participate in Parents Program annual events, including but not limited to Parents and Families Weekend and New Student Arrival

Serve as a knowledgeable resource to parents and families about Penn State using relevant personal experiences in a professional manner

Work collaboratively within a team of fellow student leaders
Additional Expectations
Passion for Penn State

Positive role model

Warm, supportive, and enthusiastic attitude

Ability to work comfortably with diverse populations

Knowledge of the University's structures, supports, and resources

Strong communication and interpersonal skills

Willingness to learn
Time Commitment
Term: January – November

Attendance at biweekly meetings during the spring and fall semesters

Requirement of 4 volunteer hours per month

Additional requirement of 6-10+ volunteer hours during Parents and Families Weekend

Preference is that ambassadors will be in State College for the summer but is not necessary to apply or be accepted
Benefits
Great resume builder!

Letters of recommendation

Networking opportunities with other student leaders, Penn State Student Affairs staff, Parent Council members, and Parent Ambassadors

Personal and professional development

Gain teamwork and communication skills

Meal cards during events and other meals throughout the year

T-shirt
Application Timeline
Applications will be open Fall 2021
Family Ambassadors
Family Ambassador Application
The Parents Program is seeking passionate student leaders for its Family Ambassador Program. Family Ambassadors serve as liaisons between the Parents Program office and Penn State parents and families, assist in routine office tasks, and are crucial in the execution of Parents & Families Weekend, Fall Arrival, and other events.