Give to the Piazza Center

We need your help in achieving safe and extraordinary fraternities and sororities
The Piazza Center produces actionable data to enact significant change on 770 campuses and for the over 750,000 members in fraternity and sorority life.  
Your gift today will be doubled through a dollar-for-dollar match to help us find critical answers fast.   
Your generous support will further research efforts around 
Hazing studies
What can we do to put an end to hazing deaths?    

What are the early warning signs of aggravated hazing?
What campus accountability and conduct models work?

How do early expectations create healthy and unhealthy behaviors before joining?  

How do we create positive ritual education?   

How do we build a culture of interveners versus bystanders?  

How do we build empathy-based substance abuse, hazardous drinking, and hazing intervention curriculums?  
Diversity, equity, inclusion, and belonging studies
How can we increase belonging for all students?  

What distinct strategies do diverse chapters need?  
Mental and physical health studies  
How can we create chapters where students flourish inside and outside of the classroom?
Peer-accountability, leadership, community engagement, and learning studies  
How do chapters contribute to living in a democracy?  

Do targeted programming and student engagement prevent hazing?  
This is an active list of insights we are seeking, and each takes rigorous research methods.    
Why are people giving?
So that no other family has to endure what we have endured
"We are both excited and pleased to make our Gift to the Piazza Center along with all of the other donors, including Penn State University. Since our son Tim died at the Beta Theta Pi Fraternity on the University Park campus as a result of egregious hazing activities, we have committed to doing everything we can to put a stop to such illegal and irresponsible behavior so that no other family has to endure what we have endured during the past for plus years.

Our goal is to make Fraternity and Sorority Life safer, healthier, and more meaningful for those students that become members in the future. We want those young men and women to have the experience that Tim did not get to have and we also want parents to feel safe when their children join these organizations. There have been far too many deaths, near-death experiences and severe mental and physical injuries from hazing at these organizations and hazing is not the only issue.

The Piazza Center is well poised to be the catalyst to help Universities and Greek Life organizations create a better, more meaningful experience for students of the future. The Center, through its research and studies, will produce actionable data to give practitioners the evidence and behavioral knowledge to enact meaningful change, not only at Penn State but throughout the country. We cannot accept an environment of hazardous drinking, hazing, and sexual violence as in the past. The Piazza Center's research will identify which prevention programs and policies and accountability measures work. The time is now and we need your support."

- Jim and Evelyn Piazza, parents of Timothy Piazza and anti-hazing advocates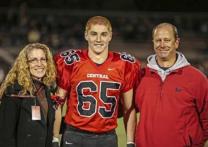 Make a gift
To learn more about how you can support the Timothy J. Piazza Center for Fraternity and Sorority Research and Reform, please contact:
Sue Harris,
Director of Development for Student Affairs
814-865-6533
sueharris@psu.edu
Stevan Veldkamp
Executive Director of the Piazza Center and Special Assistant to the Vice President of Student Affairs sjv54@psu.edu
With overall costs to create the center estimated at $8 million, the University has committed $2 million in initial funding as well as an opportunity for up to $3 million in 1:1 matching funds.  Through this opportunity, alumni, parents, and friends can leverage their gifts to secure matching funds that double the impact of their generosity. And through private support, donors can help the University work toward the goal that students in fraternities and sororities— at Penn State and across the country—have a safe and enriching college experience.