Student Tennis

Late Night Play
Late Night Tennis and Pickleball are made for the students. Bring a few friends and stop by anytime during our Late Night Tennis hours for free indoor play. Fridays will consist of structured drills and games for everyone to join in on. We look forward to seeing you there!

Friday 8 p.m. - 11 p.m.
Saturday 7 p.m. - 11 p.m.
Sunday 10 p.m. -11 p.m.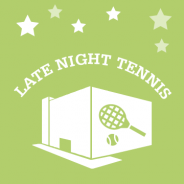 Student Tennis
Our focus on Student well-being and development continues to lead us in giving back to our students during their time here at Penn State. If you haven't, stop by our indoor tennis court and give tennis a try during our free student hours. We provide the racquet and the balls. No membership is required to play as it is already covered by your Student Initiated Fee.
Student Clinics
We offer playing-level based clinics for Penn State students. The clinics consist of four to six one-hour classes. Clinics are a great way to work on your game with other students who play on the same level.
Competitive Play
We offer competitive play for students during evening court time. Competitive play may include games, matches, or round robin competition. This time is a great opportunity to meet tennis enthusiasts of all playing levels. While competitive, these events are designed for social and fun interaction. All of these student events are free of charge.
Late Night Tennis
Late Night Tennis is offered four evenings a week (times vary). The courts are opened for recreational play and participants are free to design their own fun. On occasion, one or more of our professional staff will run games designed to include a large number of participants in a fast, fun, and friendly setting. Late Night Tennis is always free for Penn State Students
Private Lessons Rate
Tennis Director - Member $65 / Non-Members $75
Head Professional / Penn State Coach - Member $55 / Non-Member $65
Assistant Instructor - Member $53 / Non-Member $63