Welcome to Campus Recreation
Our people are our greatest asset. Our community is enriched by the commonalities and differences of everyone we serve. We invite you to work with us towards fostering a welcoming environment that enables all to thrive. 
With so many recreation opportunities, you can stay fit, have fun, reduce stress, learn a new sport, or explore the outdoors. The Penn State student fee gives you access to most of our recreation spaces so find your challenge and get moving.
For detailed information about Campus Recreation's programs and services for the Fall Semester click here.
Masking Required
Penn State Campus Recreation may be forced to impose a moratorium on access to its facilities, including the IM Building, White Building, and Hepper Fitness Center, unless compliance with the University's indoor masking requirement significantly increases in these facilities soon.

Campus Recreation, a unit of Penn State Student Affairs, will continue to monitor mask wearing in the facilities and will make a decision on closing if there is a significant disregard for mask wearing. In addition, patrons who disregard the mask requirement may be subject to other sanctions, such as removal from the building, referral to student conduct (for student patrons) or revoking of membership.
Read the full article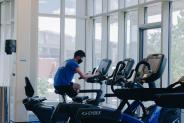 Facility Hours
Campus Rec is here for you!
Campus Recreation has opened all of our facilities for use. 
Please help us stay open by following these Shared Responsibilities
Wear a mask at all times while in our buildings including while participating in recreational activities
Masks must be worn properly, covering the nose and mouth at all times
Clean your equipment before and after use
Wash or sanitize your hands frequently
Bring your water bottle
Penn State Campus Rec App
Our new app, PSU CRec, is here to make reservations  and building access as streamlined as possible. PSU CRec  is a direct link to our classes, programs, and reservation portal to help you manage reservations, set notifications for upcoming classes or programs, gain access to facilities via contactless barcode scanning and more. Simply go to your favorite app store by clicking the link here  (iOS and Google) and directly downloading the PSU CRec app.
Facility Hours
A picture ID and valid Campus Recreation Membership are required for admission. Hours are subject to change. All changes will be posted in the affected facility.