Outdoor Adventures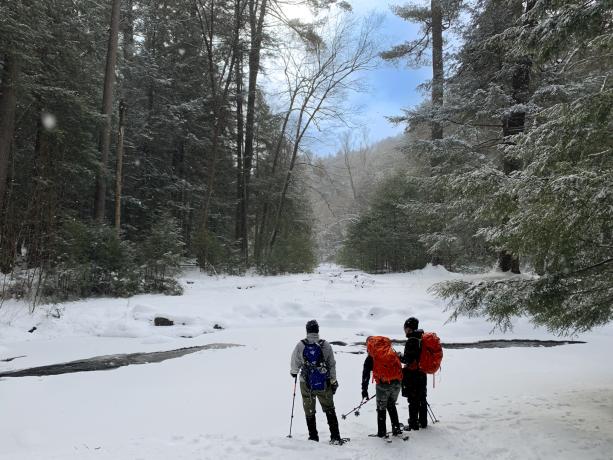 Our Calling
We are Penn State's base camp for adventure and offer a wide range of services and opportunities for indoor and outdoor adventure to students, faculty/staff, and organizations/businesses. Whether you are looking to challenge your group's teamwork abilities, rent some outdoor gear, spend some time on our indoor rock wall, or join us as we explore the trails and rivers of central Pennsylvania and beyond, we are the program for you.
Outdoor Adventures at Penn State
Group Programs
Our group activities offer a personalized experience tailored to help you meet your goals – whether that's teamwork, problem solving, trust building, or even just fun! We will work with you to help select the best suited program, based on your group, your goals, and location.
Spring Break Trips
Campus Recreation offers Spring Break trips for students at University Park. Registration opens at the start of each Spring semester. Register through Trips & Clinics or https://pennstatecampusrec.org.
Rental Center
The rental center, located in IM Building room 18, is the hub for all Campus Recreation Outdoor Adventures programs. The office is staffed with knowledgeable students and professional staff who are able to assist with equipment rental, checking out resources, trip planning and answering questions about programs and services. 
Indoor Climbing
We have two incredible indoor climbing walls in the Intramural Building. Both walls are accessible to climbers of all ability levels. Access, equipment and instruction are provided at no additional cost.
Trips and Clinics
Our trips and clinics program provides opportunities for students to try new activities, learn new skills, explore exciting places, and building lasting relationships.  We offer something for everyone no matter what your previous experience and threshold for adventure. 
Employment
Working for Campus Recreation provides students the opportunity to grow as leaders, gain valuable professional skills, and work in an exciting environment alongside professional staff who are passionate about student development.
Learn more about Campus Rec