Indoor Climbing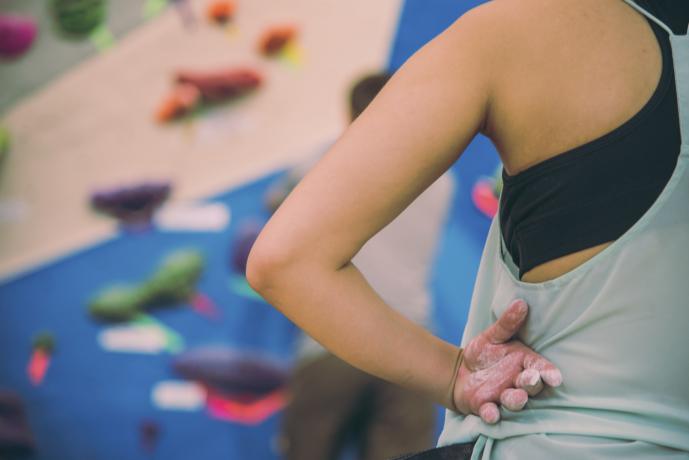 Indoor Climbing Opportunities
Climbing Wall
The climbing wall, located in the IM Building, features routes for climbers of all abilities including two climbable crack systems, a rappel ledge, and a teaching area for skills and clinics. 
Access to the climbing wall is free during open recreation hours for top rope climbing.  An Access Pass, which grants access to additional open hours, is required in order to lead climb. Though Access Pass hours are the only opportunity to lead climb, anyone may purchase an Access Pass for additional hours of top rope climbing.
Bouldering Wall
The 16-foot tall bouldering all is located down the hallway from the climbing wall and offers an additional space for un-roped climbing. Use of the 14- foot tall bouldering wall is also free for students during all open hours of the IM Building.
All climbers need to complete our Bouldering Orientation and must check in at the equipment desk or climbing suite to obtain a wristband and climbing shoes (if needed). Staff are available to give in-person orientations for first-time climbers during open hours of the Climbing Suite.
The bouldering wall is closed every Sunday from 9:00 a.m. to 1:00 p.m. for route setting and maintenance.
Learn to Climb

Our Learn to Climb series is designed for both new and established climbers. No matter where your ability is as a climber, one of these clinics could be beneficial to you.

 

Learn to Climb 101 (Belay Lesson): The first step to enjoying our climbing wall is learning the basic skills associated with top rope belaying and climbing. No previous climbing experience or equipment is necessary for this clinic and our certified climbing instructors will teach you everything you need to know to get started. Participants are encouraged (but not required) to register with a partner. Clinics generally last ~60 minutes and climbers who demonstrate basic competency with skills may continue climbing after the lesson.
Learn to Climb 201 (Movement & Technique): Are you new to climbing and want some tips and advice to get started? Learn to Climb 201 - Movement & Technique can help you find your footing, pun intended. Our experienced and qualified instructors will provide instruction, tips, and feedback in a fun and relaxed atmosphere. Clinics run for 2 hours and topics include warming up, injury prevention, balance, footwork, hold types, and body positioning.
Learn to Climb 301 (Lead Climbing): This is a one-time, 4-hour clinic designed for established climbers wanting to learn how to lead climb at Penn State's Climbing Gym. Participants must be Top Rope Belay endorsed and should be capable of climbing on Top Rope with a grade of 5.9 or harder.
Learn to Climb 302 (Lead Climbing Refresher): This is a 2-hour clinic designed for climbers who already know how to lead climb to practice and refresh their lead climbing skills at Penn State's Climbing Wall. Participants must have previous experience in lead climbing and be Top Rope Belay endorsed to participate.
Gym to Crag

Are you a climber wanting to take your skills outside of the gym to real rock but aren't sure how to make it happen on your own? This three-part clinic series is just the ticket to go from the gym to the crag. This series will teach you the skills necessary to effectively set up and take down your own climbing anchors outside as well as several risk considerations involved with being at an outdoor climbing area.
AMGA Climbing Wall Instructor

This course addresses the basic technical skills necessary to manage an instructional program at a climbing facility. The course length is a minimum of 20 hours of instruction, skills demonstration, and evaluation, typically run over 2.5 days. CWI Certification lasts for three years. This course aims to increase the level of professionalism in indoor climbing and to improve the level of climbing wall instruction, to develop a more consistent standard of care for climbing instructors in the US, to evaluate the skills of climbing instructors in the US, and to provide guidance for further professional development.
Climbing Frequently Asked Questions
For more information and questions, please check our Climbing FAQ.
Learn more about Campus Rec