Group Programs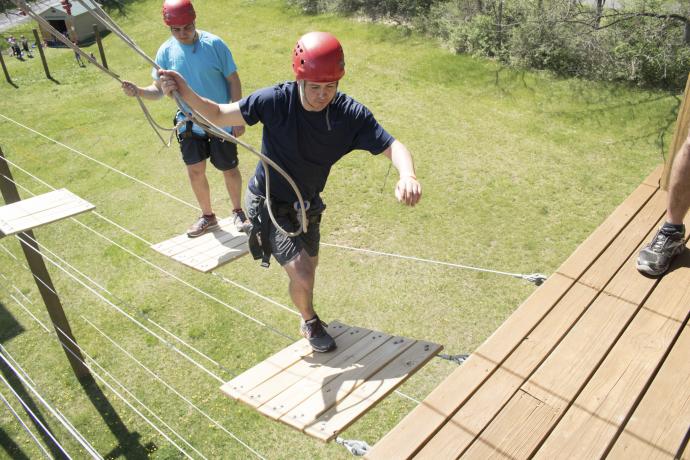 Bring Your Group Together with a Group Program
Virtual Programs
Virtual Escape Rooms
Outdoor Adventures is excited to offer Virtual Escape Rooms. This program can accommodate as few as 3 participants to as many as Zoom will allow! Our Escape Rooms are designed to help your team communicate more effectively and problem solve more creatively in this virtual setting. The entire program will last approximately 1 hour which will include about 20 minutes of instruction, ice-breakers and time at the end to process the experience. All of our virtual programs will begin in Zoom.
Virtual Team Building
In this ZOOM-based program, our staff will facilitate group development activities that connect people and build community. All programs are customized to meet your goals.  Programs last 1 or 2 hours and can be scheduled at a time that fits your needs. 
Team Development Programs
Each of our programs enhances your group's skills in being productive members of a team. We understand that team development means a lot of different things, and that is why we work with you to create a unique and detailed plan to help you achieve your group goals. Our programs are flexible and can be tailored to highlight different team development concepts – problem solving, critical thinking, trust building, etc.
High Ropes Course (Stone Valley Recreation Area) – During this program, your group will be tasked with completing aerial challenges by working together. Large groups will be split into smaller teams of 8 participants at the maximum. One of our trained facilitators will accompany the group throughout the course, acting as a guide to the challenges and helping the group reflect on their performance. The course is specifically designed for teams to bond and develop cohesion. When we are back on the ground, we will gather the group to discuss overarching themes of the day and how they may apply to your group moving forward. This program can take approximately 3-4 hours to complete.
Low Ropes Course (Stone Valley Recreation Area) – This program will achieve similar outcomes compared to the High Ropes Course but will keep everyone mostly on the ground (never off the ground more than 2 feet). Our facilitators will lead the group through several activities and initiatives that are designed to focus on various team skills. Along the way, we will debrief each of the activities to ensure that we are building to your desired outcomes. This program can last 2-4 hours depending on your preference and availability.
Portables Program (Almost Anywhere) – Very similar to the Low Ropes Course, this program allows us to select a location that is more convenient for you and your group and bring the team development to you. We have the availability to reserve space in our IM Building on the University Park Campus or come to a designated space that the group has selected. This event is ideal for those groups who are unable to travel to the Stone Valley Recreation Area. This program can last 2-4 hours depending on your preference and availability.
Archery Tag (Almost Anywhere) – This unique activity combines elements of dodgeball with archery! With a variety of styles of gameplay, Archery Tag can be booked on its own or in combination with another activity. This program can last 1-2 hours depending on your preference and availability.
Climbing Experiences
Our climbing programs offer challenging shared experiences that help push groups outside their comfort zones in a safe and controlled environment. Each climbing structure offers a unique experience.
Climbing Wall (IM Building) – At 40-feet tall with 16 climbing lanes, the Indoor Climbing Wall enables your group members to test themselves regardless of experience or ability. Our trained staff will handle all the technical and safety aspects of climbing, making the Indoor Climbing Wall great for both introducing the sport to beginners and offering a challenge to seasoned athletes.
Available only to Penn State (University Park) affiliates and student groups.
Alpine Tower with Giant Swing (Stone Valley Recreation Area) – The Tower itself is 50-feet tall with multiple ways to ascend to the top, navigating past vertical obstacles along the way. We can have up to 6 climbing lanes open at a time or 4 climbing lanes to also open our Giant Swing that is attached to the Alpine Tower. This program could last 2-4 hours depending on your preference and availability.
Carolina T-Wall (Stone Valley Recreation Area) - This 50-foot climbing structure offers a variety of climbing terrain, 11 different routes, and varying levels of difficulty (3 beginners, 4 intermediate, and 4 advanced). This program can last 2-4 hours depending on your preference and availability.
Custom Trips
Get your group or organization outside by booking a custom trip. Options include backpacking, hiking, caving, canoeing/kayaking/stand-up paddleboarding (SUP), whitewater rafting, and rock climbing. Our experienced guides will work with your organization to design a trip that meets your desired goals and outcomes.
To book any of our programs, please submit a request form or contact us at 814-865-3634.
Learn more about Campus Rec