Rental Center

Gear Rental
Do you need some equipment to support your next adventure? Let us help outfit you to make sure you have everything you need to keep you safe and comfortable in the outdoors, no matter what you're doing.
Our gear rental service offers discounted prices for students on backpacking, camping, paddling, rock climbing, winter sports, fishing, and scuba equipment. Reservation requests should be submitted online at least 24 hours in advance for best service.
Please browse from our selection of gear below and submit an equipment rental request (preferably at least 24 hours in advance). Contact us at 814-863-2895 or adventure@psu.edu with any questions.
Trip Planning
Looking to plan your own trip, but not sure where to start? Need advice on local destinations? Just want to talk to someone to make sure you've got everything covered? Regardless of what your trip planning needs are, we are here to help you! Our trip planning specialists are ready and willing to help you plan your next adventure at no cost to you.
Email us at adventure@psu.edu with a brief description of the trip you are planning or the type of assistance you need and we will pair you up with a specialist who has the information you're looking for.
Resource Library
Looking for information? Our resource library has just what you need. Acting as a traditional library, our inventory is available for check out for free for up to two weeks at a time. Feel free to stop by our office and take a look through our collection.
Backpacking and Camping Gear
Winter Sports Gear
Climbing Gear
Climbing Shoes | Climb X

Member/Student Pricing:

Daily: $2.00

Weekend: $3.00

Nonmember Pricing:

Daily: $3.00

Weekend: $5.00

Contents: 1 pair (left & right foot)

Description: recommended for both roped climbing and bouldering; lace up design provides a snug fit; rubber soles provide the friction you need on various types of rock 

 
Chalk Bag | Black Diamond/ABC

Member/Student Pricing:

Daily: $1.00

Weekend: $2.00

Nonmember Pricing:

Daily: $1.00

Weekend: $2.00

Description: chalk helps keep your hands dry while climbing; cinch closure bag ensures that your chalk gets on you instead of the ground

 
Crash Pad | Metolius

Member/Student Pricing:

Daily: $5.00

Weekend: $10.00

Nonmember Pricing:

Daily: $8.00

Weekend: $16.00

Description: recommended for outdoor bouldering; a mobile landing zone that can move with you; tri-fold design and backpack straps make transport easy
Fishing Gear
Paddling Gear
Whitewater Gear
Scuba Gear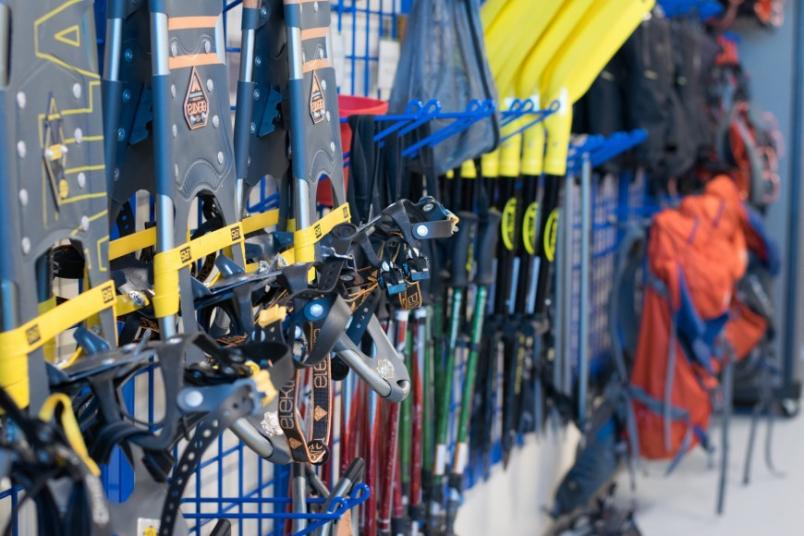 Learn more about Campus Rec