Stone Valley Recreation Area
Campus Recreation Facilities

Stone Valley Rental List and Pricing
Campus Recreation is rolling out a new pricing structure as well as cabin and staffing improvements that will result in a better overall experience for visitors. Please download the pdf below for comprehensive details.
Rental List and Pricing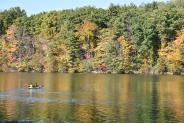 Attention: Seasonal Safety Announcement
Hikers, trail users, and non-hunters, please wear orange. It's important during Pennsylvania's hunting seasons that you wear orange for safety. Be Safe - Be Seen.
Wear Orange Flyer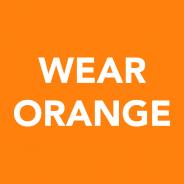 Stone Valley Recreation Center is a natural treasure nestled in the rolling hills of Central Pennsylvania (17 miles from the University Park campus). Scenic mountains, wooded trails, and abundant amenities make Stone Valley a favored destination.  Students, organizations, adults, children, families, residents, out-of-state visitors, passersby all find a reason to pause and take in its beauty.
Boating
Head offshore and explore Stone Valley from a different perspective. Discover beautiful views and enjoy calmness unique to being on the waters of 72-acre Lake Perez.  Consider spending a portion or all of your day on the lake.
Stone Valley offers a comprehensive Boat Rental Service that includes paddle boats, canoes, kayaks, and rowboats. The rental season typically runs from Memorial Day weekend through the last weekend in October but is subject to change due to weather conditions.
Launch Permits and Mooring Permits are available to purchase for those wishing to use personal watercraft on the lake.  Daily and Season Launch Permits may be purchased at the park office.  Mooring Permits are available for those who wish to store their boat at the lake.  Private boats may operate using electric trolling motors only.
Fishing
Enjoy the day fishing from shore or by boat for a variety of species (trout, bass, pickerel, sunfish, catfish, and others) found in Lake Perez. All Pennsylvania fishing regulations apply and a valid PA Fishing License with a Trout Stamp is required.
Hiking
Explore our twenty-plus miles of hiking trails or utilize spur trails to gain access to even more hiking in the Rothrock State Forest. Circumnavigate Lake Perez on the Lake Trail, a 2.9-mile loop that will take you through the Stone Valley Recreation Area and Shaver's Creek Environmental Center.
Rentals
Stone Valley has a variety of facilities available for rent to individuals, families, or large groups.  Some facilities may only be available at certain times of the year or to certain groups.
Cabin Rentals are great for families and other groups who want to connect with the outdoors. Four-bed and six-bed cabins include a refrigerator, clothes dresser, bunk beds with mattresses (linens not included), table and chairs, campfire grill, and picnic table.
Pavilion Rentals are great for family reunions, company picnics, or other groups. The boathouse pavilion can accommodate groups of up to 18 people while the large pavilion can accommodate up to 80 people. Both pavilions have electricity and access to the sand volleyball court and public restrooms. The large pavilion also includes a large charcoal grill and fire circle at the pavilion. Charcoal grills are available near the small pavilion.
The Civil Engineering Lodge provides meeting space for a wide variety of group events, including conferences, workshops, retreats, wedding receptions, family reunions, and group picnics. Amenities include a large meeting room with hardwood floors and a stone fireplace, a smaller meeting room, office, commercial kitchen, inside restrooms, small covered pavilion, and fire circle. Overnight rentals can be accommodated through the rental of up to twelve adjacent 6-bed cabins, two bathhouses are available for larger groups and overnight rentals. Outbuildings and overnight rentals are only available from April 1 to October 31.
Directions
From College Ave in front of Old Main

Follow WEST COLLEGE AVE (Rt 26 South) out of State College.
In Pine Grove Mills TURN LEFT at blinking yellow light (Rt 26 S)
Continue on Rt 26 S up, over and down the mountain.
Caution - several sharp curves on the downhill side.
At bottom of mountain (9.5 miles from Old Main) TURN RIGHT
onto CHARTER OAK ROAD
Follow Charter Oak Rd for ENTRANCES: EAST (1.7 miles) and WEST (3.1 miles) 
Watch for Stone Valley Recreation Area signs!

EAST ENTRANCE destinations:
 TURN LEFT on to RED ROSE ROAD and follow park signs to your destination.

 

             WEST ENTRANCE destinations:

Continue on Charter Oak Rd. TURN LEFT onto LODGE LANE and follow park signs to your destination.
Rules and Regulations
The Stone Valley Recreation Area opens at sunrise and closes at sunset daily. Persons fishing may stay after sunset.
All fires must be contained in a proper receptacle or park grill.
The Mineral Industries Pavilion and volleyball court are available for use by reservation only.
All Pennsylvania boating, fishing and hunting regulations apply to the Stone Valley Recreation Area.
Stone Valley PROHIBITS:

Alcoholic Beverages of any kind
Pets are not permitted on park property, including in the lake, in the cabins and on the trails
Fishing from docks
Overnight camping (tent or trailer)
Littering
Operating vehicles on closed/posted roadways
Operating vehicles on trails/service roads in picnic area without permission
Parking in restricted/posted areas
Damage or removal of plants or animals
Unauthorized entry into restricted Recreation Area buildings
Unauthorized usage of Recreation Area equipment

Additional regulations are posted throughout the park, please take the time to become familiar with them.
PFD's are REQUIRED! Each passenger on board a boat must have a U.S. Coast Guard approved personal flotation device (life jacket). Children under the age of 12 and all non-swimmers must wear a personal flotation device.

All inflatable watercraft used on the lake must have at least 2 separate flotation chambers.
Stone Valley Recreation Area staff are authorized to inspect for compliance to fishing and boating regulations of the Pennsylvania Fish and Boat Commission.
All persons launching private boats on Lake Perez must purchase a Stone Valley Launch Permit (daily & seasonal are available). All permits must be visibly displayed.
Electric motors are permitted on properly licensed boats.
Vehicles with boat trailers are to park in the designated parking spaces.
Stone Valley rental boat capacities are listed below and are not to be exceeded:

Canoes: 3 person
Rowboats: 3 person
Paddle boats: 2 & 4 person
Kayaks: 1 & 2 person
Sailboats: 2 person

Rental boats are limited to use on Stone Valley Lake Perez and cannot be removed from the immediate area.
Sailboat crews are to be properly positioned in the boat and are not to sit on the sailboat's bow deck (foredeck).
Cabin occupants are to control loud talking, radios, music, etc., from 9pm to 8am.
Guests of cabin occupants are welcome during the daylight hours, but are prohibited from 9pm to 8am.
No Smoking inside the cabins.
Cabin occupants are expected to take reasonable care of the building, grounds and equipment.
Parking spaces for 2 vehicles are provided near each cabin.
Additional vehicles are to park in the Public Parking Area.
Washing clothing and dishes in the restroom sinks is prohibited. These activities are to be confined to the cabin area. Wastewater is to be discarded in the tiled drain beside each cabin.
Explore in this Section
Stone Valley Recreation Area