National Scorecard

Scorecard Overview
The National Fraternity and Sorority Scorecard aggregates data across member institutions to give a clearer picture of how councils and chapters are performing on key indicators. The scorecard gives institutions and national organizations the information they need to benchmark their local chapters against the national landscape.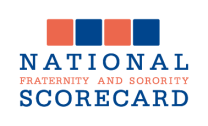 Participate in Scorecard Data Collection
Reports
Benefits of Participation
Participating institutions receive the following benefits:  
Inclusion in the scorecard (aggregate results published in a public annual report) 

Input on future iterations of the scorecard 

Acknowledgment on the Piazza Center website 

Free scorecard consultation  
Campus Scorecard Report (CSR)
Participating institutions receive a personalized report that provides a comparison between your campus and the aggregate National Fraternity and Sorority Scorecard (NFSS) data. This report is confidential and only shared with your campus professionals who submitted data to the Center.
Financial Obligation
There is no financial cost to participating institutions. This project is funded by generous support from a Penn State endowment and private donors. 
How to Participate
Your institution can participate in the National Scorecard now. Provide your institution's data through our online form.
National Fraternity & Sorority Scorecard Participants
Frequently Asked Questions 
What is the intent of this report? 

The National Fraternity and Sorority Scorecard is a research-based exploratory study of activities for Greek-letter organizations. The report will provide the Piazza Center with a national picture of the state of fraternities and sororities across the country. The report will include grade point averages, philanthropy dollars, service hours, and organizational conduct aggregated by public and private institutions as well as by institutional size using the Carnegie classification. No campus or local chapter-specific data will be shared. The Piazza Center will aggregate information by national Greek-letter organizations when enough campuses participate. The goal of this report is to collect, compare, and analyze this data to help identify best practices that advance student safety and the overall student experience.

Can the report help improve fraternities and sororities? 

The scorecard is the first research-based exploratory study of activities for fraternities and sororities, giving us a national, and in some cases an international, perspective of the state of fraternities and sororities. This scorecard informs and provides transparency, which over time, may reveal patterns and data to identify effective policies and best practices for campuses as well as headquarters. Further information presented can add a layer of accountability and inform parents and potential fraternity and sorority members of national organizational accomplishments and behavior.

Can my institution join the project at any time? 

Yes, campuses can participate at any time. The Piazza Center accepts data on a rolling basis. The scorecard will be published annually, so it is important that we have participation from many institutions. 

What if we don't have all of our data? 

The Piazza Center will accept partial information. Our staff will work with your campus to assist in collecting the data that is currently available and then to add missing data at a later date.   

How is organizational data reported? 

Headquarters with ten percent or more of their total chapters are included in the report. The number of reporting chapters is divided by the active chapters listed on organizational websites resulting in the percent reporting in the NFSS report. Colonies and associate chapters are included; however, inactive and graduate chapters are excluded in the total active chapters. Information on the number of organizations was also compared to the University of Illinois Student Organizational Archive Data. 

What are future plans?

The NFSS is an evolving longitudinal research project. As campuses host enhanced scorecard data, the Piazza Center will work to improve our reporting. Further, as the dataset grows, additional analysis can be conducted on school consortiums and comparison data for policy and program efficacy. As an example, a campus staffing models study may be identified in comparison to the scorecard data.