National Scorecard

Scorecard Overview
The National Fraternity and Sorority Scorecard aggregates data across member institutions to give a clearer picture of how councils and chapters are performing on key indicators. The scorecard gives institutions and national organizations the information they need to benchmark their local chapters against the national landscape.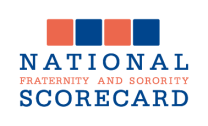 Participate in Scorecard Data Collection
Reports
Benefits of Participation
Participating institutions receive the following benefits:  
Inclusion in the scorecard (aggregate results published in a public annual report) 

Input on future iterations of the scorecard 

Acknowledgment on the Piazza Center website 

Free scorecard consultation  
Campus Scorecard Report (CSR)
Participating institutions receive a personalized report that provides a comparison between your campus and the aggregate National Fraternity and Sorority Scorecard (NFSS) data. This report is confidential and only shared with your campus professionals who submitted data to the Center.
Financial Obligation
There is no financial cost to participating institutions. This project is funded by generous support from a Penn State endowment and private donors. 
How to Participate
Your institution can participate in the National Scorecard now. Provide your institution's data through our online form.
National Fraternity & Sorority Scorecard Participants
Frequently Asked Questions