Transfer & Change-of-Campus Students
Transfer & Change-of-Campus Students

We want to help you get the most out of your Penn State experience. Student Affairs is YOUR go-to resource for everything from health and wellness to getting involved to support and advocacy. Check out our many opportunities and office. We are here to support you through your college journey.  
Follow Penn State Student Affairs!
Stay up-to-date with @StudentLifePSU on Facebook, Twitter, and Instagram.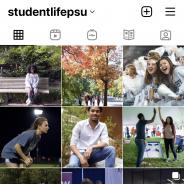 Explore in this Section
Transfer & Change-of-Campus Students