Student Organization Finance & Funding
Student Leadership and Involvement

Student Organization Finance and Funding
Fundraising
Fundraisers are one of the best ways for student organizations to raise money for their organization and to potentially have more students get involved in an event they would not normally attend. The Student Leadership and Involvement Office is committed to helping you through the process of planning a fundraising event and obtaining all the necessary materials to fundraise.
What to Consider

Are you planning on selling something at a booth on-campus or are you hoping to coordinate with an off-campus location?
What kind of fundraiser are you planning?
Who is your audience?
Where will your fundraiser take place?
How will you advertise for this event?
Organize in advance! Give yourself and your organization enough time to plan the event, advertise, and make arrangements for the actual day.
Call various vendors to see where you can get the best deal for your event.
Reserve place. You can reserve space in various locations across campus.
Formulate a signup sheet to have organization members choose time slots to work the event.
Decide in advance how much of your profits will go toward paying for the event and how much will go towards the reason for the event.

Local Vendors

Applebee's, Coldstone Creamery, Chipotle, Five Guys, Fridays, Philly Pretzel Company, Rita's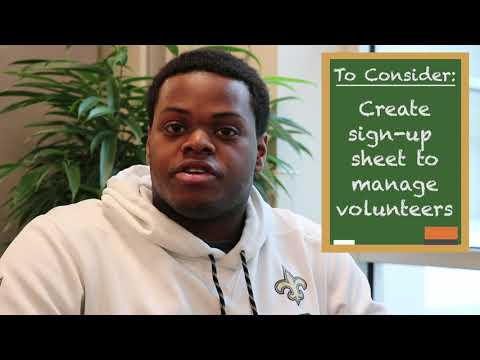 Fundraising with University Development
As a Recognized Student Organization, you have access to resources through Penn State's University Development Office. Requesting custom URLs to make online giving easy, creating crowdfunding campaigns, and receiving tax-deductible donations are just a few of the ways your organization can start raising money today.
Budgeting Tips and Information
Have a Plan

To begin budgeting, you should have a plan to know exactly what you need to budget for. Meeting with your members will help create a list of events, activities, or trips to different locations. Including ideas for the whole school year will give you a head start against the competition.

Activities Fair: food and leaflet costs
General Meetings: food costs
Movie Screening Nights: food, room reservation, and screening permit costs
Guest Speaker: room reservation, speaker fees, travel costs, publicity costs, technical cost
Travel Experiences: transportation costs, possible lodging, registration or admission fees.
Concert/Music Performers: Venues, performance fees, sounds, and technical needs,

Estimate cost

Writing out a plan for the events you wish to throw during the year could also help by determining the cost of the event. Including items like decorations, costumes, and/or games could help your organization understand how much the event might cost. This could also help you cut out pricier events.  

Where to find the money?

Fundraising
Charging dues
Selling items
Auctions
Contest
Ask for Donations
Working with Departments

Cutting money corners

Money is hard to come by. Tips and tricks to saving money can help your club throw amazing events without breaking the bank.

Always look for sales!
Dollar Stores, Dollar Stores, Dollar Stores
Write a list before you throw anything into the cart
Price check!
Go in groups
Collaboration with other organizations

Keep track of spending

The treasurer's role in the club is that of great importance! Having your treasurer keep records of club spending and even the cost of previous events could help you save big bucks!

Keep track of spending (It's good to have a reference for future members)
Have a history of previous spendings on events, items, etc.
Transition notebook
Communicate with previous board members
Allow ample programming (Min of 3-6 months in advance)

Purpose of the program (Entertainment, annual event, cultural theme, etc.)

Number of attendees/Size of the program

Venue capacity

Estimate budget (Max funding available;outside/inside resources)

Have a suggested list of performers and their fees (fees for lodging and transportation)

Sound and lighting requirements (Depending on the event)

Venue rental fees inclusive of setup and teardown fees

Security if necessary

Food (if applicable)

Entrance fees (if necessary)
Plan ahead of time (3-6 months in advance)

Destination

Type of transportation needed

Lodging expenses

Registration expenses

Meals and other incidentals fees

Number of attendees necessary to accomplish a successful trip

Length of trip

How many days out of class?

Co-curricular activity fees during the trip (e.g., Museums, Tours, Bus Service, etc.,)
Explore in this Section
Student Organization Finance & Funding