Current Exhibits

Katherine Tzu-Lan Mann |Small Planet
Installed January 2020 | HUB Ground Floor
HUB-Robeson Center has commissioned a site-specific wall painting located in the first-floor eateries by artist Katherine Tzu-Lan Mann. Titled, Small Planet, the walls of the HUB Robeson site are taken over by lush, floating vegetation. The piece was created on location by combining pour painting on vinyl, wallpaper, and Yupo paper with delicate mural painting directly on the wall. The combination of stain-like, gestural pours and controlled drawings of flora endemic to Pennsylvania create an incongruous, vibrant porthole into what appears to be another planet--but a planet created through documentation of vegetation that are often considered to be local weeds. The piece extends along corners and into adjacent walls, furthering the sense of a fantastic, immersive other world created through accumulation of the most mundane ingredients.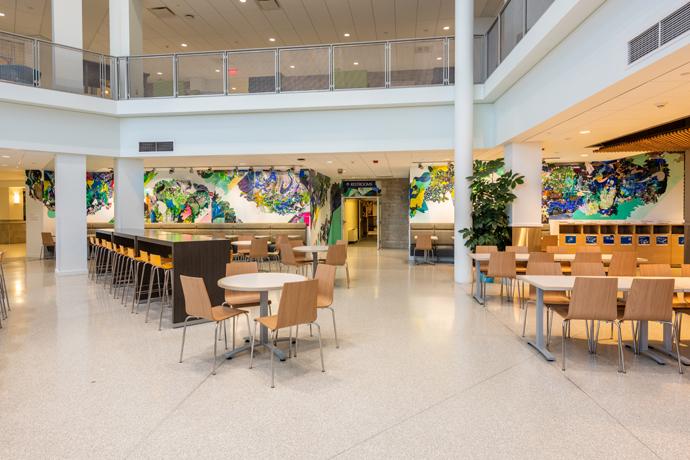 Jim Drain | Ideas! Ideas! Ideas! 
Installed in February 2020 | Wall Case
This installation uses dazzle camouflage patterns to simultaneously mask and amplify the wall case. The patterns connect and disconnect optically as viewers approach the case. Both inviting and obfuscating, peering through the pattern we find pairs of static hand gestures nestled in fur along with a lone figure. The figure, perhaps Edvard Munchs' screamer, stares into an endless dumb, numb, void. This playful, maximalist installation puts form to subconscious experiences.