Landlord-Tenant Law

Renting an Apartment
Find More Resources
Learn more about renting, your rights as a tenant, and helpful community resources on the lionslease.com website. The resource was developed specifically for the State College rental market, but includes information that is helpful to renters across Pennsylvania.
Lionslease.com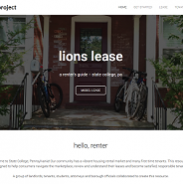 Informational Only
No legal advice is provided on this website. Every case is different. For advice about your specific situation, please complete our intake form to request an appointment with an attorney.
Quick Tips
Research
A lease contract can obligate you to pay thousands or even tens of thousands of dollars. It makes sense to do a little work before making such a big commitment.
Landlord
One important step before signing a lease is researching the prospective landlord. There are a number of resources available to help you in this search. No single source has complete information about a landlord. The best approach is to gather information from several sources and see if a trend emerges. Here are some options:
Better Business Bureau - This website provides information on landlords and property management companies, including a letter grade and complaints the BBB received.
ApartmentRatings - This website is easy to navigate and includes information on price, location, and reviews.
Yelp - A couple of search terms that work well are property management and apartments.
UJS Portal - Pennsylvania courts have docket information online. Search both the Magisterial District Court and Common Pleas dockets to see whether the landlord has been in court either as a plaintiff or defendant and how those actions were resolved.
Current or Prior Tenants - Actual tenants are a great source of information about day-to-day life. Some questions to ask: Did they have trouble getting their security deposit back? Were maintenance requests handled promptly? Did the desk staff treat tenants respectfully? Was the apartment in good condition upon arrival?
View Unit - Some apartment complexes will only show a model unit. Others won't assign a specific apartment until later in the process. Ask to see the actual unit wherever possible.
If you already know your future roommates, great! If you don't, consider meeting them in person. Most landlords won't get involved or move you if there's a conflict between roommates. And many leases in town are 'joint and several' liability, which means the landlord can hold one roommate responsible if the other stops paying rent.
Lease Review
It's one thing to read the lease, another to understand it. Penn State University Park and Commonwealth Campus students who pay the student initiate fee can see us for a free lease review. Not a student? Check lionslease.com for help understanding a lease.
Renter's Insurance
Renter's insurance protects you and your possessions in the event of fire, theft, or other catastrophic event. Look for a policy that provides protection for liability and personal property. Why? Your landlord is not usually responsible to reimburse you for damage to your personal property. If the roof leaks or the property burns down--and if you're the one who left the something on the stove that caused the fire--you might be the one who is responsible. Renter's insurance can provide coverage for both situations. It is affordable (about $7-$12 per month) and available through most major insurance carriers, some credit unions, or possibly even through your parents' homeowner's policy.
The Insurance Information Institute has good information on how to choose a policy and the National Association of Insurance Commissioners specifically address renter's insurance for college students.
Security Deposit
Getting your security deposit back starts before you sign the lease by researching your landlord and understanding your lease. When you're ready to move in, here are some other steps to follow:
Inspect and document the condition of the property carefully when you move in with a detailed move-in checklist and photos or a video. Detail both repairs needed and all cosmetic flaws.
Treat your apartment with care while you live there. Let the landlord know right away if you notice any problems. If the place gets trashed, you pay the bill.
When it is time to move out, carefully inspect and document the condition of the property again. Ask your landlord to walk through the apartment with you after you have cleaned so you can learn of any items that still need to be addressed.
Turn in a written forwarding address and any cleaning receipts when you turn in the keys.
Your landlord is required to send you a refund of your deposit and an itemized list of any funds withheld within 30 days after you turn in your keys and forwarding address. If you think the charges are unreasonable, write your landlord a letter or email to dispute the charges. Be specific and keep the tone professional. If you are unable to resolve it with your landlord, seek the advice of an attorney to explore your legal options.
Reviewed: August 6, 2021
Resources for Renting in State College