Legal Information for International Students

Tips for International Students
Common Legal Issues for International Students
Penn State welcomes thousands of international students to our campuses every year. United States laws are complex, even for a U.S. citizen, and even more so for someone who is not familiar with our legal system. The following is a guide to help international students protect themselves and avoid situations where they may face legal challenges. This guide touches on the most common problems we see students encounter. If you have more detailed questions, please ask.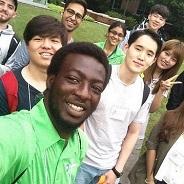 Information Only
No legal advice is provided on this website. Every case is different. For advice about your specific situation, please complete our intake form to request an appointment with an attorney.
Driving
United States laws about driving are made by both the federal government and the individual states. While the federal government makes the treaties between the United States and other countries regarding the applicability of driving licenses around the world, each State determines who may be eligible to drive in that state and what you must do to register your vehicle.
Violations of driving laws
It is extremely important that you learn and follow the rules when driving in the United States. Not knowing the law is never an excuse for breaking the law.

If you are driving and you see a police vehicle behind you with its emergency lights on, slow down and pull off to the side of the road at the nearest safe area to do so.
If you are not able to immediately pull over due to unsafe conditions, put on your blinker and wave so that the officer knows that you are acknowledging the officer's presence.
Once you have pulled over, roll down your window, turn off your car and place your keys on the dashboard in front of the steering wheel.
Do not attempt to get out of the car unless you are instructed to do so.
Have your driver's license out and ready to hand to the officer when asked.
The officer will inform you as to why they pulled you over.
Be respectful of the officer and do not argue with the officer.
If you disagree with why the officer pulled you over, you will have an opportunity to dispute it in court at a later date.
Never attempt to pay the officer money on the spot. This could be viewed as an attempt to bribe the officer and could result in you going to jail.
If you are pulled over and the officer issues you a ticket, you may respectfully ask the officer about the ticket and what your options are. The officer should explain what the ticket is for and why the officer issued it. In Pennsylvania, you have 10 days to respond to the ticket. This means that you will either plead guilty or not guilty by signing on the appropriate line at the bottom of the ticket and mailing it to the address on the ticket. If you fail to respond within 10 days, you will have your driver's license suspended and potentially face even larger fines and penalties. Ignoring the ticket is never a good idea.

If you plead guilty, you are accepting the ticket as true and are agreeing to the fines and penalties that are imposed. If you wish to plead not guilty, sign the line on the ticket for "not guilty" and send it to the address on the ticket. You will receive a letter from the court telling you when your hearing is set for. If you fail to attend the hearing, you will be automatically found guilty. If you attend the hearing you will have an opportunity to have a judge determine if the officer was right or wrong.
In addition to the fine you will have to pay if you get a ticket, you may also receive "points" on your driver's license. Points are a way for PennDOT to discourage repeated violations. If you accumulate 6 or more points on your Driver's license, you may have your license suspended or have to take a safe driving course. Receiving two speeding tickets in one year could easily put you at the 6 point mark.

One common mistake made by international drivers is failing to stop for a school bus when its red lights are flashing. Since children often cross the street when getting on or off a school bus, you are required to stop regardless of which direction you are traveling. If you see a school bus with flashing yellow lights, slow down and be prepared to stop. The yellow lights are a warning that the school bus will soon come to a complete stop and turn on its red lights. Failure to stop for a school bus results not only in a fine, but also an automatic 60 day suspension of your drivers license.
Owning a car
If you decide to purchase a car in Pennsylvania, the car must be properly registered, inspected, and insured. Failure to do any of these may impact your ability to drive in Pennsylvania and subject you to large fines or penalties.
Criminal Activity
It is permissible to drink alcohol in the United States only if you are over the age of 21. If you are under the age of 21, it is illegal to buy, possess, or drink alcohol. If you get caught with alcohol while underage, you may be fined up to $500 for your first offense. A second offense is up to $1000 fine.

However, even if you are over the age of 21, it is still illegal to be drunk in public. If you endanger yourself or others you may still end up with a citation for public drunkenness. Doing too many shots at a bar could still end you up with up to a $500 fine and a criminal record. It is important to always drink responsibly.
It is illegal to drive a car while under the influence of alcohol (DUI). The legal blood alcohol limit in Pennsylvania is .08 percent, which is usually no more than 1 beer, 1 glass of wine, or 1 shot of liquor per hour, depending on your body size and other factors. If you are under 21, the legal blood alcohol limit while driving is .02 percent.

If you are pulled over by the police and charged with a DUI, your visa will likely be revoked immediately by the U.S. State Department. If your visa is revoked, you will not be able to leave the country and come back in without getting a new visa from your home country. You will also have to go through a lengthy criminal process and face fines in excess of $2500. If you decide to drink, drink in moderation.
While it may legal to use marijuana in several other states, it is illegal to use or possess marijuana in Pennsylvania. If you are charged and convicted of possessing or smoking marijuana, your visa is likely to be revoked and you would need to reapply for a new visa, which could take up to six months to accomplish.
Living Arrangements
When you are looking for a place to live, remember that when you sign a lease, it is a legal contract. You should never sign a lease for more than one apartment at the same time. If you do, you may end up having to pay rent on both apartments.
When you move into your new home, always take pictures of everything and write a list of all damages that exist when you moved in. Most landlords will give you a form to note all of the pre-existing damages. If your landlord does not provide one for you, you can create your own. There is no official form. Write down any marks on the walls, broken blinds, stains on the carpet, problems with the appliances, etc. If you do not document the condition of the apartment when you move in, you may be charged for pre-existing damages when you move out. Move-in day is your best opportunity to protect yourself from losing money on your security deposit. Most landlords will give you 72 hours to turn in the move-in checklist after you take possession of the apartment. Even if it takes you an extra day or two to complete the list, you should still turn in the checklist.
If you are leaving your apartment over the winter break, set the heat high enough to keep the pipes in the walls and floors from freezing. Never turn the heat off completely. Every year a few students turn off the heat completely to save a little money while they are gone, only to end up owing their landlord over $10,000 in damages from broken water pipes.
We highly recommend that you purchase renters insurance. Almost all of the major insurance companies offer renters insurance, which costs as little as $10 per month. If you are living in an apartment building and the person who lives above you floods your apartment, your landlord is not responsible for replacing your possessions.
Jobs
Most international students who enter on an F-1 or J-1 visa can work only on campus. F-1 students may work on campus up to twenty (20) hours per week. Working off campus without first getting permission from USCIS can jeopardize your current and future visa status. International students sometimes think that doing things like driving for Uber is not work. It is! If there are any questions, talk to an advisor in International Student and Scholar Advising to stay on the right side of the law.
Reviewed: July 1, 2019