Parents & Families Resources
Penn State Parents Program

Resources & Communications
The Parents Program connects you with resources necessary to support your student. Most of the answers can be found on this website. In some cases, we will link out to another website with more detailed information. 
The Parents Program communicates regularly with parents and families about what's happening with your student, opportunities and events on campus, and available resources.
Hey, Penn State...
So many questions and so many ways to get answers. Reach out and we can help.  #HeyPennState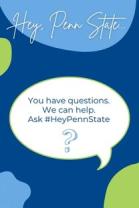 Parent & Family Experience
An online portal to share information and regular emails to keep you up to date on what's happening on and around campus including resources to help your student.
Sign Up Here
Penn State Go Mobile App
The Penn State Go mobile app is a great way to keep campus close by. Download the app in the Google Play Store and Apple App Store and customize your experience by selecting "Change App Experience" and "Parents and Families."
Learn more about Penn State's official mobile app
Explore in this Section
Parents & Families Resources