Indoor Climbing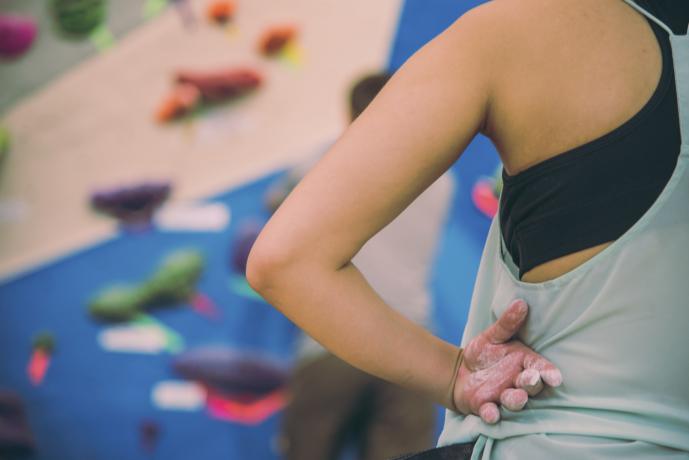 Climbing Wall
The climbing wall, located in the IM Building, stands at over 40 feet tall with 16 climbing lanes capable of both top rope and lead climbing. Our climbing wall offers fun, recreational climbing opportunities for all climbers, regardless of experience or ability. Our state-of-the-art wall features up to 50 routes (for climbers of all abilities), two climbable crack systems, a rappel ledge, and a teaching area for skills and clinics.
Access to the climbing wall for all students is free during "open recreation" hours.  Lead climbing and additional hours are available with the purchase of a Climbing Wall "Access Pass."
Purchase the Climbing Wall Access Pass online on the Campus Recreation website under the Membership tab.
*NOTICE* The Access Pass and lead climbing are not available for the fall semester.
Fall Semester Hours: Tuesday-Friday, 6-10pm (Belay lessons offered at 6:00pm, 6:45pm, 7:30pm, and 8:15pm. Pre-registration available online.
*NOTICE* The climbing wall is CLOSED for training August 16-20.  Special weekend hours will be available Saturday and Sunday, August 21-22 from 6-10pm.
The Bouldering Wall
The 14-foot tall bouldering all is located down the hallway from the climbing wall and offers an additional space for un-roped climbing. Access to the bouldering wall is included with a Campus Recreation membership during all open hours of the IM Building. Before climbing, participants must "purchase" the OA-Bouldering membership. Completion of this process will include electronic acknowledgment of the bouldering orientation. Once completed climbers must check in at the IM Bldg Equipment Desk or Climbing Wall Suite (during open hours) to obtain a bracelet and climbing shoes if needed.
Courses & Clinics
Sign up for all courses and clinics online at pennstatecampusrec.org or in person at the Outdoor Adventures office, located in Room 18 in the IM Building.
For more information and questions, please check our Climbing FAQ to answer possible questions.
Do you need previous climbing experience?

No previous experience is necessary to use our climbing and bouldering walls. You will need to go through a climbing gym orientation with one of our staff on your first visit to inform you of all our policies.

Can I climb if I come alone?

Yes. Bouldering is always available and is a great way to meet other climbers while you're getting stronger and building your technique. We also have an auto belay that enables you to climb on the roped wall by yourself.

Will there be someone available to belay me?

While our staff members are usually stoked to belay, it is not their job while supervising. However, the climbing wall is a great place to meet new people and be a part of a supportive community.

Can I bring my own climbing gear?

You may bring your own shoes and personal harness as long as it meets our requirements. Harnesses must be UIAA approved (specifically made for rock climbing) and be manufactured within the last 5 years. Our staff will approve at their discretion and will require you to sign a personal equipment waiver before using it. All other gear necessary to climb is provided by us.

How do I get belay trained?

For top rope climbing, you will need to take our free belay clinic with one of our certified instructors. Once you've learned and demonstrated all of the necessary skills (passing our belay test), you will be endorsed to belay at the wall. Note that belay clinics are only offered during Open Recreation hours, and not during Access Pass hours.

How do I learn how to lead climb?

You will need to sign up for our lead clinic. This clinic will teach the basics of lead climbing indoors. Climbers interested will need to have their top rope belay endorsement and demonstrate the ability to climb 5.9 or above prior to signing up.

If I already know how to belay, do I have to take the belay clinic?

If you are already an experienced climber, you can opt out of the clinic and take the belay test. However, you must pass all aspects of the test without any coaching in order to receive the endorsement. A lead climbing skill test is also available, but you must have a partner to take the test. If you do not pass you must take the appropriate clinic before you can test again.

How can I learn more about climbing?

We offer a variety of educational and skill building workshops throughout the year. The Outdoor Adventures Office also maintains a fairly comprehensive resource library so you can check out books and learn on your own.

What's the deal with all the colored tape on the wall?

The tape marks individual climbing routes. Think of it as different levels of challenging paths to get to the top. Each route is unique and offers a different style and challenge. At the bouldering wall our routes (commonly called "problems") are set with the same color holds (no tape).  These routes and problems are changed throughout the year, so enjoy them while they last.

What do the numbers on the routes mean?

The numbers at the start of each route or problem denote its level of difficulty or grade. For the roped routes, we follow the Yosemite Decimal System (YDS) and for boulder problems, we use the Hueco V-scale. Both follow the same principle; the higher the number, the harder the climb. All route grades are very subjective and change from place to place.