Trips & Clinics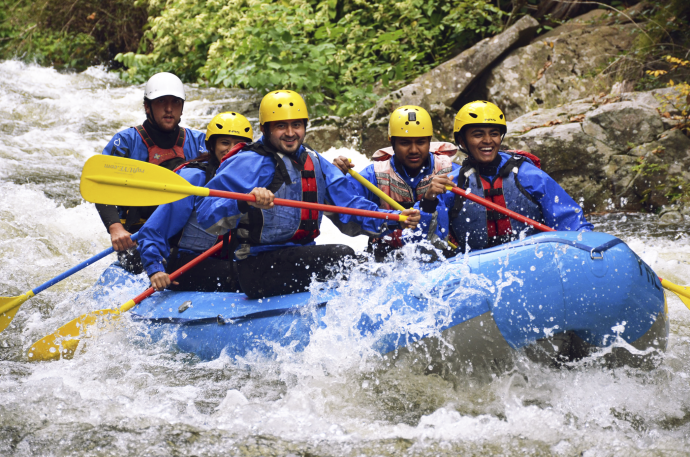 Upcoming trips and clinics
Trips & Clinics
We offer outdoor experiences and learning opportunities for beginners, enthusiasts, and everyone in between. Activities include hiking & backpacking, caving, mountaineering, whitewater rafting, rock climbing, canoeing, kayaking, and more.
Outdoor TRIPS are typically designed for students of all experience levels (very beginner friendly) and provide opportunities to try new activities, explore new places, and develop new friendships.  We do offer some higher-end trips (previous experience recommended) for those looking to push the boundaries and challenge themselves.
Skill development CLINICS are designed for students who want to develop specific skills needed to become independent or proficient in various activities. These offerings are about providing excellent instruction and a foundation for students to develop skills on their own. Registration fees for trips and clinics typically include transportation, equipment, instruction, and food (overnight trips only).
CUSTOM PROGRAMS or retreats may be available for student and University groups by request. (Please fill request form for custom programs)
Contact the Outdoor Adventures office (814-863-2895 or adventure@psu.edu) with any questions.

Online Registration

Visit our registration website. We have many trips and clinics to choose from.

In-Person Registration

If you would like more information about a program or need help deciding what trip or clinic would be best for you, then come into the Outdoor Adventures office (18 IM Bldg) where our friendly and knowledgeable staff will help get you registered.

If coming to register in person be sure to check our current hours and bring your PSU ID card and payment to room 18, IM Building.

Accepted Forms of Payment:  LionCash or Credit (Visa, MasterCard)
ELIGIBILITY

Only students, faculty, staff, and authorized university affiliates with a valid PSU ID card (or Campus Recreation membership) are eligible to participate in trips. Some trips may require individuals to be 18 years or older to register. Member pricing is available to all students and Campus Recreation members.

REGISTRATION

1) Participants may register in person or online.

2) Participants must present a valid PSU ID card and may register for themselves ONLY. (Individuals may pay for another person who is also present to register.)

3) Participants must pay the trip fee at the time of registration to secure a spot on the trip.

4) Participants must have individual medical insurance to participate in trips.

WAITLIST

Once a trip is completely registered, additional patrons can be added to a waitlist on a first-come, first-serve basis. In the event that a spot becomes available, patrons on the Waitlist should be contacted in the order that they are listed and, when time allows (10+ days prior to the trip), should be given 24 hours to register for the trip before the next person on the waitlist is contacted. In situations where there are less than 10 days until the trip date, students on the waitlist should be notified in the order they are listed, but registration is on a first first-come, first-serve basis.

TRIP CANCELLATION AND REFUNDS

Participants may cancel their registration by calling, emailing, or stopping by the Outdoor Adventures office in person. In most cases, cancellations made 10 or more days prior to the trip are eligible for a full refund of the trip registration fee. (Extended trips may not be eligible for a refund.) Refunds should not be issued for cancellations made less than 10 days prior to the trip. Trip registration may not be transferred to another individual or trip. Refunds may take up to two weeks to be processed and mailed to the patron.

If a participant does not show up to the scheduled pre-trip meeting and/or does not respond to attempted phone and email contact from Outdoor Adventures staff, the participant's registration may be canceled. The participant is not eligible to receive a refund of the trip registration fee.

Due to the nature of Outdoor Adventures programs and our commitment to risk management, trip activities, itineraries, and locations may be altered at the last minute to provide the best experience for participants. Trips, clinics, and programs may be canceled or postponed at any time at the discretion of Outdoor Adventures staff.  In the event that a trip is canceled or postponed by Outdoor Adventures for any reason, participants will be eligible for a full refund. If the trip is rescheduled participants may choose to maintain their registration and participate in the trip at the rescheduled time or receive a full refund.
Medications

ampus Recreation facilitators do not carry or assume responsibility for any over-the-counter ("OTC") or prescription medications. Participants who may require such medications while participating in a program are responsible for bringing and using them in the correct manner. Participants should advise Campus Recreation staff of any relevant conditions or potential side effects related to their medication.

 • If facilitators observe a participant using OTC or prescription medications in a manner inconsistent with its labeling they should proceed as outlined below under "Drugs and Alcohol".

Drugs and Alcohol

Possession and/or consumption of drugs and alcohol is not permitted on any Campus Recreation Outdoor Adventures program. Possession or consumption of drugs and/or alcohol may result in a) removal from the activity, b) exclusion from participation in future activities, c) reporting to the Office of Student Conduct, and/or d) any other appropriate and/or necessary actions including involvement of law enforcement officers.

• Facilitators observing any behavior of this sort should encourage the participant to stop the behavior and consider options for removing the participant from the activity. The safety of all participants and staff should be the top priority in determining the appropriate course of action.

• If it is determined that the appropriate course of action is to continue with the activity, the participant should be monitored closely by facilitators. Facilitators should document the behavior on an Incident Report and contact a professional staff member as soon as possible.

Weapons

Possession of weapons or explosives (as defined in University Policy SY12) is not permitted in any Campus Recreation program or facility. Small pocket knives may be permitted for certain activities but should be used responsibly. Any unsafe behavior or inappropriate use will be dealt with as outlined above. Possession or use of such items may result in a) removal from the activity, b) exclusion from participation in future activities, c) reporting to the Office of Student Conduct, or d) any other appropriate and/or necessary actions including involvement of law enforcement officers. • Facilitators observing the possession of weapons or explosives should consider options for removing the participant from the activity. The safety of all participants and staff should be the top priority in determining the appropriate course of action. • If it is determined that the appropriate course of action is to continue with the activity, the participant should be monitored closely by staff. Staff should document the behavior on an Incident Report and contact a professional staff member as soon as possible.

Behavioral

All participants in a Campus Recreation program are expected to conduct themselves in a manner consistent with the values of the University and the Student Code of Conduct. Any student found to have committed, to have attempted to commit, or to have assisted in any misconduct listed in the Code of Conduct may be subject to disciplinary action as outlined in the Student Conduct Procedures.

Students working in an official capacity for Campus Recreation (as facilitators or other capacities) are considered to be University officials. Do the inherent risks involved in outdoor/adventure activities it is imperative that participants follow the directives of facilitators, and/or the staff of third-party agencies working in agreement with the University, at all times. Failure to comply with reasonable directives from a facilitator or other official by a participant may result in a) removal from the program, b) exclusion from participation in future programs, c) reporting to the Office of Student Conduct, or d) any other appropriate and/or necessary actions including the involvement of law enforcement officers.

• Staff observing any behavior of this sort should encourage the participant to stop the behavior and consider options for removing the participant from the activity. The safety of all participants and staff should be the top priority in determining the appropriate course of action.

• If it is determined that the appropriate course of action is to continue in the program, the participant should be monitored closely by staff. Staff should document the behavior on an Incident Report and contact a professional staff member as soon as possible.

Lodging

Only individuals of the same sex should share lodging accommodations (tents, cabins, etc). Anyone who feels uncomfortable with the lodging arrangements should speak with a facilitator or professional staff member prior to the trip.

Leave No Trace

Participants are encouraged to learn and follow the 7 principles of the Leave No Trace Center for Outdoor Ethics.

• Plan Ahead and Prepare

• Travel and Camp on Durable Surfaces

• Dispose of Waste Properly

• Leave What You Find

• Minimize Campfire Impacts

• Respect Wildlife

• Be Considerate of Other Visitors