Career Information for Parents & Families

Career Services is committed to offering a comprehensive array of programs and services that supports and facilitates career development for all students. 
How can Career Services help?
Coach your student on career goals throughout their time at Penn State
Our staff is in your student's corner. We can work with your student to help them make an informed decision based on their specific interests and needs. Building a relationship with a career expert can help your student feel more confident and prepared professionally. 

Serve as a resource and help your student prepare for the world of work
Career Services staff is prepared to help regardless of where your student is in their career journey. We can help identify majors that may fit interests, explore how to connect a major with career opportunities, or help prepare your student professionally with coaching. Every student is different; let us help customize a career plan.

Connect your student with excellent career resources
Our office provides services, programs, and resources to assist your student with career exploration, planning, and implementation. We plan career fairs, bring in speakers, and teach career classes to help your student be the most they can be.

Serve as leaders in the career field
Our staff aims to be national leaders in informing on recent post-graduation data, starting salaries, and more.
Coaching Informed Decisions
Connecting Students to Opportunities and Support
Learn about what Penn Staters do after graduating.
Recent graduates are surveyed annually. Learn where Penn State recent graduates are going, experiences they had while in college, and average salaries.
See Post-Grad data for Penn State students
Common Career Questions
Our career offices hear some frequent questions from parents and families about how they can help support their student.
Our offices will gladly answer any questions parents and families may have but encourage you to empower your student to ask these questions themselves. Building career confidence early can help establish your student as a self-sufficient professional.
How to support your student
Be in your student's corner and encourage career development early. Use the following tips to start the conversation and help your student start thinking like a professional.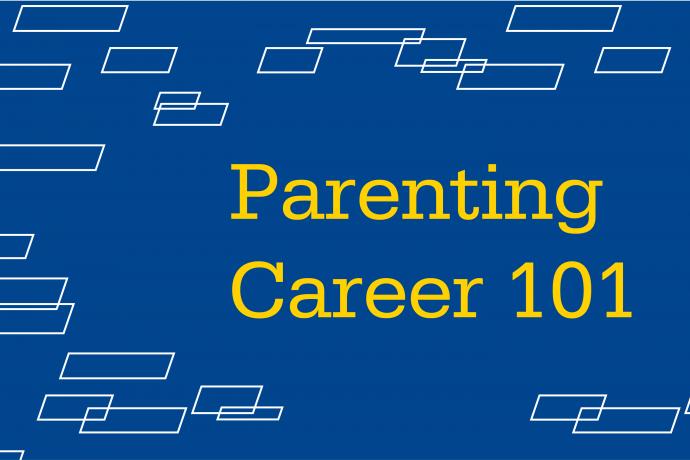 Important Career Resources for Students
Knowing where to look for help is half the battle in finding career success. Our career counseling team is available for coaching and counseling support with appointments or drop-in services. Encourage your student to explore the vetted resources below, too.
Career Options and Exploration

Candid Careers
Watch video interviews of Penn State Alumni talk about their career paths

 
Internship and Job Search 
Resumes, Cover Letters, and Applications
Upcoming Career Events
Encouraging your student to be active on campus is key to them finding career success during and after Penn State. Career events are scheduled throughout the year by a wide variety of offices and units.
Hire a Penn Stater!
Is your organization looking for great talent? Consider supporting Penn State as a hiring recruiter! Learn about how you can get involved on campus, post openings, and connect with the talent you need.
Learn how to get involved at Penn State as an employer