Substance use Education & Information
Alcohol & Drug Education & Recovery

Call 911 - You May Save a Life
Penn State's Responsible Action Protocol and Pennsylvania's Medical Amnesty Law protect students from prosecution for consumption or possession of alcohol or drugs when they seek help for a peer.
Learn More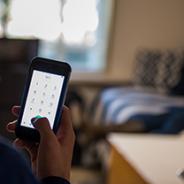 What about Delta-8?
Delta-8 THC is a psychoactive substance found in the cannabis plant. Concentrated amounts of Delta-8 THC are used in products such as edibles, gummies, oils, and vapes.

 

Delta-8 products are at the center of a continued debate regarding their legality.

Regardless of legal status, possession of Delta-8 is prohibited on Penn State property, and those in violation may face consequences.

Looking for a job or internship? Delta-8 products do, in fact, contain THC and will show up on a drug test as a cannabis product.
Delta-8 is not subject to any federal or state laws that would regulate their production, and they have not been evaluated for their safety or use. This makes Delta-8 effects and safety challenging to research.

This means that if someone uses a product from the same brand at one point in time, their next purchase of that exact same product may have a completely different potency and chemical composition.

Know before you go: Marketing guidelines for these products are also difficult to regulate. Products containing Delta-8 may be ambiguously labeled as items that contain "hemp," or "CBD."

Researchers have found that Delta-8 and other hemp products purchased from smoke shops often contain heavy metals and inaccurate dosing information.
What impacts cannabis and your health?
Interested in making changes?
No! In fact, 53% of undergraduate students surveyed at University Park reported never using cannabis, and only 23% of students surveyed had used a cannabis product in the last 30 days (February 2022).

Among the graduate student population, 57% of the students surveyed at University Park reported never using cannabis, and only 13% had used a cannabis product in the last 30 days (February 2022).

Most students inaccurately perceive that their peers are using more than they are.

Humans are driven to "go with the group" and do what others do as a means of survival. Sometimes this group influence works in our favor (survival!), while other times it might unknowingly be harmful.
ScreenU

This tool offers personalized, non-judgmental feedback, as well as nearby support resources

SMART Recovery

This free drop-in group teaches tools to change to improve problematic alcohol and drug use focusing on a Four Point Program: 1) Building and maintaining motivation, 2) Coping with urges, 3) Managing thoughts, feelings, and actions, and 4) Living a balanced life. 

Health Promotion & Wellness Marijuana Intervention Program (MIP)

Students concerned about their use can sign up for this free personalized 2-session program to assess their use and learn harm reduction techniques to reduce the negative consequences of cannabis.
Mixing alcohol and drugs

Driving under the influence of cannabis

Addictions, Drug & Alcohol Institute, University of Washington, Learn about marijuana. 2020 
Centers for Disease Control and Prevention, What you need to know about marijuana use and driving.  April 13, 2017. 
Lacey, J, Kelley-Baker, T., Berning, A., Romano, E., Rameriez, A., Yao, J….& Compton, R. (2016). Drug and alcohol crash risk study:  A case-control study (Report No. DOT HS 812 255). Washington, DC:  National Highway Traffic Safety Administration. 
Hartman & Huestis (2013). Cannabis effects on driving skills, Clin Chem 2013. Mar: 59(3): 478-92.   

Cannabis and depression

Black, N. et.al. (2019). Cannabinoids for the treatment of mental disorders and symptoms of mental disorders: a systematic review and meta-analysis.  Lancet Psychiatry 6(12): 995-1010 
Borodovsky, J. & Budney, A. (2018). Cannabis regulatory science: risk-benefit considerations for mental disorders. International Review of Psychiatry. 30(3): 1-20 
Botsford, S. Yang, S., George, T. (2020). Cannabis and cannabinoids in mood and anxiety disorders:  Impact on illness onset and course, and assessment of therapeutic potential. The American Journal on Addictions. 29(1): 9-26. 
Bresin, K., & Mekawi, Y. (2019). Do marijuana motives matter? Meta-analytic associations with marijuana use frequency and problems. Addictive Behaviors. 99. 
Osser, D. (2020).  Cannabis: Patients with bipolar should avoid use.  Psychiatric Times. (37)4: 25.  
Stea, J. Is Cannabis good or bad for mental health?  Scientific American, January 27, 2019 
Black, N. et.al. (2019); Borodovsky, J. & Budney, A. (2018); Botsford, S. Yang, S., George, T. (2020); Bresin, K., & Mekawi, Y. (2019); Osser, D. (2020; Stea, J) 

Delta-8 THC

Babalonis, S., Raup-Konsavage, W., Akpunonu, P., Balla, A., & Vrana, K. (2021). Delta-8 THC:  Legal status, widespread availability, and safety concerns. Cannabis and Cannabinoid Research. 6(5):362-365. 
Centers for Disease Control and Prevention, Increases in availability of cannabis products containing Delta-8 THC and reported cases of adverse events. September 14, 2021. 
U.S. Food and Drug Administration, 5 things to know about Delta-8 Tetrahydrocannabinol – Delta-8 THC. September 14, 2021. 
Washington Healthy Youth Coalition.  (May, 20121). Delta-8 and other THC isomers: An emerging safety concern. 
Explore in this Section
Substance Use Education & Information