Fitness and Wellness
Welcome
There are many ways you can choose to get healthy and have fun at Penn State. Our staff, comprised of both students and professions will lead, inspire, and motivate you to find your best YOU!
Virtual Fitness
Our staff is committed to bringing you opportunities to stay active during the campus shutdown as a result of COVID-19. We are working to build out an extensive library of videos on the Student Affairs YouTube Channel. We are also bringing you live fitness classes through the Penn State Campus Recreation Instagram and Facebook accounts. Please be sure to follow us on those platforms and feel free to reach out with any suggestions or comments.
For more information email Fitness@psu.edu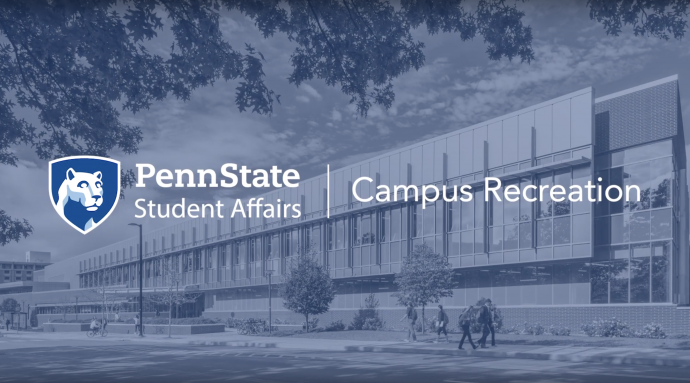 Fitness & Wellness Schedule
Due to the university closure for COVID-19, we have shifted all of our programming to Instagram (@pennstatecrec) and YouTube (Penn State Student Affairs). Thank you.
Weekly Group Fitness
Campus Recreation Fitness and Wellness has more than 100 weekly drop-in classes that are free for all students and those with a Campus Recreation membership, including Full Body Workout, Interval Training, Indoor Cycling, Zumba©, and Ab-solute Core. Classes run from early morning until late at night, seven days a week. To ensure you have spot in the class, registration is strongly encouraged.
Additional Weekly Group Fitness Information
Fitness Programs
Campus Recreation Fitness and Wellness offers various fitness programs that provide skill building and personal enrichment. For an additional fee, Campus Recreation members can benefit from lower instructor to student ratios, a reserved spot in a class, progressive results, personal attention, and familiar classmates. Space is limited.
Additional Fitness Programs Information
Martial Arts Program
Students registered in martial arts classes will gain a well-rounded understanding of the art from a trained, credentialed Instructor. Students will learn etiquette, hand and foot techniques, forms, and physical training within the rules of the respective disciplines.  No previous experience is necessary and classes are instructional in nature and will progress from week to week.
While belt testing, up to blue, is available in instructional classes on campus, it is not required (in some martial arts the purchase of a uniform or gi may be required if you want to test for a belt).
Additional Martial Arts Information
Custom Fitness Classes
Do you want to bring a group together or need some stress relief? Campus Recreation Fitness and Wellness are here to help. We offer a wide variety of custom classes that will fit your group's needs. Sessions will be led by a Penn State Fitness Instructor or Personal Trainer.
Scheduling a Custom Fitness Class: To request a private fitness class, please complete the custom fitness class request from at least 2 weeks in advance of your event. All entries will be addressed as soon as possible.
Policies: Class options are subject to availability of instructors and space. Custom Fitness Classes come at a fee and must be paid in full prior to a session. A minimum of 24 hours advanced notice is required for cancellation and re-scheduling, otherwise a loss of fee will occur.
Wellness Workshops
Wellness Workshops are opportunities for Campus Recreation members to increase their health and fitness knowledge and improve training techniques. These workshops, provided by student fitness leaders are special offerings designed to teach new skills. Often these workshops are in collaboration with other units across the University such as Health Promotions, Counseling Services, and student clubs. Past workshops have included stress management, women's weightlifting, healthy food choices, and holiday highlight classes.
Social media and the Campus Recreation registration site are the best ways to learn about these special opportunities.
Personal Training
Whether you're just starting your fitness journey or you are looking to change your routine, Campus Recreation personal trainers are ready to serve you.
Current membership is required to register for personal training. 
Personal Training: Beginning a new fitness training program can be an intimidating process. Our certified trainers can guide you through a training program specifically designed and tailored to your goals and your busy schedule. After your initial enrollment, you will be paired with a personal trainer who has common availability. Together your trainer you will complete an initial fitness assessment. This assessment will be used to show progress throughout your training. Collectively you will establish goals, expectations, and develop a progressive training plan. Our personal trainers will guide, motivate, and educate you to find your best you.
Fitness Instructors and Personal Trainers
Our student fitness instructors and personal trainers are committed to health and fitness. They hold a national certification and have successfully completed a 16-week, 3-credit training course (Kines 93). Through this course, they gain leadership skills, fitness knowledge, and motivational tools to help fellow students become fit, healthy contributors to the Penn State community.
For more information email Fitness@psu.edu
Aqua Classes
Aqua classes are designed to give a maximum workout in a private group setting while utilizing pools in the McCoy Natatorium. These classes are progressive in nature and vary in intensity depending on which option you register for.
This is a course for those looking to keep moving and a balance of low-intensity cardio and full body strengthening in shallow water.
This is a high-intensity interval based workout through plyo work in the shallow water! Participants will be bouncing, skipping, jump squatting and doing speed drills in shallow water. This is a great high energy workout that is easy on your joints and allows for some recovery from land-based workouts such as running and lifting.
BOGA Fit is a class done in the pool on a floating mat. It takes the best core strengthening movements from yoga and Pilates and combines it with a boot camp style cardio segments. There is a focus on balance and coordination with the fun, play-like twist of being in the water, so be ready to get wet during this workout! Our certified BOGA instructors have the knowledge to provide a safe, effective, fun workout in a short amount of time FOR ALL FITNESS LEVELS.
Additional Aqua Class Information
Guest Policy
Instructional and Martial Arts classes offer a two week free trial period.

A trial visit outside of the trial period for current students and Campus Recreation members is $10.

A trial visit outside of the trial period for non-Campus Rec members is $25 ($10 Campus Rec guest fee + $15 class fee)

Guests purchasing a trial visit must be accompanied by a Campus Recreation member sponsor.

All trial visitors must purchase in person at the Intramural Building sales office on the day of the trial visit.

A dated, printed receipt must be presented to the Fitness Attendant for admittance into the class.