It's On Us

It's On Us Penn State to Prevent Sexual Violence
Join us for It's On Us Week of Action
It takes all of us, every Penn Stater, to prevent sexual violence and support survivors. It's On Us to learn how. Join the It's On Us Penn State movement by attending one of our interactive peer-led workshops.
Have questions or want to become a peer educator? Contact Jacob Frank at jxf5513@psu.edu.
Workshops
Demonstrate your commitment to making Penn state a safer, more inclusive campus, by participating in one of these sessions.
Participants receive a free It's On Us Penn State t-shirt. Registration is required to attend.
Sexual Citizenship
Get ready to discuss everything you ever wanted to know but never thought to ask about relationships, hookups, boundaries, sex, and consent. We will ask you to consider what you expect from yourselves and your partners, as well as your boundaries, including sexual boundaries. Participants will learn how to have these conversations with their intended partner.
Beyond the Binary
Engage in conversations around gender stereotypes, gender identity, and the gender spectrum while exploring the social justice view of gender with a discussion of how gender roles confer power and privilege and enable oppression. In addition to considering your own privileges and identities, you will learn about bystander intervention tools to address and prevent gender-based harassment and violence.
Gender, Race, and Power
Let's connect the dots around oppression based upon race, gender, and other identities, as we explore the five faces of oppression. We will discuss sexual violence, as a form of oppression, highlighting conversations around consent and victim-blaming, particularly as it relates to marginalized communities, as well as discuss the University's reporting processes with a focus on restorative justice initiatives.
Upcoming Sessions
We have countless opportunities to join the session during the Spring 2023 week of action from Monday, February 20 through Friday, February 24. Check out the sessions below, find one that fits your schedule, and register to join the movement to eliminate sexual violence at Penn State.
Request an It's On Us Workshop Today
Unable to attend our pre-scheduled sessions? No problem! You can requesting one of our It's On Us programs for your class, club, or organization, as well as for a residence hall, or other group. These sessions are interactive, educational, and peer led and sure to leave a lasting impression.
Click here to request a workshop today.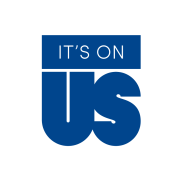 What is "It's On Us" all about?
In Spring 2021, the Gender Equity Center received a $30,000 grant through the "It's On Us" campaign through the Pennsylvania Governor's Office for enhancing peer education opportunities and violence prevention programming and awareness at Penn State.
Through a collaboration with other Student Affairs offices, including the Center for Sexual and Gender Diversity, Health Promotion and Wellness, and the Paul Robeson Cultural Center three interactive and engaging peer lead workshops were created. These workshops promote sexual violence prevention and increase support for victim survivors by focusing on innovative intersectional programming to eliminate all forms of oppression which contribute to the perpetration and continuation of sexual and gender-based violence.
"It's On Us" is more than a rallying cry, it is a promise and a commitment from Penn State community members to the victim survivors in our community that we accept the charge that It is On Us to eliminate sexual violence at Penn State. It is on all of us, not just victim survivors, to advocate for change and learn how to make a difference. By participating in one of the It's On Us workshops, you can contribute to a campus culture that refuses to enable and excuse acts of violence. The time is now to take action to prevent sexual violence.