Penn State Parents Program
Welcome Parents and Families
The Penn State Parents Program welcomes you to the Penn State Family. We look forward to supporting you as you support your student. We are here to partner with you to ensure your student's success by:
Serving as a central University resource
Enhancing parent and family involvement opportunities
Providing information about the student experience at Penn State
Communicating regularly with families
We invite you to contact our office with any questions or concerns.
" Penn State is a large university, but there are so many resources and opportunities available to help students and families get involved. "
Student Send-Off Events for New Penn Staters
Student send-off events are hosted by Penn State Alumni Chapters to welcome new students (and their families) to Penn State. Events are typically held in June, July, and August. Your student should receive an invitation if there is an event near you.
Resources and Links for Parents and Families
You're Invited to Parents & Families Weekend
October 11 - 13, 2019
Registration begins in August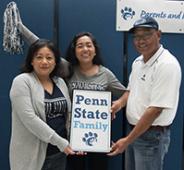 Explore in this Section
Penn State Parents Program