Penn State Parents Program
Welcome Parents and Families
The Penn State Parents Program welcomes you to the Penn State Family. We look forward to supporting you as you support your student. We are here to partner with you to ensure your student's success by:
Serving as a central University resource
Enhancing parent and family involvement opportunities
Providing information about the student experience at Penn State
Communicating regularly with families
We invite you to contact our office with any questions or concerns.
" Penn State is a large university, but there are so many resources and opportunities available to help students and families get involved. "
You're Invited to Parents & Families Weekend
October 11 - 13, 2019
Registration begins in August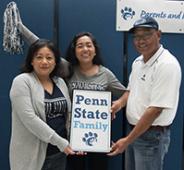 Announcement About Student Health Insurance
Please note that important Penn State student health insurance information will be sent to your student via email by First Risk Advisors on behalf of United HealthCare StudentResources. These messages are approved by the University, and should not be regarded as spam. Please encourage your student to watch their inbox for additional information.
Information about the University-Wide Requirement
Explore in this Section
Penn State Parents Program