Visual Identity
Communications & Marketing

Penn State Student Affairs Mark
The Student Affairs wordmark – also known as a 'lockup' – is based on the primary visual entity of Penn State – the University Mark. The Student Affairs mark is the official wordmark for all departments within Student Affairs at Penn State.

Student Affairs Official Unit Wordmarks 
Student Affairs official unit wordmarks include the Student Affairs mark plus the unit name. Student Affairs unit wordmarks are available in both horizontal and vertical (stacked) versions. The horizontal version is preferred for more uses. 
The Student Affairs mark or unit mark MUST be used on all Student Affairs marketing/promotional materials, including printed and digital materials, websites, and promotional items. Units are not permitted to have other logos or marks to identify their area. 

Placement and Spacing in Publications
Single Unit Materials
Flyers, posters, and similar one-off publications created by Student Affairs units must have a standard footer, which includes the Student Affairs/unit mark, the required accommodation statements, and a U.Ed. number. Footer templates are available. If your unit is in need of a template, please contact our office.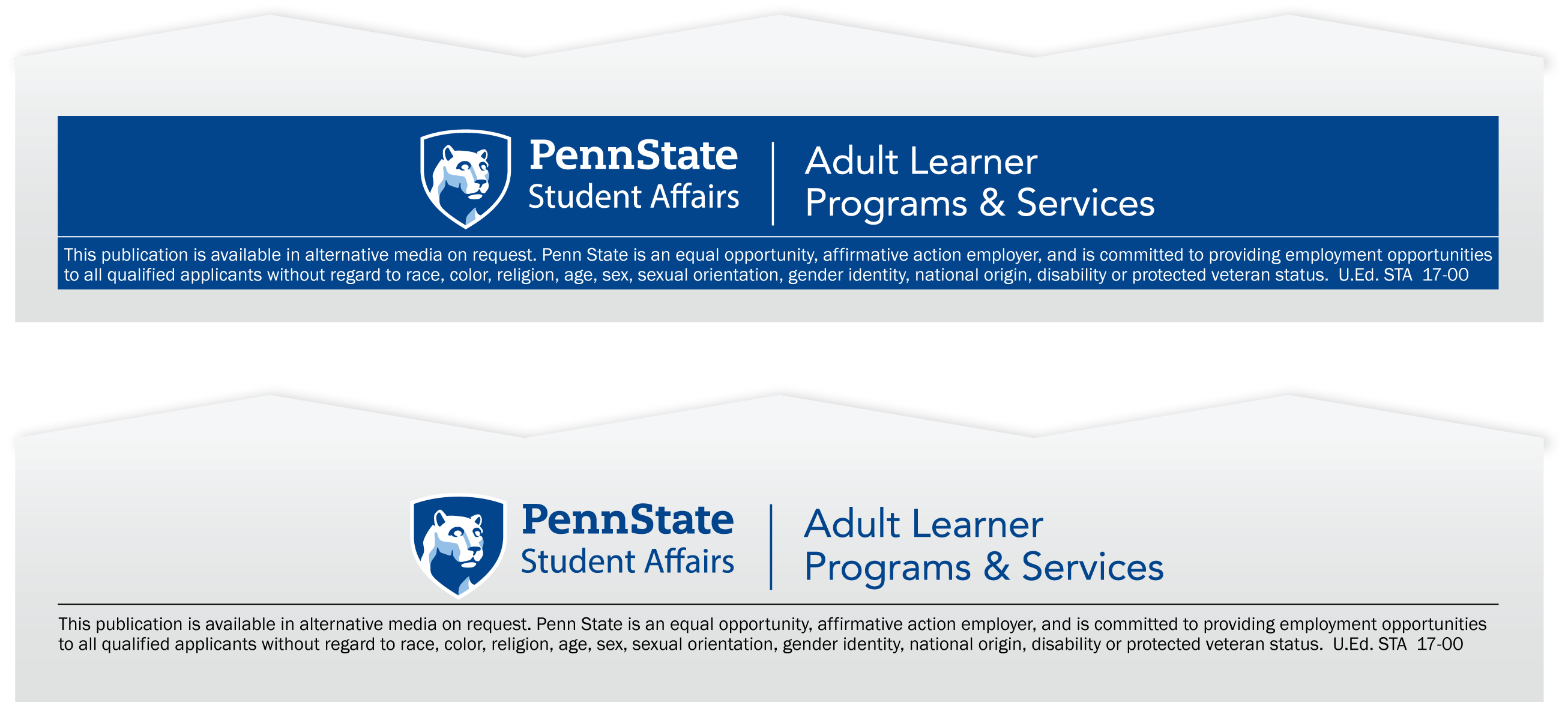 For brochures, booklets, guides, postcards, magazine-type publications, etc. the Student Affairs/unit mark may be placed in the following locations:
at the top or bottom of the front page / cover
at the top or bottom of the back page / rear cover
Other locations may be permissible – please contact the communications office for questions about alternate placement or to assist with the design of your publication.
Multiple Student Affairs Units
When creating a publication or promotional piece that is sponsored by multiple Student Affairs units, the Student Affairs mark should be the primary identifying graphic with each unit listed in an appropriate text style below or near the mark. Do not use multiple Student Affairs unit marks on one piece.

External Collaborations
When creating a publication or promotional piece that is sponsored by a Student Affairs unit and other University entities or outside organizations, the appropriate Student Affairs unit logo should be used in conjunction with the other logos.

Additional Proper Wordmark Use Information
Do Not…
Distort, recolor or alter the mark in any way.
Re-create or replace the text used in the mark.
Separate the shield from the text.
Add additional department or program names to the mark.
Use a unit mark as the primary header of a document