Healthy Living

You got this! From eating well to getting enough sleep to managing stress, we can help you develop healthy strategies that will last a lifetime.
Free Wellness Services
Learn about our wellness services with peer educators. We offer services for healthy relationships and sexual health, nutrition and healthy eating, physical activity, sleep, and stress. Drop by our offices, schedule an appointment, or give us a call to begin living your best at Penn State.
Schedule Free Wellness Session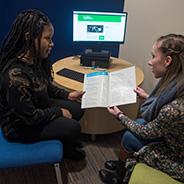 Resources for Healthy Living